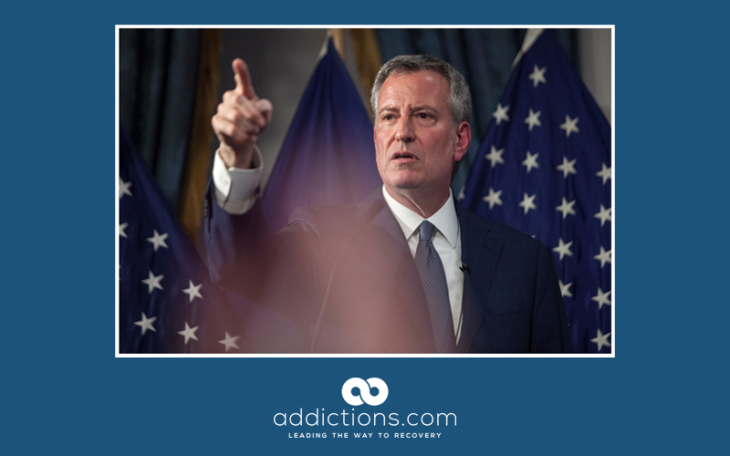 New York City plans to create safe zones where drug users can get clean needles and be supervised while using.
Bill de Blasio, mayor of the 8.6 million person metropolis, announced the creation of the so-called "overdose prevention centers" in a tweet on May 3, saying they will also offer addiction advice and treatment. The goal of the centers is to cut down on deaths related to the ongoing opioid epidemic that has ravaged the United States and particularly its big cities.
The Mayor's tweet said the city conducted a "rigorous review" of other cities' programs to create similar safe sites for supervised drug use.
He said that overdoses on opioids have killed more New Yorkers than automobile accidents and murders. De Blasio said his administration hopes that drug users will be drawn to the safe injection locations, where they won't be judged or prosecuted, and while there they will be exposed to addiction treatment options and counseling.
Tweets responding to de Blasio's were not uniformly positive, with one reply noting that similar safe injection locations in Canada, which have been around for years, have not decreased the scope of the epidemic there.
New York City joins Philadelphia, San Francisco, and Seattle in proposing safe drug use site programs as a way to address the opioid epidemic. These cities hope to decrease their public health care expenses by cutting the number of drug overdoses. According to news reports, New York City suffered 1,141 deaths from drug overdoses in 2017.
So far, there aren't any places in the United States where drug users can go to legally and safely inject themselves with heroin or other illegal substances. Cities that have proposed such programs haven't yet cleared all the legal hurdles required to open safe sites.
This New York City plan calls for a test of about four safe injection locations over six months to a year. De Blasio can't create the clinics entirely on his authority; he will require the blessing of legal authorities and also New York's governor, Andrew Cuomo. The mayor's office sent a formal letter to the state's health department May 3 saying it plans to set up four safe sites.
Governor Cuomo has never publicly said that he is in favor of legal drug injection sites.
The injection sites would also offer naloxone, an anti-overdose drug. Cities like Philadelphia (which also plans safe drug injection clinics) have advised ordinary citizens to carry naloxone and to learn how to use it