Pennsylvania Alcohol and Drug Use Statistics
In 2019, roughly 316,000 people in Pennsylvania were known to have a drug use disorder.1 Approximately every 2 hours, someone in the state dies from a drug overdose.1 Opioids remain one of the biggest problems. In 2020, there were 5,162 drug overdose deaths in Pennsylvania.1 Of those deaths, almost 85% were related to opioids, and 75% of them involved fentanyl, a synthetic opioid.1
While alcohol is less of a problem in Pennsylvania than drug use, it remains a concern. Chronic alcohol consumption among Pennsylvania adults is at its highest rate since 2011.2
Pennsylvanians are seeking help for their substance use disorders. On a single day in March 2019, 66,969 people in the state were enrolled in a treatment program, which is a 12% increase from 2015.3 Among those people:3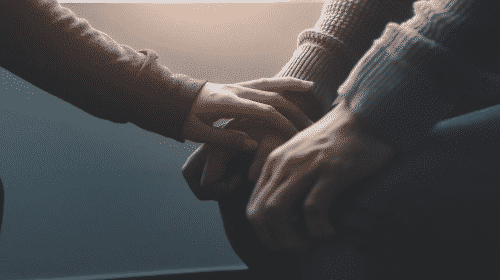 8% received treatment for a drug use disorder only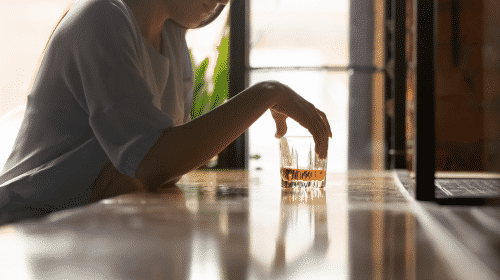 8% received treatment for alcohol use disorder only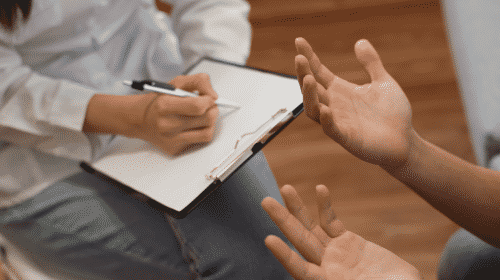 4% received treatment for both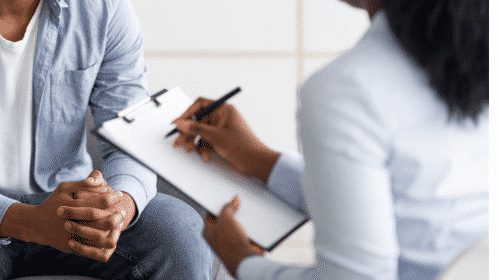 23,351 people received methadone in an opioid treatment program, a 14% increase from 2015
Cost of Drug and Alcohol Rehab in Pennsylvania
When determining the cost of an alcohol or drug rehab in Pennsylvania, there are several factors to consider. First, you need to think about the facility. Is it state-run or private? A state-run facility often costs less than a private one, but private treatment centers may address your needs better.
Costs associated with drug or alcohol rehab in Pennsylvania vary between centers and depend on factors such as:
Income level for sliding scales
Type of rehab (inpatient vs. outpatient)
Location (high vs. low cost of living areas)
Features and amenities (luxury vs. standard)
Accepted insurance plans
Duration of treatment
Inpatient or residential alcohol rehab in Pennsylvania generally costs more than outpatient care due to the costs of room and board. Additionally, luxury or executive Pennsylvania rehabs have extra costs to provide upscale amenities and features.
Additionally, health insurance can make treatment affordable. Many are surprised to learn their private health insurance, Medicaid, or Tricare significantly reduce or cover their rehab. To determine the cost of alcohol or drug rehab in Pennsylvania, it is vital you contact your health insurance company first. They will inform you what they cover in the area and how to maximize your benefits. Potentially, a high-cost rehab facility that accepts your insurance may be more affordable than a low-cost rehab due to your coverage.
Care costs in Pennsylvania should not bar you from treatment. Many free and low-cost rehab facilities across the state; others operate on sliding-scale fee schedules based on your income. Furthermore, many centers for rehab in Pennsylvania offer payment plans. This enables you to pay for your care in monthly payments.
Low-Cost or Free Drug and Alcohol Rehab in Pennsylvania
Many treatment facilities are available to adults and children who live in Pennsylvania. Community substance abuse programs are run through single county authorities (SCAs). The SCA will determine if you are eligible for treatment coverage, assess the need for treatment or other services, and make a referral to the appropriate programs.
Do not forget to check your insurance policy. Government regulations mandate that insurance companies provide at least some coverage for rehab. However, the coverage you receive depends on your policy. You can call the number on the back of your insurance card to talk to your provider or call one of our treatment support specialists at 800-926-9037 (
Who Answers?) for help.
How to Pay for Drug or Alcohol Rehab in Pennsylvania
What if you do not have insurance, community-funded options are full, or you do not qualify for these funding options? Well, there are other ways to pay for alcohol or drug rehab in Pennsylvania.
Choose a Program that Offers Payment Plans: When researching a drug or alcohol rehab in Pennsylvania, ask about payment plans. These let you finance the cost of your treatment through monthly payments instead of paying for all the costs upfront. Do not be afraid to ask. Many facilities are flexible and want to work with you so you can start treatment.
Apply for a Rehab Scholarship: Though it does take a little research to find one, more scholarship programs are offered to help people go to rehab. The 10,000 Beds Scholarship Program provides scholarships to cover the cost of treatment at participating centers. Their application process is easy and can be found on their website.13 SAMHSA also has several grants available which you may qualify for.14, 15
Find a Sliding Scale Rehab Program: A sliding-scale fee payment method is a common option at drug and alcohol rehab in Pennsylvania. These payment plans are based on your ability to pay and your current income.
You must meet some criteria to qualify for this program. Our treatment support specialists at 800-926-9037 (
Who Answers?) can help you identify a rehab facility that offers a sliding-scale option.
Popular Centers for Drug and Alcohol Rehab in Pennsylvania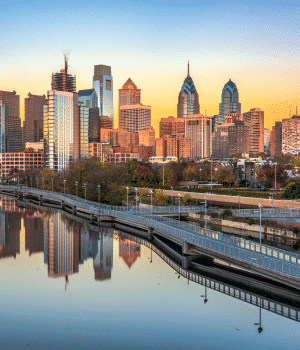 From the Delaware River to Lake Erie and all the Piedmont and Appalachian Mountains besides, there are numerous centers for drug and alcohol rehab in Pennsylvania. Here is a sampling of just a few.
SoarCorp Recovery Center in Philadelphia
SoarCorp is an outpatient treatment program in Philadelphia specializing in methadone treatment for opioid addiction. The facility offers comprehensive clinical and evidence-based treatment and therapeutic programs. SoarCorp provides a holistic approach to your physical and mental health. The center accepts Medicaid and private insurance and offers self-pay options.
Kirkbride Center in Philadelphia
The Kirkbride Center in Philadelphia is a residential facility located in the University City neighborhood. This center offers detox, residential rehab, methadone, and other medication-assisted treatments. It also offers treatment for co-occurring mental health and substance use disorders. Kirkbride Center accepts most insurance plans, Medicaid, and Community Behavioral Health patients.
Sojourner House in Pittsburgh
In Pittsburgh, Sojourner House provides inpatient, residential treatment to mothers and their children. The facility helps these persons rebuild relationships while counseling children counseling and giving them emotional support. Patients can expect evidence-based, gender-responsive treatment, individual, group, and family counseling, and children's programming. Sojourner House accepts Medicaid, offers financial aid, and has self-pay options.
Persad Center in Pittsburgh
Founded in 1972, Persad Center in Pittsburgh is the second-oldest licensed mental health center created to serve the LGBTQ+ community in the nation. Its addiction treatment program is designed to help people address their substance use and learn how to live as an LGBTQ+ person without drugs or alcohol.
The center offers a drug and alcohol dual diagnosis intensive outpatient program for patients who need more support than traditional outpatient therapy and outpatient drug and alcohol treatment. Persad Centers accept Medicaid, Medicare, military insurance, and private insurance. It also offers financial aid and self-pay options.
Genesis House, Inc. in Harrisburg
Genesis House, Inc. was established in 1985 in Harrisburg. It provides addiction treatment services to men, women, and young adults. It is also LGBTQ+ friendly. Genesis House offers alcohol rehab, dual diagnosis services, opioid rehab, outpatient rehab, and cognitive behavioral therapy. The center accepts Medicaid and private insurance and offers self-pay options and financial aid.
White Deer Run in Harrisburg
White Deer Run in Harrisburg provides comprehensive care to men and women who have been impacted by addiction and certain co-occurring mental health disorders. The facility offers detox, residential rehab, partial hospitalization programs, intensive outpatient programs, traditional outpatient rehab, and continuing care. Each person can expect to receive personalized care that addresses their unique needs. Medicaid, Medicare, and private insurance are accepted, and self-pay options are available.
Inpatient vs. Outpatient Drug Rehab in Pennsylvania
While looking at the options for drug or alcohol rehab in Pennsylvania, you need to determine the level of structure and support you need to start your recovery. Care typically falls into one of two categories: inpatient and outpatient. Inpatient programs require you to live at the center, while outpatient programs let you to stay at home while traveling to a clinic for a determined number of days per week and hours per day.
Benefits of Inpatient Care
An inpatient or residential treatment program allows you to stay at the facility during your recovery program. This is the most intensive form of treatment for substance use disorders. While you are there, your focus is channeled to your recovery. The goal of the facility is to provide a supportive environment free from all distractions.
The benefits of inpatient addiction treatment include:
24-hour medical care
Emotional support
Freedom from outside influences
Safe, structured living environment
Strong support system providing encouragement
Most programs last about 30 to 60 days. However, the duration of your stay may vary depending on the severity of your addiction.
Benefits of Outpatient Care
Outpatient treatment is more flexible than inpatient, as it allows you to live at home and continue your daily work, home, and school life. It consists of scheduled treatment sessions at a Pennsylvania drug or alcohol rehab each week. This type of treatment is suited for someone who is a caregiver or enrolled in school full-time. It is most beneficial if you have a stable living environment and supportive, sober friends and family.
Other benefits include:
Applying the skills you learn in real-time
Building a new sober peer group
Lasts longer overall than inpatient treatment
Many patients benefit from utilizing both inpatient and outpatient addiction treatment in their recovery journey. You can step down from inpatient into outpatient care depending on the advice of your medical supervisor. Often, partial hospitalization programs (PHPs) fit this role. In PHP, you are allowed to return home in the evenings rather than be a full inpatient at a clinic or hospital. As such, PHP is considered outpatient care. However, it is more rigorous and involving than intensive outpatient programs.
Types of Drug or Alcohol Rehab in Pennsylvania
There are rehabs available in Pennsylvania that offer a more targeted approach to treatment based on your specific needs. Here are just a few options you may encounter.
Types of Therapy Used in Alcohol or Drug Rehab
Cognitive Behavioral Therapy
Cognitive behavioral therapy (CBT) is designed to modify harmful behaviors. CBT is considered one of the most effective therapy options for young adults with anxiety and mood disorders. It is also effective for those with a substance use disorder, particularly with a co-occurring mental health condition.

Patients learn how to identify and change self-defeating thought patterns. If you have a dual diagnosis of anxiety disorder and substance use, you can use CBT to acquire new coping strategies. CBT can be applied in individual therapy and group therapy settings.
Dialectical Behavior Therapy
Dialectical behavior therapy (DBT) is designed to reduce self-harming behaviors and drug use. It is one of just a few treatments that has been shown to be effective for people diagnosed with a personality disorder.
Motivational Enhancement Therapy
Motivational enhancement therapy (MET) focuses on improving your motivation to change. A therapist trained in MET can help the patients look at their behaviors more objectively and empower them to start the recovery process.

Contingency Management
Contingency management (CM) promotes positive behavioral changes by using reinforcement, such as a gift card, when you meet your treatment goals. It is most often used in treatment programs that last at least 90 days. The guiding principle of CM is that rewards encourage repeated behaviors.

Group Therapy
Group therapy can be used in inpatient and outpatient settings. The benefits include receiving support and motivation from peers, learning healthy coping skills, boosting structure and routine, building a sense of self-worth and optimism, and developing relationships that can be used outside of sessions for support and encouragement.
Family Therapy
Addiction can significantly affect families. Family therapy is designed to improve the familial relationship and support the person in recovery. These services can help spouses, partners, caregivers, children, siblings, and even friends. There is evidence that people who receive support from their families are more likely to stay in treatment and stop misusing substances.12
Should I Travel for Drug and Alcohol Rehab in Pennsylvania?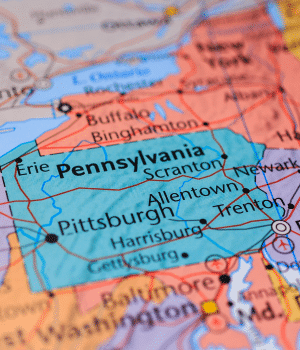 Depending on your situation, it may make sense to travel to Pennsylvania for a drug or alcohol rehab. If you are currently on your own but have family and friends in the state who could serve as a strong support system, moving could be beneficial to your recovery.
Regional Considerations in Pennsylvania
Pennsylvania is divided into five different regions: the Atlantic Coast Plain, the Piedmont or Pennsylvania Dutch Country, the Ridge and Valley, the Allegheny Plateau, and the Lake Erie Plain.
Each region offers its own benefits.
Atlantic Coast Plain: This area extends across the southeastern corner of Pennsylvania and borders the Delaware River. Philadelphia, the biggest city in the state, is here. For those interested in the Revolutionary War or other American history, this city may prove to be a motivating factor in seeking treatment.
The Piedmont: Known for its rolling hills and ridges, the rich soil of the Piedmont attracted many farmers, including the people who are known as the Pennsylvania Dutch. This rural area features dozens of covered bridges.
Ridge and Valley: Home to the state capital of Harrisburg, Ridge and Valley extends from the state's south-central border toward New Jersey. It includes the Appalachian Mountains range.
Allegheny Plateau: The largest region in Pennsylvania is the Allegheny Plateau, which makes up almost half of the north and west sections of the state. Marked by hills and low mountains, more than half of the high plateau is forest. Pittsburgh, the area's major city, is where two rivers come together to form the Ohio River.
Lake Erie Plain: This is the smallest region. It is located along Lake Erie in far northwest Pennsylvania and was once part of the lake.
Alcohol and Drug Laws in Pennsylvania
Law Enforcement Treatment Initiative: The Law Enforcement Treatment Initiative, or LETI, allows residents of participating Pennsylvania counties to contact local law enforcement, including probation and parole officers, for help in identifying a rehab facility without the threat of arrest or prosecution. This policy also allows law enforcement to connect individuals to treatment at their discretion. LETI also makes sure the person has transportation to the facility of choice.
Good Samaritan Law: Pennsylvania's Good Samaritan law offers legal protection to those seeking medical attention or administering naloxone to someone experiencing a drug-related overdose. Its goal is to reduce the number of fatal overdoses by encouraging people to call for help if they experience or witness an overdose rather than avoiding police due to fear of arrest for drug-related crimes.
Naloxone Standing Order: Pennsylvania has passed laws making naloxone or Narcan available as a standing order. A standing order prescription allows pharmacists to dispense naloxone without a prescription. Naloxone reverses opioid overdoses by temporarily blocking their effect and helping the person to resume breathing.
If you need help in identifying an addiction or finding treatment for you or someone you know, call 800-926-9037 (
Who Answers?) . Our treatment support specialists are available 24/7 and will offer guidance and direction on what steps to take. You may also consult our rehab directory to find an alcohol or drug rehab in Pennsylvania or wherever you live.
Resources