Chicago Alcohol Use Statistics
According to the Chicago Department of Public Health, Healthy Chicago Survey 2017:2
In 2020, approximately 15% of adults in Illinois reported excessive alcohol consumption. Among different races, approximately 15.7% of White people reported excessive drinking, 12% of Black people, 15% of Hispanic people, and 12.7% of Asian people.1
Those with a college degree were more likely to binge drink than those with only a high school diploma. Males were more likely to report excessive drinking than females at 18.1% vs 11.8%. Excessive drinking was also reported higher among those who were 18–44 years of age.1
Over 3,000 deaths annually are attributed to excessive alcohol use in Illinois, with over 72% of those deaths occurring in males. Over half of alcohol-related deaths in Illinois are due to long-term alcohol abuse.1
According to the Chicago Department of Public Health, Healthy Chicago Survey 2017:2
Alcohol Rehab Admissions in Chicago
In 2020, there were 36,188 admissions into rehab facilities in the state of Illinois. 5,371 of these admissions were alcohol-only rehab admissions, while 6,236 rehab admissions were based on alcohol as well as a secondary drug.3
Of the alcohol-only Illinois rehab admissions, 70% were male, and 29.6% were female. 80% of alcohol-only rehab admissions were non-Hispanic, with over 65% being White, over 20% being Black, over 18% being Hispanic, and less than 1% being Native American or Asian and Pacific Islander.6
The majority of alcohol-only rehab admissions, about 15.6%, were among those 31–35 years of age.3
Although 6.7% of Americans who drink alcohol will develop an alcohol use disorder (AUD), research indicates that Chicago alcohol rehab admissions are increasing, which can offer you hope in reaching your goal of recovery.3
Chicago Drug Use Statistics
The most-reported drug use came from people between the ages of 18–25 who also reported abusing prescription painkillers in the past year.5 What's more, the vast majority of heroin seized by the Chicago authorities contained the powerful and deadly opioid, fentanyl.
Data received from city, county, state, and federal resources – including the Illinois Department of Public Health – shows the following about drugs use in Chicago: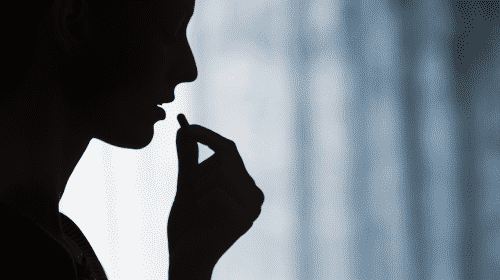 In 2018, approximately 79% of all drug overdose deaths in Illinois were directly related to opioids.4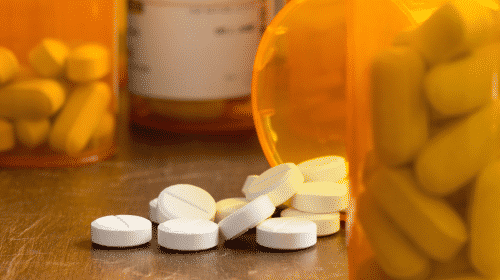 25% of all opioid-related overdose deaths were caused by fentanyl alone.5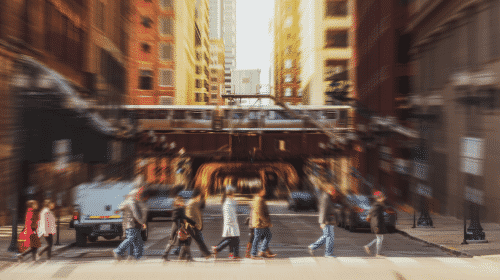 In 2021, about 90% of Chicago's opioid-related overdose deaths involved fentanyl.11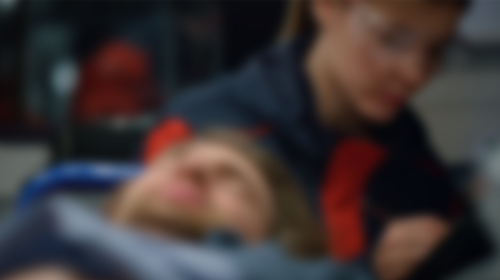 40% of all poly-substance overdose deaths from January–June 2021 involved cocaine and an opioid.11
Drug Rehab Admissions in Chicago
Over 24,000 people were admitted into Illinois drug rehabs in 2020. These admissions were mainly for heroin (9,551 admissions), marijuana (5,467 admissions), amphetamines (4,571 admissions), and cocaine (1,706 admissions).5
Among Illinois drug rehab admissions, the majority were male, ranging from over 60% to 100%, depending on the type of drug the individual admitted was using. As an exception, females were the majority with drug rehab admission related to other (nonspecific) stimulants.5
The ages of those entering drug rehab centers varied depending on the type of drug being used. The majority of admissions ranged from ages 12–17 for marijuana to 51–55 for smoked cocaine.5
White people were the majority in most of the drug-related admissions with notable exceptions for admissions for smoked cocaine and PCP, which was higher in Black people. Hispanic people accounted for 6.5%–25.5%, depending on the drug, while Native American, Asian, and Pacific Islander peoples accounted for the lowest number of drug rehab admissions.6
What is the Cost of Rehab in Chicago, IL?
Substance abuse costs the United States approximately $600 billion annually, but treatment can help to alleviate these costs. Nationally, the average cost of a one-year methadone maintenance treatment is can be $4,700.7
Drug and alcohol rehabs can vary in cost depending on the type of treatment utilized and the length of the programs. For example:8
$12,183
The cost of medical detoxification can average $12,183 per episode.
$4,939
Intensive outpatient treatment programs can average $4,939 per episode.
$2,228
Typical outpatient treatment programs can average $2,228 per episode.
$32,523
Residential treatment options are the most expensive, averaging $32,523 per episode.
How to Find Free Rehabs in Chicago, IL
There are many low-cost and free rehab centers in the Chicago area. Many treatment centers will even work with your insurance, whether it is private insurance or Medicaid.
To find free alcohol and drug rehab centers in Chicago, call our helpline at 800-926-9037 (
Who Answers?) to speak to a treatment support specialist who can assist you. Our helpline is confidential and someone is available 24/7 to take your call.
Does Insurance Cover Rehab in Chicago, IL?
When it comes to being able to afford alcohol rehab in Chicago, there is a wide range of options available. According to the Affordable Care Act and the Mental Health Parity and Addiction Equity Act (MHPAEA) of 2008, health insurers and group health plans must cover mental health and substance use treatment.
Private Insurance
If you have private insurance, your insurance will likely cover payment for alcohol and/or substance use treatment, though the extent of coverage may vary between providers and plans. Some insurance plans may cover the full cost of inpatient or outpatient rehab while others may provide partial coverage.
Some popular insurance providers include Blue Cross and Blue Shield, which may cover part or all of the cost of an opioid, alcohol, or benzodiazepines detoxification program if deemed medically necessary.
United Healthcare offers a free substance abuse hotline that is confidential and available to members and their families.
Aetna offers an alcohol and substance abuse screening program that leads to referrals to alcohol and substance abuse programs as needed.
Medicaid
If you don't have private insurance through an employer or a family member, you may qualify for Medicaid. Medicaid is a state and federally-funded program that pays for medical services for eligible adults that have a low income, pregnant individuals, children, and people with disabilities. Medicaid often does cover alcohol and drug rehab programs. Due to the Mental Health Parity and Addiction Equity Act (MHPAEA), Medicaid must allow for coverage of mental health disorders and substance use disorders.10
Medicare
Medicare is federal health insurance for people 65 years of age and older and some younger individuals who have disabilities.
Medicare will pay for your alcohol and/or drug rehab in both inpatient and outpatient programs. Medicare Part A pays for inpatient rehab, and co-pays are the same for any other type of inpatient hospitalization. Medicare Part B will pay for outpatient rehab services from a clinic or hospital outpatient department.10
Services that Medicare coverage includes:
Psychotherapy
Patient education about their substance use disorder and treatment options
Follow-ups after a hospitalization
Drugs that are prescribed in an outpatient setting through Medicare Part D
Drugs that are prescribed in an inpatient setting include methadone and more
Does My Insurance Plan Cover Addiction Treatment?
To find out if your insurance plan covers addiction treatment, call the number on the back of your insurance card to verify your insurance coverage and receive help in finding the right alcohol and/or drug rehab for you in Chicago, IL.
Remember, when using your private insurance for alcohol and/or drug rehab, you may have a deductible, co-insurance, and/or co-pays, so it is best to ask about all of this information when you call your provider.
You can also ask for a list of preferred or in-network providers from your insurance company to prevent higher or unexpected costs down the line.
How to Finance Addiction Treatment in Chicago, IL
If you find that free drug and alcohol rehabs are full or you don't have insurance, there are alternatives available to you.
You can always seek out faith-based organizations, non-profit alcohol and drug rehabs, or government-funded rehab programs.
Popular Drug and Alcohol Rehab Centers in Chicago, IL
The search for a Chicago alcohol and/or drug rehab center can be a confusing process if you are just starting.
This is because there is a wide range of alcohol and drug rehabs in Chicago. When looking for the right rehab center for you, distance is just one of the many attributes that you may be considering.
When looking for Chicago alcohol rehabs, some of the options you should consider include not only distance but types of treatment programs, length of treatment, cost, insurance coverage, and in-patient or residential facilities vs. out-patient facilities.
While these are some of the factors to consider when choosing an alcohol rehab, there may be more details to consider that are uniquely important to you. Since there are many options for alcohol and/or drug rehab in Chicago, we will highlight some of the more popular choices available.
Healthcare Alternative Systems South
The Healthcare Alternative Systems South recovery center in Chicago, IL, offers both residential and outpatient treatment options in a private setting. The foundation also offers a range of evidence-based therapies like alcohol rehab, cognitive behavioral therapy, aftercare support, and dual diagnosis. Healthcare Alternative Systems South is also accredited by the Substance Abuse and Mental Health Services Administration (SAMHSA) and the Commission on Accreditation of Rehabilitation Facilities (CARF).
Above and Beyond Family Recovery Center
The Above and Beyond Family Recovery was the 2018 winner of the Chicago Innovation Award and has been listed among the top-rated nonprofits from Great Nonprofits in 2021. This residential recovery center offers a wide range of treatment models and options including the 12-Step recovery model, acupuncture, individual counseling, skills training, and even joke therapy. The Above and Beyond Recovery Center is also accredited by the SAMHSA.
Gateway Foundation
The Gateway Foundation in Chicago, IL, is an alcohol rehab center with different branches across the Chicago area. This recovery center offers many different treatment options including individual and group counseling, motivational interviewing, cognitive-behavioral therapy, and 12-Step facilitation. The Gateway Foundation is accredited by the Joint Commission.
Hazeldon Betty Ford Foundation
The Hazeldon Betty Ford Foundation in Chicago offers luxury accommodations as well as a business center and recreation room. The rehab center offers both men's and women's rehab as well as LGBTO services. Therapies include cognitive behavioral therapy, outpatient rehab, aftercare support, and a partial hospitalization program. This rehab center is accredited by the SAMHSA, Joint Commission, and the National Association of Addiction Treatment Providers (NAATP).
Addiction Treatment Settings
Inpatient Rehab
Inpatient rehab centers, also known as residential treatment facilities, involve living at the treatment center for the duration of the program, which may last from 30 to 90 days. Inpatient rehabs have many benefits that include:
24/7 care available
Highly-structured environment away from triggers
A supportive recovery community
Supervised detoxification
Access to a variety of treatment modalities and amenities
Partial Hospitalization Programs
Partial hospitalization programs (PHPs) offer a high level of care while also letting you return home each night after you have received your treatment. Most partial hospitalization programs offer a minimum of 20 hours of intensive therapy a week. Some of the benefits of partial hospitalization rehabs include:
Ability to return home to your family each night
Helps motivate you to continue in treatment
Offers support if you live in an environment that increases the risk of alcohol or drug use
Great option for someone who needs the intensiveness of inpatient care but needs to stay home during treatment
Intensive Outpatient Programs
Intensive outpatient programs (IOPs) offer a minimum of nine hours of treatment a week in three, three-hour sessions. Benefits of intensive outpatient programs include:
Ability to go home every night
Longer treatment program than inpatient
More support than standard outpatient
Offers flexibility for scheduling
Great option for step-down care after completing inpatient rehab in Chicago
More affordable than inpatient
Standard Outpatient
As the least intensive treatment option, standard outpatient rehab offers fewer than nine hours of treatment per week. Benefits of outpatient treatment programs include:
Some outpatient programs offer weekend treatment options
Flexible treatment options
Less expensive than inpatient care
Telehealth and Online Addiction Treatment
Telehealth and online addiction treatment occur over a private communication device like your phone or computer, where you receive therapies in the comfort of your own home. This type of rehab acts similarly to an outpatient program and offers many of the same therapies that an outpatient treatment program does. Benefits of telehealth treatment programs include:
Therapy in the comfort of your own home as opposed to traveling to a center
No travel time required
May have higher retention rates than an in-person outpatient program
Ease of accessibility
Medical Detox
Medical detox is a program that helps you safely withdraw from alcohol or drugs under the care of trained professionals. It usually involves the administration of medication to help drug or alcohol withdrawal symptoms and ensure your safety and comfort.
Medical or drug detox is not a substitute for addiction treatment but rather a first step in getting you on the road to recovery. Substances that usually require a medical detox include prescription opioids, heroin, alcohol, and benzodiazepines. This is because withdrawal from these drugs can be so intense and severe that medical care is warranted.
Specialized Rehab in Chicago for Various Populations
Veteran Rehab
There are rehab programs designed specifically for veterans and those who have served in the military. These programs focus on unique concerns that veterans may experience, such as posttraumatic stress disorder (PTSD) from combat or sexual assault.
LGBTQ+ Rehab
Many drug and alcohol rehabs in Chicago offer treatment options for individuals in the LGBTQ+ community. These rehabs are experienced in addressing the unique needs of this community, such as familial rejection, internalized homophobia, discrimination, harassment, trauma, and more.

Men-Only Rehab
There are drug and alcohol rehabs in Chicago that specifically address the needs of men. These treatment programs are aware of the unique challenges that many men face in our society, such as the expectation to be strong and unemotional.

Women-Only Rehab
Women-only rehabs specialize in treating women and provide a safe space for women to process and recover, especially for those who may have experienced sexual assault or abuse from a male partner or loved one.

Teen Rehab
Being a teenager can be a confusing and often painful experience. Teen-centered alcohol and drug rehabs know this and work with you to address the unique challenges that arise from being a teenager, such as peer pressure and bullying.

Should I Travel to Chicago for Drug and Alcohol Rehab?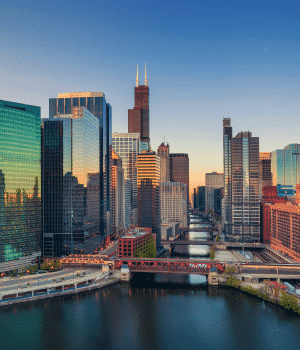 You may wonder whether you should travel to Chicago for your alcohol or drug rehab treatment. Chicago has a wide array of high-quality alcohol and drug rehabs to fit your unique needs. To determine whether you should travel to Chicago for your rehab, you should take into account whether you have the financial means to travel and how leaving your current environment would impact your alcohol and/or drug use.
Neighborhoods in Chicago to Consider for Treatment
There are 77 neighborhoods in Chicago, and many of these neighborhoods have high-quality alcohol and drug rehab centers that can meet your specific needs.
Chicago's Lakeview neighborhood offers rehabs with a wide range of options, including inpatient therapy, while the Near North Side neighborhood houses a luxury rehab center. One of the most successful rehab centers in Chicago is located on the west side of Chicago.
Alcohol & Drug Laws in Chicago
If you are caught with or using drugs or alcohol in Chicago illegally, the legal system will determine the trajectory of your case. Some of the outcomes could be court-ordered supervision for a DUI without a previous arrest or court-ordered drug and/or alcohol rehab for nonviolent offenders.
Chicago also offers a "Too Good for Drugs" substance abuse prevention program for middle and high schoolers and those who are deaf or hard of hearing.
Illinois has also enacted a law called Good Samaritan overdose privation that allows those without a medical background to administer the opioid overdose medication, naloxone, to another individual to prevent an opioid and/or heroin overdose from becoming fatal.
Aftercare Options for Post-Rehab Success
Aftercare programs are programs that become available once you have completed an outpatient or inpatient rehab program. These programs are intended to help keep you from relapsing and offer you continued support.
Aftercare programs are often tailored to your specific needs and can include support groups like AA, NA, and SMART Recovery, group counseling, sober living homes, step-down care, and/or individual therapy.
Attending aftercare once your therapy has been completed can help you stay on the road to recovery.
Resources