Community Service Organization De Colores Center
10420 Main Street
Lamont, CA 93241
Get Help Now - 866-312-4647
Who Answers?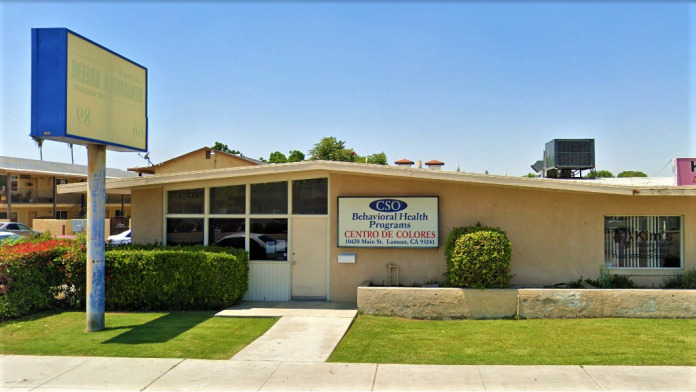 Addiction Treatment Programs
Adult Program
Alcohol Rehab
Drug Rehab
LGBTQ Friendly Rehab
Men's Rehab
Military Rehab
Opioid Rehab
Women's Rehab
Young Adult Program
Levels of Care
Outpatient Rehab
Dual Diagnosis
Contact Community Service Organization De Colores Center
661-845-3753
Location Details and Hours
Other Facilities Near Lamont
Thumbnail
Name
Address
Phone
Treatment
Insurance

Oxford House Golden Empire

1816 Hughes Lane
Bakersfield, CA 93304

805-663-8043

Inpatient

N/A

Crestwood Behavioral Health Center

6700 Eucalyptus Drive
Bakersfield, CA 93306

661-363-8127

Inpatient

Medicaid

Centro de Colores Center

10420 Main Street
Lamont, CA 93241

661-845-3753

Detox

Outpatient

N/A

WestCare Bakersfield H Street Campus

2901 South H Street
Bakersfield, CA 93304

661-398-4303

Inpatient

Outpatient

Medicaid

Private

JC Outlet Tution Sober Living

1431 Cottonwood Road
Bakersfield, CA 93307

661-900-9432

Inpatient

N/A

American Health Services

1010 1/2 South Union Avenue
Bakersfield, CA 93305

661-321-0234

Detox

Outpatient

Medicaid

Private
More Addiction Facilities Near Lamont
View more listings near Lamont or search by the letter of cities in California.
View More (A)
Rate by Category and Submit a Review!
Find a Rehab Center
Select a state to find options for rehab centers in your area.
Browse By State