Apalachee Center Taylor County
1421 South Old Dixie Highway
Perry, FL 32348
Get Help Now - 866-312-4647
Who Answers?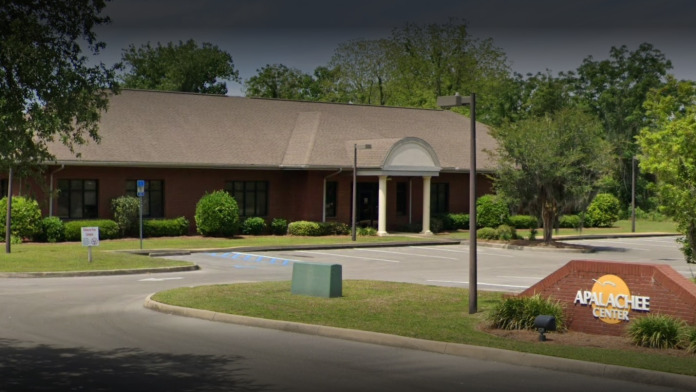 Amenities
Private setting
Residential setting
Addiction Treatment Programs
Adult Program
Alcohol Rehab
Cognitive Behavioral Therapy
Men's Rehab
Opioid Rehab
Rational Behavior Therapy
Senior Drug & Alcohol Rehab
Women's Rehab
Young Adult Program
Levels of Care
Outpatient Rehab
Aftercare Support
Dual Diagnosis
Accreditations
SAMHSA Yes
Joint Commission 872
CARF 221865
Insurance
Financial aid
Medicaid
Private insurance
Self-pay options
Contact Apalachee Center Taylor County
850-584-5613
apalacheecenter.org
Location Details and Hours
Other Facilities Near Perry
Thumbnail
Name
Address
Phone
Treatment
Insurance

Lafayette County Health Department

140 Southwest Virginia Circle
Mayo, FL 32066

386-294-1321

Outpatient

Private

Apalachee Center Taylor County

1421 South Old Dixie Highway
Perry, FL 32348

850-584-5613

Outpatient

Medicaid

Private

Decatur County Mental Health Center

1005 Washington Street
Bainbridge, GA 39819

229-248-2683

Outpatient

Free

Medicaid

Apalachee Center Madison County

225 Sumatra Rd
Madison, FL 32340

850-973-5124

Outpatient

Medicaid

Private

DISC Village Wakulla County Human Services Center

85 High Drive
Crawfordville, FL 32327

850-926-2452

Outpatient

Medicaid

Private

Bethel Family Counseling Outreach Services

471 West Tennessee Street
Tallahassee, FL 32301

850-577-1780

Outpatient

Medicaid

Private
More Addiction Facilities Near Perry
View more listings near Perry or search by the letter of cities in Florida.
View More (A)
Rate by Category and Submit a Review!
Find a Rehab Center
Select a state to find options for rehab centers in your area.
Browse By State