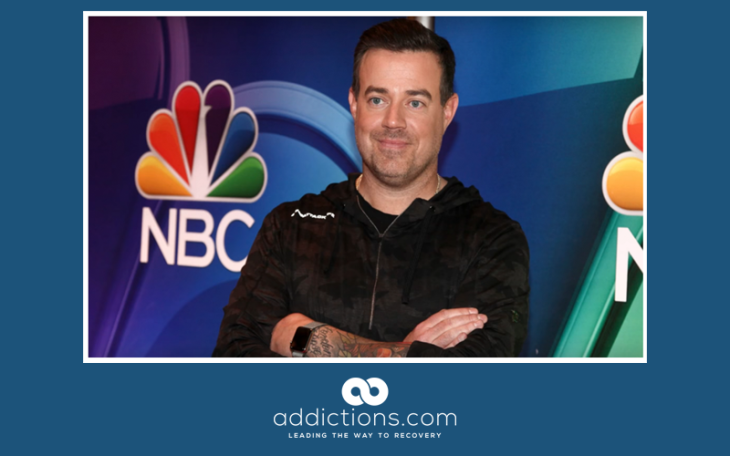 Television personality and Today co-host, Carson Daly, has opened up about his struggles with anxiety, saying he suffers from major panic attacks.
Inspired by Kevin Love's admission about panic attacks, Carson Daly, 44, revealed his mental struggles for the first time, meaning he is gripped by a great feeling of fear and worry.
The former Total Request Live host only recently realized he had always been nervous. Daly says he has learned how to deal with his symptoms. He uses cognitive therapies to manage his anxiety.
On the Friday show, Daly demonstrated the "muscle retention and relaxation" therapy that he uses to walk through his panic attacks and anxiety.
The veteran TV host says he's experienced panic attacks almost his entire life.  Daly said even after being on television since his 20s, his experience could not cure his anxiety.  "To this day even when I'm on television — if you ever watch 'The Voice' live on NBC…I'm never still," Daly said. "Some days I'm just a little anxious."
Given his many years of on-air TV experience, it would almost be impossible to tell Daly was struggling on the inside. Recounting his past, Daly said he was a worrisome child. He also disclosed he had an ulcer in school and that his father died when he was only 5.
A certain level of anxiety is a normal part of being a kid for some people; it comes and goes. But as soon as it interferes with a kid's everyday life, then it can signal a more serious anxiety disorder- the Anxiety and Depression Association of America says. An anxiety disorder, if left untreated, may lead to serious clinical conditions such as a panic disorder and major depression later in life.
His condition worsened when he left California for a job at MTV.
Daly says his first major panic attack occurred when he was a host at MTV, but he didn't know what it was at that time. While vividly describing his experience, Daly explains he got terrified for no apparent reason and had hard time breathing. "At times, I feel like there's a saber-toothed tiger right here, and it is going to kill me, attack me, and bite my head off. I'm scared as if that's really happening. You feel like you're dying," Daly added.
At some point, he got scared to the extent of going to the hospital. He wanted to be sure the tightness gripping him was not from a heart attack. Daly says he'd feel like his heart was going to stop or he was going to have a heart attack, yet he was fine. "I may be a little anxious, but I know I'm gonna be OK."
Daly said he was sharing his story to help explain that anxiety disorders hardly come with an easy fix. He says he solved part of his problem when he shared his story with a friend also had anxiety, who informed him that he could get treatment. However, he says he is not ashamed of his anxiety and wears it as a badge of honor.