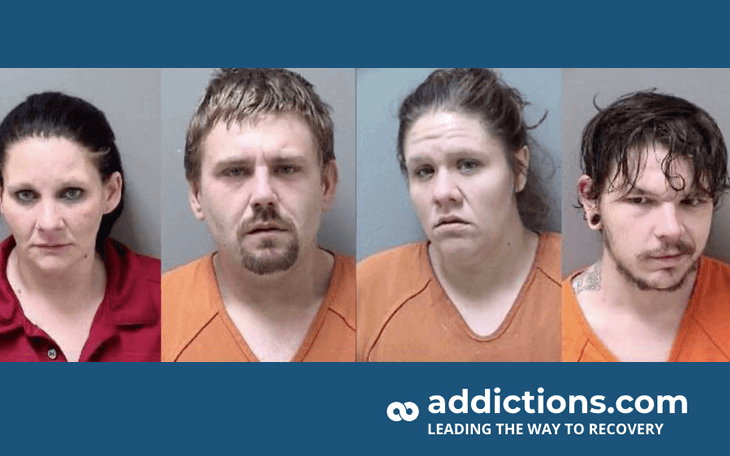 The manager of a Wendy's fast food restaurant in Georgia was arrested Thursday along with three employees who were charged with dealing methamphetamine on the premises.
Investigating authorities said the four employees had been selling small quantities of meth during business hours inside and outside the Canton restaurant in its parking lot. Officers said in local news reports that the small size of the drug deals going on wasn't as concerning as the fact that they were done publicly in front of innocent customers at the restaurant.
Canton, with a population of about 26,000, is the county seat of Cherokee County, north of Atlanta. Its population has multiplied in the last two decades, along with Cherokee County's overall population of about 240,000 as they've been absorbed into the sprawling Atlanta metropolitan area. Canton's population was just 7,700 in the 2000 census.
Last year a total of $840,000 worth of various drugs were confiscated in Cherokee County, with well over half of that, or $500,000, being methamphetamine. Deaths from methamphetamine jumped 40 percent in Georgia in 2017.
Officers from the Cherokee Multi-Agency Narcotics Squad, or CMANS, made the arrests and closed the restaurant for several hours June 21. Getting it open again was no easy task, with half the workforce having been arrested – only five people were left to do all the jobs at the restaurant.
Police showed up at the Wendy's location at 2 p.m. Thursday with a search warrant. Although authorities didn't say exactly how long the investigation had gone on, they used the word "lengthy" to describe it.
Arrested were Zachary Jerome Donley, 27; Kristal Dawn Hogan, 32; Jeffery Levi Justus, 26 and Amanda Jean McCartney, 36. Donley and Hogan are charged with four counts of possession and sale, while Justus and McCartney face a single charge each.
Information from another person arrested in the area for drug possession and use led police to look at the restaurant, according to local reports. Some agents of the CMANS made undercover methamphetamine purchases at the restaurant as part of the investigation.
Wendy's promptly fired all four workers – one the manager, another the cook, and the remaining two others regular employees.
The fast food restaurant is at 102 Riverstone Parkway in Canton, just north of Heritage Park.
CMANS is made up of officers from the Cherokee Sheriff's Office as well as the Canton city police and forces from other local municipalities like Woodstock and Holly Springs, as well as Georgia's state police.