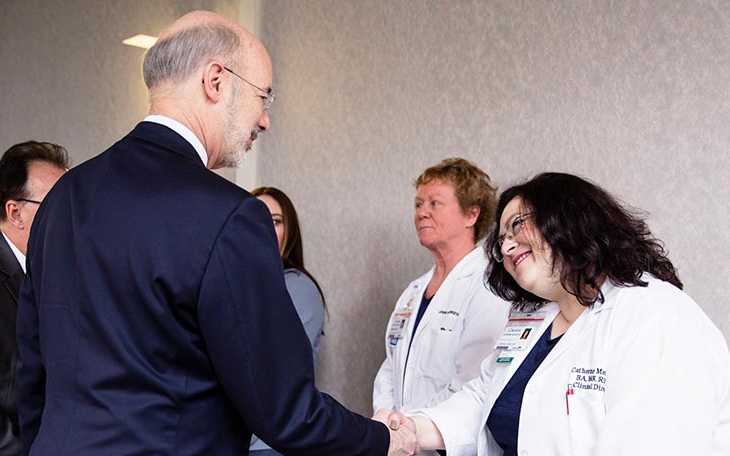 Pennsylvania's governor, Tom Wolf, said July 16 that his state has issued new guidelines about how and when opioid drugs should be prescribed to people with workers' compensation claims.
The state's health secretary, Rachel Levine, said these new regulations will aid healthcare providers in choosing the right drugs, but they won't take the place of already existing rules. Levine characterized the new guidance as part of a continual review and update of Pennsylvania's advice to medical clinics and doctors.
New guidelines focus on fighting pain in injured workers, but also with "functional improvement" and "functional restoration" to quickly get them back on the job. Opioid pain drugs should be used alongside other treatments, the guidelines say, rather than in place of other treatments.
Levine, using the phrase "opioid stewardship," said doctors are being encouraged to prescribe the smallest possible effective amounts of powerful opioid painkillers, rather than to prescribe amounts that could lead to leftover drugs sitting around in people's medicine cabinets. Misuse of prescription painkillers has been one engine driving the overdose epidemic, although since governments have begun restricting those drugs, illicit opioids made in labs have moved in to fill the void.
The Keystone State got about 17,000 claims for people on workers' compensation last year, according to the governor's statement. Pennsylvania also ranks No. 3 nationwide for long-term users of opioid drugs and the state has one of the highest national death rates from opioid overdoses.
According to data from the U.S. Centers for Disease Control and Prevention, some 5,600 people died of opioid overdoses in Pennsylvania in 2017.
All the steps outlined in the new guidelines are meant to cut down on the prevalence of opioid drugs and to reduce the toll of the ongoing opioid abuse epidemic in the state, which has a population of about 12.8 million. The newly released guidelines stress the need to reduce dangerous complications caused by prescription pain treatments, especially the danger of drug dependence and addiction.
Wolf, a Democrat, has already declared – and extended – an emergency in the Keystone State based on the addiction and overdose epidemic. His administration has already moved to make naloxone, an anti-overdose medication, more widely available around the state, and it has tried to speed up access to opioid drug addiction treatment.
The governor previously vetoed legislation that would have created a beholden "drug formulary" or state pharmacy just for the workers' compensation program. He and Levine said these new guidelines work better than the vetoed proposal.