Alcohol and Drug Use Statistics in Allentown, PA
Alcohol misuse affects adults and youths in Allentown. According to the PA Liquor Control Board's report on youth, an average of 42% of Lehigh County youths have consumed alcohol. The report also shows:3
Results of the most recent Healthy People 2030 Report on Lehigh County adults revealed:4
11.6% of deaths were specifically related to opioids
75% or more are Caucasian males
22.4% are between 35 and 44, the group with the highest number of overdoses
A final statistic about Lehigh County residents shows recovery treatment is a big need:1
6,728
residents have a substance addiction
Expert Insights

A new program was recently funded in Leigh County to allow some inmates incarcerated in county jails to continue receiving medication for opioid use withdrawal while in custody. Access to such medications has typically been limited or non-existent in jails and prisons, and the outcome has been a painful, forced withdrawal and an increase in opioid overdoses following release. Once this inhumane, dangerous, and unacceptable practice of withholding medication is corrected, lives will be saved.

~ Rita Milios
Paying for Alcohol and Drug Rehab in Allentown
Making quality treatment accessible to everyone is a priority. Lehigh County opened three addiction treatment centers to offer free or low-cost services to those who qualify. The county also contracts with existing Allentown drug rehabs and Lehigh County alcohol rehabs to provide funding for people who need treatment but cannot afford it.5
Services available at any stage of a substance use disorder include long-term and short-term inpatient and outpatient programs, transitional living, prevention, and intervention. The Lehigh County drug rehabs for adults are the Allentown Center for Recovery and Change on Hamilton. For youths, the county created the REACH LV Youth Recovery Center.5
Medicaid and Medicare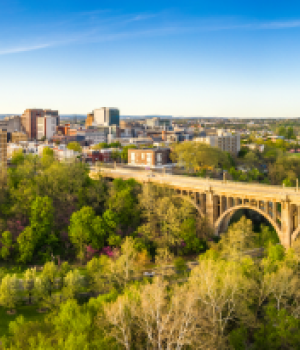 As you enter the treatment process, you may find that you qualify for help from Medicaid or Medicare. For anyone already receiving Medicaid or Medicare, you must know most plans offer excellent coverage for inpatient and outpatient treatment if you receive treatment from accredited Allentown drug rehabs that accept Medicaid or Medicare.
Medicaid, also called Medical Assistance, qualification requirements include meeting a percentage of the poverty level income in Pennsylvania. Other requirements include being a resident of Pennsylvania, a citizen of the United States, and having a certain number of people in your household.6
For example, if your household has three children between the ages of 6 to 19, your monthly income cannot be higher than $2,553 to qualify for Medicaid.
Medicare is an insurance program for those 65 and over or those under 65 with a disability. Medicare is divided into parts A, B, C, and D, with additional Medicare savings program options. Medicare Part A covers your inpatient drug rehab in Allentown stays, and Part B covers outpatient services. Part C is a combination plan of A and B, while part D covers prescription costs.7
Medicare requires meeting monthly premiums and copays, but for many, this cost is very low, or there is no cost.
Private Insurance
Private insurance plans are accepted at many Allentown alcohol rehabs and drug rehabs. Standard private insurance plans include Cigna, Geisinger, Highmark, Blue Cross Blue Shield, and Ambetter, among others. Private insurance varies greatly, depending on your individual needs. Most require monthly premiums, deductibles, and copays.
Some quality treatment centers, like the Allentown Comprehensive Treatment Center, accept commercial insurance, Medicaid, and Medicare and have self-pay options.
It is essential to check with your insurance company about the recovery centers within your plan's network. You also want to ask your insurer about the services covered. Most drug rehabs in Allentown offer behavioral therapy, medication assistance, peer support groups, and family therapy with licensed professionals.
Sometimes trying to match a treatment program with your payment options can get confusing. You can call us anytime to help you figure out where to go for help. We can also answer other questions about receiving treatment in Allentown.
Levels of Care for Rehabs in Pennsylvania
Several levels of substance abuse care are available to effectively meet each Pennsylvanian's recovery needs.
Alcohol and Drug Detoxification
Detox is the process of safely removing drugs or alcohol from your system. This occurs in a supervised setting, such as a hospital or inpatient rehab, so professionals can comfortably manage your withdrawal symptoms.
Inpatient Care
Residential or inpatient treatment involves living at a rehab facility under 24/7 supervision and care. Treatment services usually include individual and group therapy, nutritional counseling, experiential therapies, and medication.
Partial Hospitalization Programs (PHPs)
PHPs allow you to live at home while receiving addiction treatment at a hospital. Treatment methods may be similar to inpatient rehab, but you can return home during non-treatment hours.
Intensive Outpatient Programs (IOPs)
A step down from a PHP, IOPs allow you to attend a few hours of counseling each week, spread out over several days. You can spend the rest of your time at home, working, or fulfilling other obligations.
Standard Outpatient
As the least intensive treatment option, standard outpatient care involves just one to two hours of treatment per week. Because it has the least oversight and supervision, this level of treatment is typically appropriate for highly motivated people who have a strong support system.
Relapse Prevention
Relapse Prevention, also known as aftercare, begins when you complete an Allentown drug rehab program. It includes ongoing support and encouragement through 12-step groups, non-12-step groups like SMART Recovery, ongoing therapy, sober living homes, and more. Aftercare is an important part of relapse prevention.
Pennsylvania Alcohol and Drug Laws
Pennsylvania lawmakers have enacted the following policies related to substance use, treatment, and overdoses:1,2,3,4
Law Enforcement Treatment Initiative: LETI allows residents of participating Pennsylvania counties to contact law enforcement for help in identifying a rehab facility—without the threat of arrest. The initiative also allows law enforcement officers to guide individuals to treatment rather than divert them into the criminal justice system.
Good Samaritan Law: This law offers legal protection for certain drug crimes to Pennsylvania residents who seek medical attention or administer naloxone during a drug-related overdose. The law is designed to encourage Pennsylvanians to call for help by removing the threat of arrest for drug-related crimes. To receive immunity, Pennsylvanians must report the incident to emergency officials, give authorities identifying information, and stay with the overdose patient until first responders arrive. The law does not provide protection for crimes of delivery or distribution of drugs.
Naloxone Standing Order: This order allows pharmacists to dispense naloxone without a prescription.
Marijuana Laws: In Pennsylvania, marijuana is illegal for recreational use. Residents can apply for a medical marijuana card if they have a qualifying medical condition. Qualified patients can carry a 30-day supply of marijuana in a non-smokable form. Illegal possession of marijuana can lead to a 30-day imprisonment and a $500 fine. If the illegal possession is for more than 30 grams of marijuana, the penalties can include up to a year in prison and a $5,000 fine.