Alcohol and Drug Use Statistics in Allentown, PA
Alcohol misuse affects adults and youths in Allentown. According to the PA Liquor Control Board's report on youth, an average of 42% of Lehigh County youths have consumed alcohol. The report also shows:3
Results of the most recent Healthy People 2030 Report on Lehigh County adults revealed:4
11.6% of deaths were specifically related to opioids
75% or more are Caucasian males
22.4% are between 35 and 44, the group with the highest number of overdoses
A final statistic about Lehigh County residents shows recovery treatment is a big need:1
6,728
residents have a substance addiction
Paying for Alcohol and Drug Rehab in Allentown, PA
Making quality treatment accessible to everyone is a priority. Lehigh County opened three drug rehabs to offer free or low-cost services to those who qualify. The county also contracts with existing Allentown drug rehabs and Lehigh County alcohol rehabs to provide funding for people who need treatment but cannot afford it.5
Services available at any stage of a substance use disorder include long-term and short-term inpatient and outpatient detox and rehab, transitional living, prevention, and intervention. The Lehigh County drug rehabs for adults are the Allentown Center for Recovery and Change on Hamilton. For youths, the county created the REACH LV Youth Recovery Center.5
Paying for Drug Rehab with Medicaid or Medicare 
As you enter the treatment process, you may find that you qualify for help from Medicaid or Medicare. For anyone already receiving Medicaid or Medicare, you must know most plans offer excellent coverage for inpatient and outpatient treatment if you receive treatment from an Allentown drug rehab that accepts Medicaid or Medicare.
Medicaid, also called Medical Assistance, qualification requirements include meeting a percentage of the poverty level income in Pennsylvania. Other requirements include being a resident of Pennsylvania, a citizen of the United States, and having a certain number of people in your household.6
For example, if your household has three children between the ages of 6 to 19, your monthly income cannot be higher than $2,553 to qualify for Medicaid.
Medicare is an insurance program for those 65 and over or those under 65 with a disability. Medicare is divided into parts A, B, C, and D, with additional Medicare savings program options. Medicare part A covers your inpatient drug rehab in Allentown stays, and part B covers outpatient services. Part C is a combination plan of A and B, while part D covers prescription costs.7
Medicare requires meeting monthly premiums and copays, but for many, this cost is very low, or there is no cost.
Paying for Rehab with Private Insurance
Private insurance plans are accepted at many Lehigh County alcohol rehabs and drug rehabs. Standard private insurance plans include Cigna, Geisinger, Highmark, Blue Cross Blue Shield, and Ambetter, among others. Private insurance varies greatly, depending on your individual needs. Most require monthly premiums, deductibles, and copays.
Some quality treatment centers, like the Allentown Comprehensive Treatment Center, accept commercial insurance, Medicaid, and Medicare and have self-pay options.
It is essential to check with your insurance company about the recovery centers within your plan's network. You also want to ask your insurer about the services covered. Most drug rehabs in Allentown offer behavioral therapy, medication assistance, peer support groups, and family therapy with licensed professionals.
Sometimes trying to match a treatment program with your payment options can get confusing. You can call us anytime to help you figure out where to go for help. We can also answer other questions about receiving treatment in Allentown.
How Easy is it to Travel to and Within Allentown?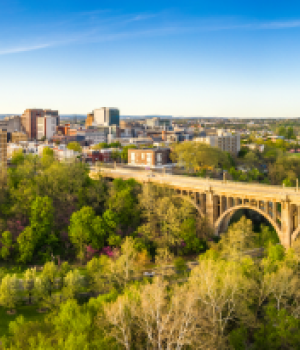 To start investigating the area, type in searches like "drug rehab" or "alcohol rehab," but don't forget to put "Allentown" as your location. Allentown is the third largest city in Pennsylvania, and it is easy to travel to. The Lehigh Valley International Airport is in Allentown, just a few minutes from over twenty hotels and inns. Or, you can rent a whole house or create a unique stay at one of the numerous Air BNB and VRBO options.
Allentown is a mecca for things to do that support recovery of any kind. Amusement parks, museums, the Allentown Symphony Orchestra, and the Lehigh Valley Grand Prix are all in Allentown, or you can check out its famous minor league baseball and hockey teams. There are also plenty of day spas, yoga classes, and wellness activities to provide healing for your mind, body, and spirit. Annual events offer many opportunities, from Bacon Fest and Musikfest to Shakespeare.
Whether you plan to stay in an Allentown drug rehab for a while or are just visiting someone in recovery, you can enjoy indoor and outdoor activities every season.
Resources