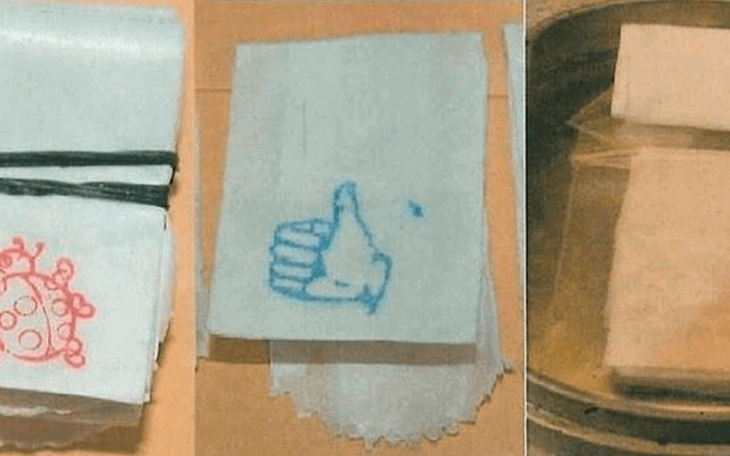 Pennsylvania State Police warned the public that fentanyl marketed as heroin had hit local streets Dec. 22, resulting in four overdoses and at least one death.
State Police in Punxsutawney issued the warning after four overdoses in just 48 hours – three in Clearfield County and one in Clarion County. Three overdose victims were safely revived, police said, but one died.
Overdoses were caused by what the police characterized as a "deadly cocktail" of drugs – either fentanyl sold as heroin or heroin mixed with fentanyl. The drugs were being sold, officials said, in bags with either a red beetle or ladybug design stamped on them or a blue "thumbs up" sign.
Police warned residents of the two counties in the western half of Pennsylvania that using these drugs is certain to cause an overdose that "will most likely lead to death."
Police in the state's Punxsutawney barracks decided to warn the public on Friday afternoon after the spate of overdoses. The drug is not just a danger to users, police said, but to anyone who comes into contact with it.
Fentanyl, an opioid pain drug similar in operation to morphine, is dangerous even in tiny doses, according to the U.S. Drug Enforcement Administration. "In recent years they have become more widely available" in the United States and are a public safety threat, the DEA says.
The synthetic opioid can be as much as 50 times more powerful than heroin, according to the DEA, so drug users who are expecting the milder effects of heroin can be overwhelmed by fentanyl if they use it by mistake or if it is sold to them as heroin.
Fentanyl is sometimes combined with heroin to make the effects stronger, but because neither dealers nor drug users are aware of the exact amount used in a mixture, the possibility of an unexpected overdose and death is significant.
Legal fentanyl is sold for use in pain patches and in other valid medical treatments, but the drug is also commonly manufactured synthetically for sale on the streets, the DEA says.
Because the drug is so potent, it is dangerous to anyone who touches it or inhales it, the DEA warns. This danger affects not only drug abusers but also police and other first responders, such as ambulance personnel, who may come into contact with it.
Even as small an amount as two milligrams of the drug can kill, according to the DEA. Police dogs are also at risk of death if they inhale it.