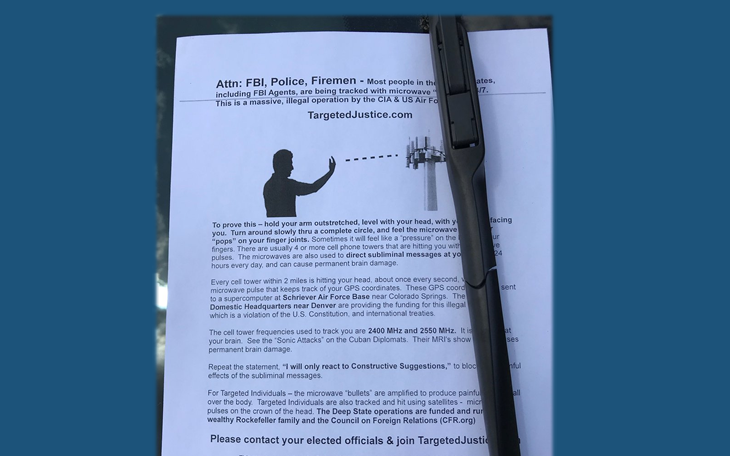 The Harris County Sheriff's Office in Houston warned its officers and the public not to touch flyers placed on vehicle windshields after a sergeant was poisoned by fentanyl on the paper.
The sergeant found one of the flyers, which were addressed to "FBI, Police, Firemen," and warned of a conspiracy theory about the CIA and U.S. Air Force tracking officers and others using microwave towers, on her windshield outside a sheriff's facility at 601 Lockwood Drive about 1 p.m. on Tuesday. She touched the flyer, picking it off her vehicle and reading it briefly, got in her car to drive.
Moments later, the sergeant felt dizzy and had other symptoms that required her to be treated at the hospital for possible exposure to fentanyl. She was released after treatment.
Tests on some of the flyers found traces of the deadly drug. Police officials sent out urgent warnings, putting the department on "high alert," as they weren't sure whether the poisoning was intentional or accidental. If the flyers, of which there were about a dozen, were made or handled by someone who used the drug, the contamination could have been unintentional.
A hazardous materials team was dispatched to the 601 Lockwood facility to check for any spread of the deadly material.
Fentanyl, a synthetic opioid that can be 50 or 100 times more potent than heroin, is so powerful a drug that it can be deadly even in tiny amounts. Touching or accidentally inhaling even a minute amount can be injurious or fatal. The drug is even dangerous to police sniffer dogs, which can be sickened or killed after inhaling just a bit of the powder.
The Harris County Sheriff's Office photographed the flyer, which contained detailed instructions with an illustration of how to "prove" you're being tracked and even harmed by microwaves, and posted it to social media, warning other police agencies and the public to avoid touching anything similar.
Flyers alleged a complex conspiracy of "Deep State" agencies including the Council on Foreign Relations and "the wealthy Rockefeller family." The tagline at the bottom of the flyer attributed the "research" on the subject to "Richard Lighthouse, proud Government Whistleblower."
The potentially deadly potency of fentanyl has required changes in the way police officers are trained, as even brief exposure can be so dangerous. Officers have had to change the way they search and transport suspects, as sometimes drugs get spilled in their police vehicles, requiring a complete hazmat cleaning before they can be used again. A suspect with fentanyl on his clothes can contaminate an entire police station or jail intake facility, exposing dozens of employees and other prisoners to the drug.
Some states and cities have taken drastic steps to combat the dangers of fentanyl, such as Elk Grove Village, near Chicago, which plans to make doses of naloxone, an overdose treatment, available in public places the way defibrillators are now displayed.
As police and federal authorities have cracked down on the misuse of prescription fentanyl, used in pain patches and other medications, the demand for these opioids has been filled in part by smuggled heroin, but also by much more powerful synthetic fentanyl manufactured in labs for the express purpose of criminal sales. Because the drug is often mixed with heroin, or substituted for it, drug users don't know for sure what they are taking and can easily give themselves a fatal overdose.
A lot of fentanyl available in the United States is made in China and shipped to online buyers, sometimes even in the U.S. Mail.