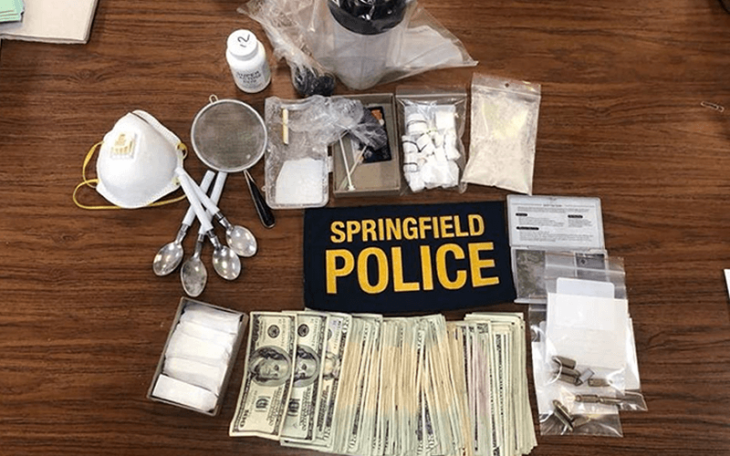 In Springfield, Massachusetts, police arrested two people that they believe part of a heroin distribution and manufacturing center on State Street. Israel Silva-Guzman and Angelie Cabrera were arrested by narcotics officers. The authorities also seized approximately 61 raw grams and 141 bags of heroin, with a street value of roughly $17,000; cocaine; and more than $2,500 in cash.
According to Springfield police spokesman Ryan Walsh, the two individuals are being charged with heroin trafficking, possession of Class A and B drug with intent to sell, possession of ammunition, and possession of drugs in a drug-free school zone.
The police Narcotics Unit, under the direction of Captain Brian Keenan and Sargent Christopher Hitas, raided a first-floor apartment on Friday afternoon. No information was released about the ages of the suspects.
There are no details regarding whether the two suspects have bail set or where they are being held. There is no information regarding whether or not they have hired an attorney or have had legal representation assigned to them. No court dates were released, so it is unclear when the two will be arraigned.
The raw heroin that was confiscated the potential to be turned into 3,000 bags of drugs that could be sold on the street. Heroin on the street often has additives, which are additional toxins that can clog organs, as well as obstructing blood vessels, and both of these can lead to death.
Heroin deaths are on the rise, and the drug has moved from being seen as a low-income, inner-city drug to a drug being found in white suburban communities. Physical dependence can begin after just one use, and the withdrawal symptoms impact how frequently someone will use heroin.
Heroin use can change how genes are activated in the brain and also change brain function. Long-term users are at risk for multiple effects on their physical and mental health. These include Hepatitis C, HIV, AIDS, track marks, infections, and heroin overdose. Women are also at an increased risk of miscarriage. Infections from heroin use could lead to the loss of a limb.
The immediate effects of heroin use include labored breathing, a lowered ability to cough, drowsiness, dry mouth, nausea, vomiting, fatigue, reduced anxiety, itching, and constricted pupils.