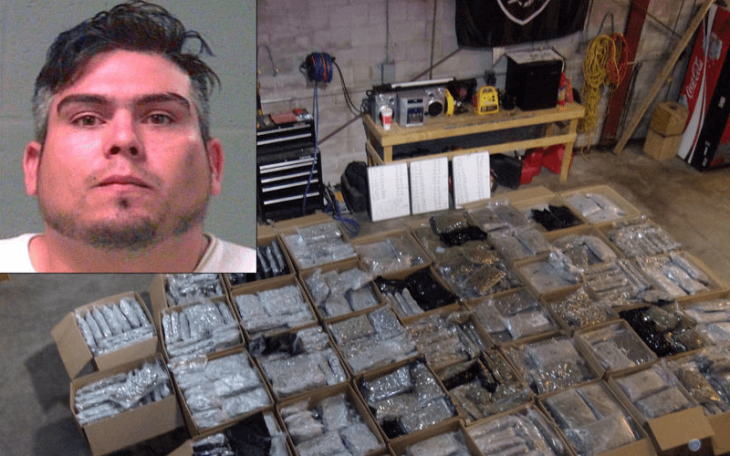 For one deputy, a series of traffic violations led to one of the biggest marijuana drug busts in the history of the Oklahoma County's Sheriff Department. A deputy on duty Saturday spotted a tractor-trailer that was in the process of committing multiple traffic violations. As a result of the traffic stop, police arrested California resident Jorge Reynosa on a complaint of aggravated trafficking of marijuana.
"I am very proud of our deputy and the assistance of the Oklahoma City Police Department K-9 in getting this large load of marijuana off the streets," said Oklahoma County Sheriff P.D. Taylor. "This is the largest load of marijuana in our agency's history. It just goes to show what lengths these drug suppliers will go to in order to bring drugs through our state and county. If you plan on bringing drugs through Oklahoma County, you should plan on going to jail."
The deputy had managed to pull over the tractor-trailer near the N.W. 10th Street exit. During the stop, the officer noticed that the driver was more nervous than what would normally be expected during a traffic stop. There were also several cell phones in the vehicle, and there were multiple air fresheners.
These items made the deputy suspicious, so he called for a K-9 unit. Once the K-9 unit arrived, the dog made a positive hit for the presence of drugs in the trailer, giving authorities probable cause for a search. Still, the officers asked the driver if they could search, and he gave his consent.
"He said he basically went to go pick up the truck at the location it was supposed to be and started driving," said Mark Opgrande, with the Oklahoma County Sheriff's Office. "We have vehicles, trucks, and drugs going north, east, south, [and] west all the time through this area. It's a very heavy area for drug traffic. Not only drugs – drug money as well. That's why we concentrate on our areas of the highways."
Inside the trailer, investigators found 43 boxes of marijuana on three pallets, which meant a total of 1,530 bundles of marijuana. The drugs all totaled weighed 1,677 pounds. The street value of the drugs is said to be nearly $8 million.