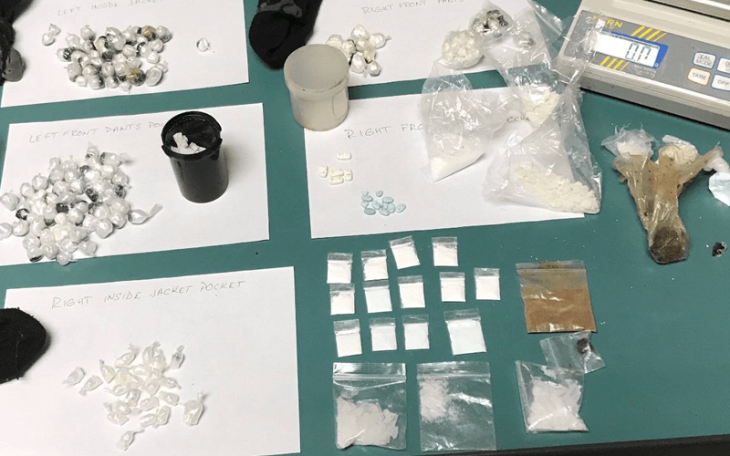 The San Francisco police released a statement via Twitter announcing a drug bust that resulted in the confiscation of 83 bundles of crack cocaine, 102 bundles of heroin, 16 pills, and 16 bindles of cocaine salt. The police arrested the suspect at Hyde and Turk streets, in the Tenderloin area of the city.
According to the police, the individual was stopped while allegedly carrying the drugs on their person. There was no information released about the exact circumstances that resulted in the search. The police did not release any information about the suspect, including their name or the charged filed as part of the arrest.
According to the San Francisco Tenderloin police station, the number of illegal drugs confiscated represented a large number of street drugs being removed from circulation. There was no information released regarding the street value of the drugs found during the search of the suspect. There is also no indication that this was part of a broader investigation.
A large number of bundles seems to indicate that the suspect may have been involved in trafficking, but the police did not release any confirming details.
On the same night, the police arrested another suspect, who they also believed to be carrying narcotics and a firearm, on a Mid-Market street. Both arrests occurred on the same night, but police have released no further details as to why these individuals were initially stopped.
Police said that the second suspect has heroin, cocaine, and methamphetamine, as well as a pistol when they were arrested. No other information on the suspect or the charges that were filed has been released. Additionally, there are no details about whether bail was set in the case of the second suspect.
Heroin is a highly addictive drug, and repeated use can lead to extreme physical and psychological dependence, which can be challenging to overcome. Physical dependence on heroin can begin after the first use, in part because it is so fast acting, and the withdrawal symptoms are uncomfortable that many individuals use again. Long-term use of the drug changes how genes are activated in the brain and also makes changes to brain function.
No details have been released regarding the suspect's bail hearing.