Alcohol and Drug Use Statistics in Ventura, California
Recent alcohol and drug use statistics for the city of Ventura and Ventura County as a whole include:1, 4, 5, 6
157%
Ventura County males are roughly 157% more likely to overdose than females.
214%
From 2019 to 2021, county-wide EMS calls for opioid-related overdoses increased by nearly 214%.
How to Pay for Alcohol and Drug Rehab in Ventura, California
Most Ventura alcohol rehabs and drug rehabs accept multiple forms of payment, including private and public health insurance. Several facilities also offer discounted and even free treatment programs to qualifying individuals.
Free Addiction Treatment Options in Ventura
If you're ready to enroll in a short-term or long-term addiction treatment program but lack the means to pay for rehab, you can still get help. The following types of Ventura drug rehab centers may be able to serve you regardless of your ability to pay:

Government-funded treatment centers: These rehab facilities get funding from state and federal sources. That funding allows them to provide significantly discounted or free treatment services for California residents with limited or no financial resources.
Methadone clinics: These facilities provide medication-assisted treatment (MAT) for people with opioid-use disorders. Many receive government funding and grants to provide low-cost and free treatment to those in need, including persons experiencing homelessness.
Sliding scale rehab facilities: These treatment centers use a variable fee scale that bases each patient's treatment costs on their income. The lower a person's annual household income is, the less their rehab program will ultimately cost.
Some of your options for low-cost or free drug rehab in Ventura include:7
Western Pacific Med Corp.
Genesis Programs Inc.
Ventura County Behavioral Health
Aegis Treatment Centers
Paying for Treatment With Private Insurance
If you have a private Marketplace plan or an employer group plan, your insurance can help you pay for treatment at various Ventura drug rehabs and alcohol rehabs.
Keep in mind that each plan's coverage details, stipulations, and provider network vary, so if you're unfamiliar with your benefits, call your insurer to get a full breakdown. You can also ask for a list of local treatment centers that are in network with your plan.
Alternatively, you can search online for "alcohol rehabs," or "drug rehabs," and then call local facilities to verify your insurance coverage.
Using Medicaid to Pay for Rehab
California Medicaid (Medi-Cal) covers several substance misuse treatment services, including:8
Screenings and assessments
Detoxification
Inpatient treatment
Outpatient programs (PHP, IOP, and SOP)
Medication-assisted treatment (MAT)
Group and individual therapy
Therapy for co-occurring mental health disorders
If you're currently a beneficiary, you can use your insurance to pay for treatment at seven rehab facilities located in Ventura and within 10 miles of the city.7 If you need health insurance, you may be eligible for Medi-Cal if you have a low income, live with certain disabilities, or are pregnant.9
Paying for Rehab With Medicare
Medicare provides insurance plans for people who are 65 years of age and older and some younger individuals who live with chronic disabilities.10 If you're a Medicare beneficiary, your insurance can help you pay for various medically necessary addiction treatment services, including:11
Substance misuse screenings and assessments
Inpatient rehab
Outpatient treatment
Medication-assisted treatment for opioid or alcohol dependence
Telehealth treatment
To get coverage, your treatment program must be recommended by a licensed health care provider and enroll in a Medicare-approved rehab facility. Within 10 miles of Ventura, you'll find at least five rehab centers that accept Medicare plans.7
Traveling to Ventura for Rehab: Getting Around, Lodging, and Things to Do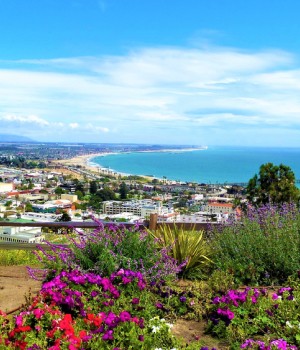 If you'd like to visit a family member who's in long-term drug or alcohol rehab in Ventura or are interested in traveling to the city for treatment, you'll have no problem getting around. Ventura has plenty of transportation, lodging, and entertainment opportunities to suit virtually any need or taste.
Airports Near Ventura
Oxnard Airport is about 11 miles south of Ventura but only offers flights from four airlines. Santa Barbara Airport is roughly 37 miles north of Ventura and Los Angeles International Airport is 70 miles south of the city.
Driving to Ventura
U.S. Route 101, which runs along the Pacific Coast from Washington State to Los Angeles, passes directly through Ventura. State Route 126 also travels through the city and provides a direct route to Interstate 5, which is located approximately 45 miles west.
Lodging in Ventura
Within the city of Ventura, you'll find several 2-, 3-, and 4-star hotels, many of which are situated within walking distance of the beach. You can also find dozens of other lodging options within 10 to 15 miles of the city.
Public Transit and Walkability
Most parts of Ventura (the city, not the county) are walkable and bikeable, so you shouldn't have a problem getting around on foot. The city also has various public transportation options, including:12
Gold Coast Transit, which provides fixed-route bus service throughout Ventura County and to nearby Ojal, Oxnard, and Prot Hueneme.
Ventura County Transportation Commission, which operates six intercity bus routes in Ventura County, as well as a route to Santa Barbara.
Metrolink, which has a commuter train station in downtown Ventura that can take you to dozens of nearby cities, including Santa Clarita, Los Angeles, Anaheim, and Santa Ana.
Local Attractions
Ventura is known for its beaches, Ventura Pier, and Surfer's Point.13 The city also boasts two award-winning golf courses and dozens of public parks where you can enjoy Southern California's year-round gorgeous weather.14, 15 Other local attractions worth visiting include the Museum of Ventura County, Mission Basilica San Buenaventura, and the nearby Channel Islands National Park.
If you'd like assistance verifying your insurance or exploring your many options for alcohol or drug rehab in Ventura, we're here for you. Call us day or night at 800-926-9037 (
Who Answers?) to connect with a treatment support specialist who can help you find recovery programs suited to your needs.
Resources