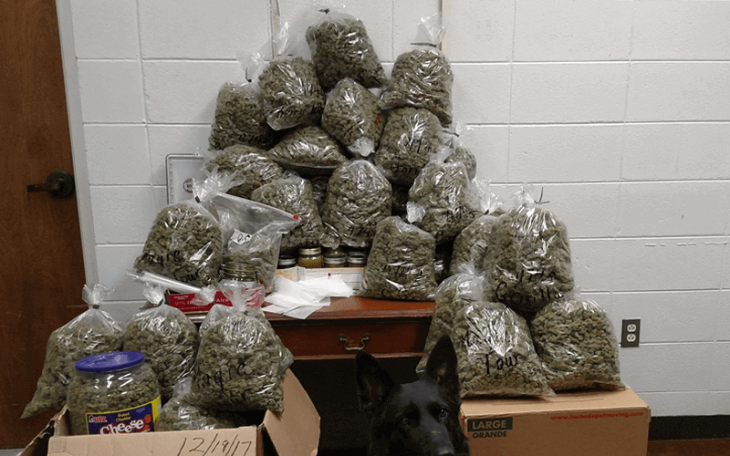 An elderly California couple planned on giving the gift of a marijuana buzz, according to the police in Nebraska. Patrick Jiron, in his 80s, and Barbara Jiron, in her 70s, were arrested for allegedly transporting 60 pounds of marijuana, which has a street value of over $300,000. When confronted by the police, they said that the marijuana was supposed to be Christmas presents.
Both of them were charged with possession of marijuana with the intent to deliver and the lack of a drug tax stamp. Only the husband was jailed, as the wife had medical issues and she was just cited. Mr. Jiron has since posted bail and been released.
The couple was pulled over in a pickup truck by deputies from the York County Sheriff's Department after failing to use their turn signal. The vehicle had a strong smell of raw marijuana, and the county's canine unit alerted officers to the fact that a controlled substance was present. A probable cause search found the marijuana in boxes within the pickup topper.
The police also found multiple containers of THC in a concentrated form. This compound is found in marijuana and is the reason for the high users may experience.
The drug tax stamp is a stamp displayed on a container holding drugs, and it certifies that the dealer paid the Nebraska drug tax, which is due to acquisition or possession of marijuana or controlled substances. The Jirons would have a tax bill or approximately $9,600, based upon the current tax rate of $10 per ounce. The couple purchased their marijuana in California and were headed to the East coast.
The marijuana was deemed to be high-quality, which significantly increased its street value.
This arrest brings up the issue of legalizing marijuana from state to state instead of cohesive federal policy. The governor of Nebraska, Pete Ricketts, said in an article, "As the use of marijuana has been legalized in some states, including our neighbor Colorado, we have been able to observe the impact the legalization of marijuana has had not only in their state but as well as our own. Legalization of marijuana for any purpose has proven to be a risky proposition because the controls placed on its use in other states have fallen short."
Both of the Jirons claimed that they did not know it was illegal to transport marijuana through the state of Nebraska.