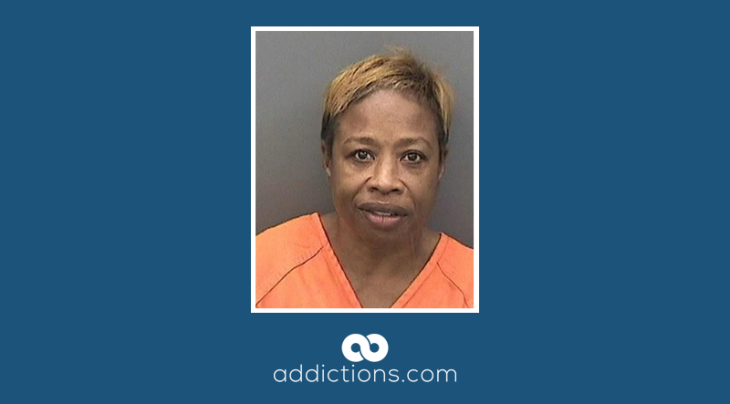 A Florida woman who hit and injured another driver tried to fool him by telling him there hadn't been an accident and that he had dreamed it.
So say police in Brandon, a suburb of Tampa, where the accident occurred on Thanksgiving morning.
Deputies said Darlene Bell-Babineaux, age 61, was driving her Mercedes at 2:40 a.m. on Nov. 22 near where Heather Lakes Boulevard intersects with Widelake Court. She struck the other driver's car head on with so much force that it was shoved backwards off the street into a tree alongside. The damaged car hit the tree hard enough to split it, leaving the vehicle wedged up on the tree partly above ground level.
Heather Lakes Boulevard follows a broad U through the Heather Lakes at Brandon neighborhood and past Providence Townhomes – it isn't a major through street, but a residential loop.
Bell-Babineaux, who was barefoot, approached the driver whose car she'd hit and told him that there had, in fact, not been any accident, and that he was dreaming, according to police accounts.
The driver she struck was hurt badly enough that he had to be taken to the hospital with a seriously injured ankle and foot.
Because Bell-Babineaux was driving so fast in a secluded neighborhood on a residential street, and because she behaved strangely after the crash (she tried to conceal herself from cops who arrived on scene by hiding behind some bushes), police suspected she might be impaired. She refused to take either a blood test or submit to a breathalyzer analysis.
Looking into her Mercedes, police discovered many different prescription drugs, including 18 tablets for which she had not gotten a prescription.
They arrested her on suspicion of driving under the influence and of carrying a controlled substance. Property damage charges and causing serious bodily injury charges were added to the DUI. Investigators guessed the collision caused as much as $25,000 in damages to property.
Considered a "bedroom community" for the nearby Tampa metropolis, Brandon has about 100,000 residents.