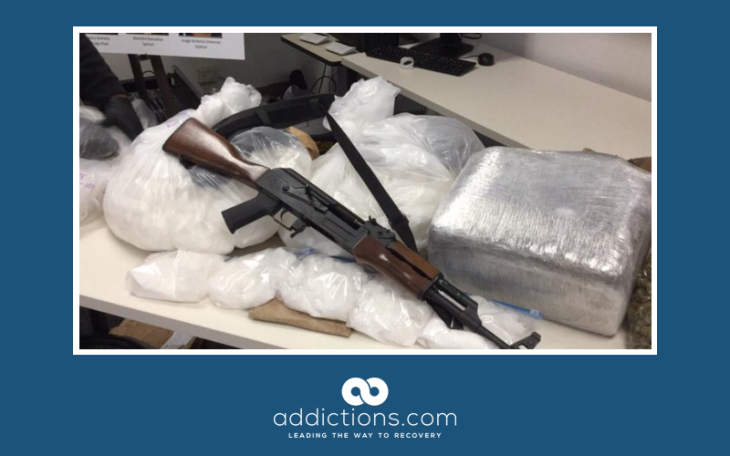 A Southern California drug bust that came at the end of a year-long investigation resulted in 13 arrests and the confiscation of $10 million in heroin, cocaine, meth, and other drugs.
Police said they think they captured the leader of the smuggling ring, a San Fernando Valley man named Omar Rangel, age 29.
Narcotics being smuggled into Los Angeles and Ventura counties in bulk came, police said, from the notorious Sinaloa drug cartel in Mexico.
Gary Pentis, undersheriff of Ventura County, said drug deliveries in this trafficking operation came straight from Sinaloa state on Mexico's west coast, were kept in bulk storage areas in both Los Angeles County and Ventura County, before being distributed further.
The investigation began in September 2017 when authorities zeroed in on a resident of Los Angeles County who was thought to be handling large amounts of narcotics and passing them on to people in Ventura County and beyond. Officers said not all the drugs smuggled in via this route were sold locally – some were moved on to more distant locations.
Rengel and a dozen other people were arrested in this operation, while two people are still sought by police and are at large.
The Ventura County Sheriff's Department said some of the people arrested are thought to be high-ranking members of the Sinaloa cartel.
During the searches and arrests, police confiscated 161 pounds of methamphetamine, as well as 121 pounds of cocaine and 13.2 pounds of heroin. They also seized smaller amounts of other drugs, such as fentanyl in powder and pill form. Oxycodone pills were also seized during the raids. A dozen firearms were taken away by police, as well as $353,000 in cash.
Authorities guess the total value of the seized drugs works out to around $10.8 million.
This operation, led by the Ventura County Combined Task Force, was a joint undertaking by numerous police agencies, including local, state and federal authorities.