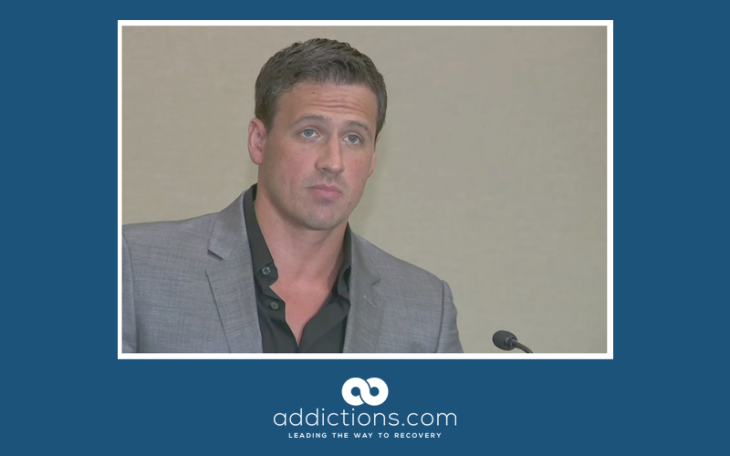 A lawyer representing U.S. swimmer Ryan Lochte, who won a dozen Olympic medals in his career, said Lochte is looking for treatment for his alcohol abuse.
Lochte, who is 34, has already been banned from swimming competitions for 14 months after he failed to get an exemption for a type of transfusion that is against competition rules.
The swimmer claimed his receipt of the intravenous transfusion was accidental. Lochte will come out from under this ban at the end of June 2019 and has said he hopes to compete in the 2020 Olympic Games, to be held in Tokyo.
Lochte, born Aug. 3, 1984, while the summer Olympics were underway in Los Angeles, has won seven individual swimming medals at the Olympics. He started his Olympic competitive career at the 2004 games in Athens, Greece. He also qualified for and competed at the 2008 Olympic Games in Beijing, China, and the 2012 games in London.
His career has been marked by episodes of erratic behavior, including a bizarre claim at the 2016 Olympics in Rio de Janeiro, Brazil, that he and some other U.S. swimmers had been stopped and robbed by people with police badges. He and the others were later shown to have vandalized a gas station toilet, an event which was recorded on video and which resulted in the forfeiture of $100,000 in prize money by Lochte.
Later, Lochte blamed his lies on drunkenness. He had claimed to have a gun held to his head during the "robbery," which was untrue. U.S. swimming authorities banned him from 10 months of competition after that event.
That wasn't the end of controversy in the swimmer's life.
According to news reports, Lochte tried to kick in the door of his hotel room in California last week. Someone called the police to the scene, but they didn't arrest him.
Lochte's lawyer said the swimmer has long suffered from alcohol addiction, which he called a "destructive pattern" in Lochte's life.
The attorney said Lochte understands that he cannot overcome this addiction on his own and needs professional help.
Lochte is married to Kayla Rae Reid, a former Playboy magazine centerfold model, and they have a son, Caiden Lochte, born June 8, 2017.