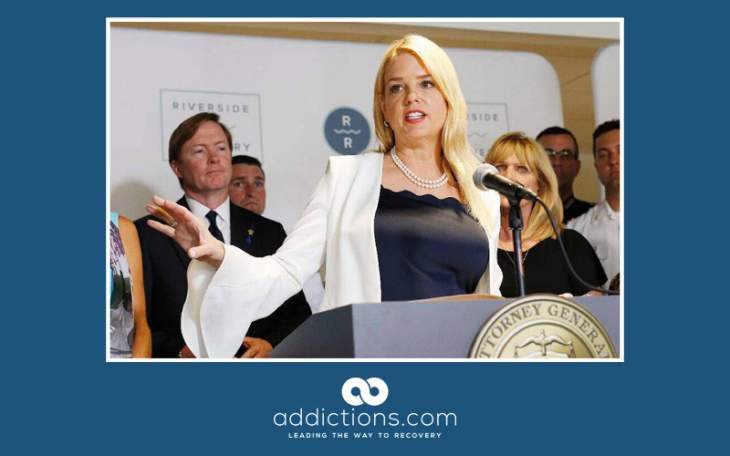 Florida's attorney general, Pam Bondi, filed a suit against OxyContin maker Purdue Pharma, joining five other states in accusing the Connecticut drug giant of deceptive and unfair trade practices in marketing the opioid compound.
Nevada, Texas, North Carolina, Tennessee and North Dakota also filed similar suits alleging that Purdue's marketing strategy increased opioid abuse and contributed to overdose deaths.
Purdue disputed and denied the claims in the lawsuits. It said it has long been negotiating with Florida to resolve the situation without an expensive and lengthy court process.
Florida's Bondi also named four other pharmaceutical manufacturers and four drug distribution companies in her state's lawsuit. She said 15 people die of opioid overdoses each day in the Sunshine State, which has a population of about 21 million.
Bondi said Tuesday that opioids have killed 10,000 Floridians or more. The state's suit claims Purdue and the other companies deceived patients and doctors with misleading marketing messages about how addictive OxyContin could be, and that they didn't exercise adequate oversight of orders for the drugs, ignoring suspiciously large deliveries.
The attorney general went on to say that companies in the drug business need to pay for the damage they and their products have done in Florida and elsewhere – she noted that about 175 people nationwide die from opioid overdoses each day.
In 2007, Purdue Pharma agreed to a $601 million settlement over similar charges – one of the biggest such settlements in history. Three of its top bosses pled guilty to charges related to drug branding and agreed to pay $34.5 million in fines.
In late 2015, Purdue settled a suit over OxyContin with the State of Kentucky, paying $24 million.
Other businesses named in this suit include Endo Pharmaceuticals – Endo International plc is a multinational drug company based in Ireland and Pennsylvania – as well as Johnson & Johnson, and also distribution companies AmerisourceBergen Corp. of Pennsylvania, Ohio-based Cardinal Health Inc., and San Francisco's McKesson Corp.
The suit alleges the distributors didn't keep track of unusually large orders of opioids, as required by law.
Bondi stressed that in general marketing materials – she displayed examples at her press conference – the drug makers underestimated the addictive nature of opioids and the dangers of taking them.
The state's suit maintains that Purdue and the others broke local laws such as the Florida Deceptive and Unfair Trade Practices Act, as well as the Florida RICO act. RICO refers to racketeering, where businesses allegedly conspire to commit some crime.
Doctors and other medical professionals were paid by the drug makers, Bondi said, to promote opioids while minimizing their well-known side effects.