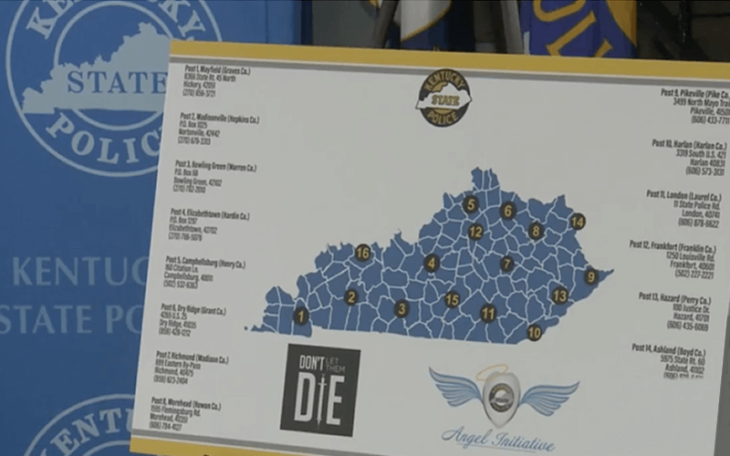 The Kentucky state police have unveiled a radical program that would allow opiate addicts to find assistance from the police themselves. Gov. Matt Bevin and Justice and John Tilley- the Cabinet Secretary for Public Safety- joined the Kentucky State Police (KSP) Thursday during the unveiling of the program dubbed "Angel Initiative."
Kentucky's latest front in the war on drugs encourages addicts seeking treatment to visit the nearest KSP post, where they will get paired with troopers who will assist them connect to a suitable treatment program.
During the press conference, Bevin acknowledged that drugs were becoming a huge problem for the state, adding that the state's leadership must serve and protect its fellow citizens. "We have an obligation to make sure we are taking care of every Kentuckian. That if we don't, we ultimately reap what we sow. An ounce of prevention that we can spend is worth a pound of cure."
According to a KSP release, the Angel Initiative will be implemented in conjunction with "Don't Let Them Die"- Bevin's public campaign that highlights the dangers of opioid abuse.
Nowadays, it has become increasingly difficult for addicts to find places to go, or where to seek help. The new voluntary program, which has several partner institutions, could offer valuable guidance in helping people find the right place. Speaking at the launch, Tilley said the department of criminal justice is overwhelmed by substance abuse, and that is a .pressing need for a feasible solution. He added that the new initiative would connect addicts with a place they can visit without the fear of retribution.
According to Kentucky State Police, drug overdose claimed just over 1,400 lives in 2016, an increase of over 7 percent from 2015. Fentanyl, a deadly synthetic opioid which is far stronger compared to heroin, accounted for 623 deaths, the highest recorded deaths per drug. On the other hand, Heroin overdose killed an estimated 456 people in the same year.
Richard Sanders- the KSP Commissioner- stated treatment is indispensable for freeing the community from the menace of drug addiction. "KSP is as dedicated as ever to pursuing and stopping drug dealers. When those suffering from addiction are released from prison without any treatment, our prisons become revolving doors. If our communities are ever to be free of the cycle of addiction, treatment is necessary." Sanders also claimed that the move does not mean they're going soft on crime, but rather smart on it.