Substance Abuse Statistics in Bowling Green, KY
Like the rest of the nation, Bowling Green—which is located in Warren County—is experiencing its fair share of opioid use and subsequent overdoses in recent times. Here's an overview of what opioid the opioid statistic for Bowling Green looks like:

Fentanyl was identified through toxicology reports in at least 1,639 overdose death cases last year for the entire state, which represents 72.8% of the total deadly overdoses.3
Levels of Care for Addiction Treatment Settings
The goal of detox is to manage withdrawal symptoms and help you achieve a substance-free state. Once you complete detox, you're ready to transition into a comprehensive inpatient addiction treatment program.
Professional Detox
The goal of detox is to manage withdrawal symptoms and help you achieve a substance-free state. Once you complete detox, you're ready to transition into a comprehensive inpatient addiction treatment program.
Inpatient Care
The most intensive and structured setting, inpatient rehab offers round-the-clock care and medical supervision. This level of care is beneficial for those with a severe addiction or those who did not see success with outpatient programs.
Partial hospitalization programs (PHPs)
A step down from inpatient care, PHPs require you to attend several hours of treatment at a facility each day and return home during non-treatment hours (usually at night). This is a good option for someone who needs a high level of care but can't commit to an inpatient program.
Intensive Outpatient Programs (IOPs)
Less intensive than PHPs, an IOP involves several hours of therapy per week, often visiting the treatment center between three and five days each week. This is often used as a step-down option from inpatient or PHP.
Standard Outpatient
The least intensive treatment option, a standard outpatient setting involves one to two hours of treatment for one or two days per week. Highly motivated people with a strong support system tend to find this level beneficial.
Aftercare
Support doesn't end once you complete your drug rehab program—it's important to receive aftercare, which can provide you with ongoing support and encouragement in the form of 12-step groups, non-12-step groups like SMART Recovery, ongoing therapy, sober living homes, and more.
How to Pay for Drug Rehab in Kentucky
The following are various ways to finance your recovery program:
Private Insurance
If you have private health insurance, you absolutely want to use it to pay for drug rehab. Just make sure you find a rehab that is in network with your insurance.
Kentucky Medicaid
If you have Medicaid in Kentucky, you can use it to cover the cost of alcohol and drug rehab; however, you'll have to find a rehab that accepts Medicaid.
Kentucky Medicare
If you have Kentucky Medicare, you'll want to use this government health program to pay for addiction treatment services; however, like Medicaid, you need to make sure to find a program that accepts Medicare.
TRICARE in Kentucky
If you are a veteran or member of the military, it's important to know that TRICARE covers substance abuse treatment services for those looking to get sober.
Sliding Scale Payment Options
Other affordable treatment programs involve sliding scale rehabs, which adjust the price of treatment according to your income.
IHS-Funded Drug Rehabs
If you are Indigenous, you can receive free addiction treatment at IHS-funded treatment centers, even if you have health insurance.
Everything You Need to Know About Bowling Green, Kentucky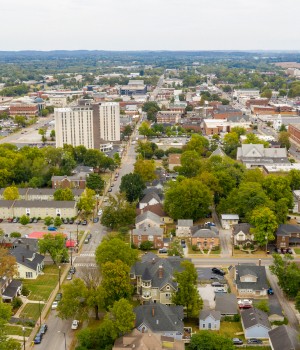 If you are thinking about entering one of the Bowling Green drug rehabs or visiting a loved one currently admitted to one of the Bowling Green alcohol rehabs, here are a few travel tips to help you plan your trip:
The closest major airport to Bowling Green is the Nashville International Airport, which is approximately a two-hour and 22-minute drive.
There are dozens of hotels, motels, bed and breakfasts, and Air BnBs available for your stay in Bowling Green, KY.
Bowling Green offers a public transit service via bus, known as the Bowling Green Public Transit Program. Uber, Lyft, taxis, and rental car services are also widely available.
The most popular activities in Bowling Green include boating through the Lost River Cave, visiting the National Corvette Museum, seeing the races at Beech Bend Park, taking in the arts and culture in the Historic District, and dining at one of the 324 highly rated restaurants scattered throughout the city.
Kentucky Drug and Alcohol Laws
Below are some relevant Kentucky substance abuse laws:1
Casey's Law: Loved ones can petition the drug courts for involuntary placement in addiction treatment centers.
NPLEx: This drug tracking program traces ingredients manufacturers use to create meth, such as pseudoephedrine. Pharmacists are alerted when a person tries to purchase more than the legal limit.
Kentucky Opioid Response Effort: This program focuses on drug use and overdose prevention, rehab, recovery, and harm reduction.
Kentucky State Police Angel Initiative: This law encourages people seeking addiction treatment to go to their state police department and ask for assistance.