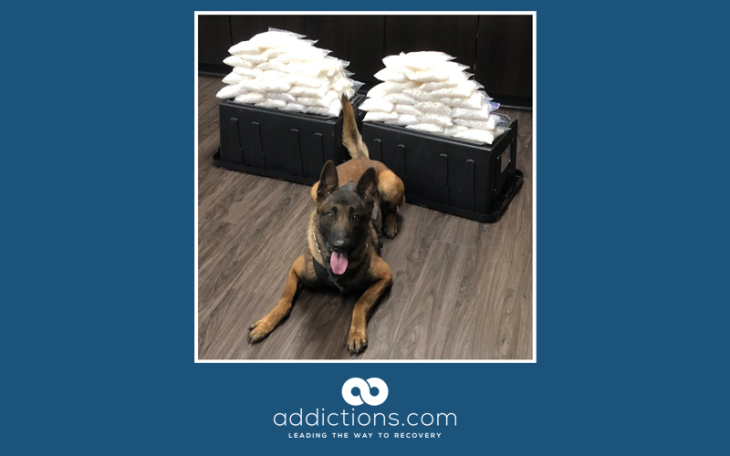 California police have said that one of their newest K-9 department pups found major drugs haul on his first time out.
Rye, who was certified for narcotic detection last month, was called in after West Covina police pulled over a 2010 Nissan for a minor driving violation.  After stopping the driver on May 19th, officers found an amount of methamphetamine on the driver's seat of the vehicle and requested K-9 back up.
When German Shepherd, Rye, made a more thorough search of the vehicle, he uncovered two secret compartments in the space underneath the driver's seat containing almost 60 pounds of methamphetamine.
West Covina police, who posted a photograph of Rye with his haul on social media, arrested the driver of the Nissan after compounding his vehicle for the search.  The incident happened at around 7.20pm on Saturday.  The accused, Pedro Lopez (28), is charged with possession, sale and transporting of methamphetamine and his bail has been set at a staggering $1 million.  If found guilty, Lopez could face up to four years in prison and a fine up to $20,000.
Methamphetamine is a powerful stimulant drug which is chemically similar to amphetamine, used to treat ADHD and narcolepsy.
Widely used across the world, police dogs or K-9 units as they are commonly known are dogs who are specially trained to detect specific odors and evidence.  K-9 dogs serve a dual purpose within police departments – to sniff out particular smells (narcotics, missing people or cadavers) as well as protecting the police officers accompanying them. Although other breeds can be trained as police dogs, in California the most common breed is the German Shepherd (previously known as Alsatian).  It takes between three and four weeks to train a K-9 dog to detect narcotics successfully.
Anybody looking to become a K-9 officer must be a dog lover and, must have their family on board as it's a big responsibility.  Not only will they work with their K-9 dog during their shift but will also provide a home, training and other care for him.