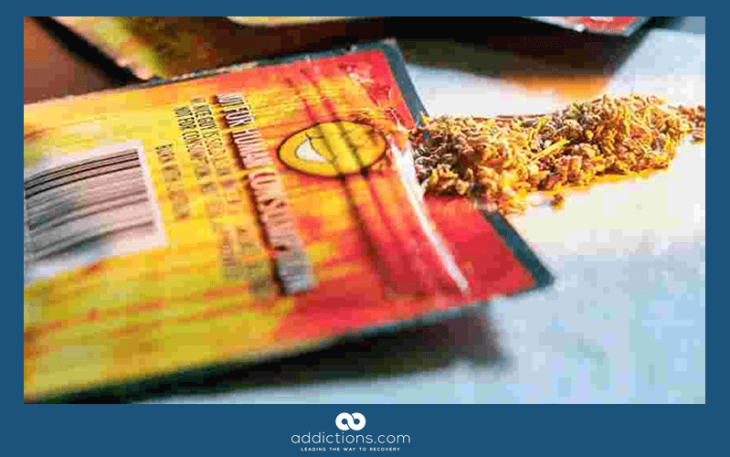 Health officials have warned of a new form of synthetic marijuana which has killed two people and made over a hundred more ill.
Hospital staff across some states, including Chicago, reports that they have treated several emergency room patients who were admitted with bruising, confusion and bleeding from gums and noses.  Many of the patients appeared disoriented and panicked and unaware of what had caused these distressing symptoms.
The Centers for Disease Control (CDC) and Prevention have been prompted to issue a warning after, one month on, the cases of ER admissions for serious unexplained bleeding continue unabated with some hospitals receiving several patients a day.
The CDC has warned people to be vigilant after linking the outbreak to a previously unseen strain of tainted synthetic marijuana.
Marijuana, also known as cannabis, is a mind-altering drug derived from the Cannabis Sativa plant.  The drug, which can be smoked or cooked and eaten, is known for its mellowing effects and relatively low price.  Recreational marijuana is now legal in nine States in the USA and can be bought from specialized dispensaries.
Fake, or synthetic marijuana is widely available across the US and tends to comprise of dried leaves or plants which have been chemically treated.  Often packaged in foil packages under names such as 'Insane' and 'Blue Giant,' synthetic marijuana is often sold in gas stations and small independent markets and store and, is usually harmless.  Police and health officials say that even regular users of synthetic marijuana may be unaware of the dangers of the new tainted drug.
Experts say that the current outbreak of illness is linked to a synthetic drug named Spice or K2 which contains, among other chemicals, brodifacoum which is a chemical used to poison rats and which causes severe bleeding when ingested by humans.
Wisconsin Chief Medical Officer, Jon Meiman, says that the new strain of tainted synthetic marijuana poses a significant risk to health and that authorities are taking the outbreak extremely seriously.
An investigation by the Police Department and the DEA in Chicago has, so far, led to three people charged with federal drug offenses after it was found that Spice was being sold from behind the counter of a West Side minimart.