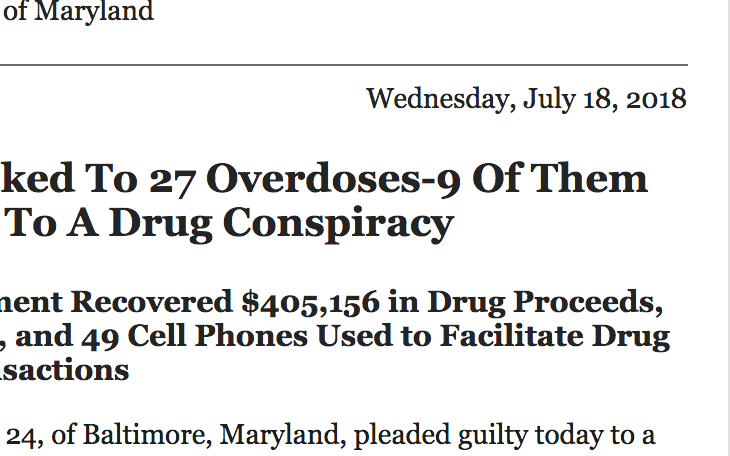 Karon Elijah Peoples pleaded guilty in Baltimore to the distribution of heroin and conspiracy charges this week after drugs he helped distribute were linked to 27 overdoses.
Nine of those 27 overdoses were fatal. Police connected the overdoses, deaths, and Peoples by records of messages to and from his large collection of cell phones.
According to reports from federal authorities, Peoples agreed to charges that he helped distribute up to nine or 10 kilograms (22 pounds) of heroin.
Police had been looking into Peoples' dealings as long ago as fall 2017 when they identified him as a heroin dealer in Maryland. Buys made by undercover police confirmed the case against him.
On Dec. 7, 2017, after he was first busted during a traffic stop, when police went on to raid Peoples' West Lexington Street home in Baltimore and searched his vehicle, they found 900 grams (nearly two pounds) of heroin – worth about $110,000, police said – in the home and 68 grams more in the car. Peoples had $405,156 in cash inside a Louis Vuitton bag, along with a Rolex watch worth $70,000 and assorted drug equipment including digital scales used to weigh drugs.
He was set free on a $50,000 bond after that initial arrest. On Jan. 4 prosecutors charged him with multiple other crimes in a sealed indictment in U.S. District Court of Maryland.
When Peoples, who is 24, was finally arrested Jan. 9, police revealed he had 49 mobile phones in his home. Authorities searched the text messages on those phones to help complete their case against the dealer and another conspirator. There were many hundreds of text messages on the phones about buying and selling heroin, dating back as far as May 2015.
Work by the Harford County Narcotics Taskforce, led by Captain Lee Dunbar, as well as agents from the U.S. Drug Enforcement Administration and from the Washington/Baltimore High-Intensity Drug Trafficking Area connected the various phones to the 27 known overdoses, which took place not only in Maryland but also in Pennsylvania and West Virginia.
Dunbar said that patterns revealed in multiple drug investigations show that Baltimore is the source of most of the heroin and fentanyl in that area – western Maryland, northern Virginia and northeastern West Virginia.
Because of his crimes, Peoples will likely be sentenced to at least 10 years in prison for conspiracy but could get a life sentence, too. Other charges carry a minimum five-year prison sentence but could go as high as 40 years.
Peoples is due to be sentenced on Oct. 16.