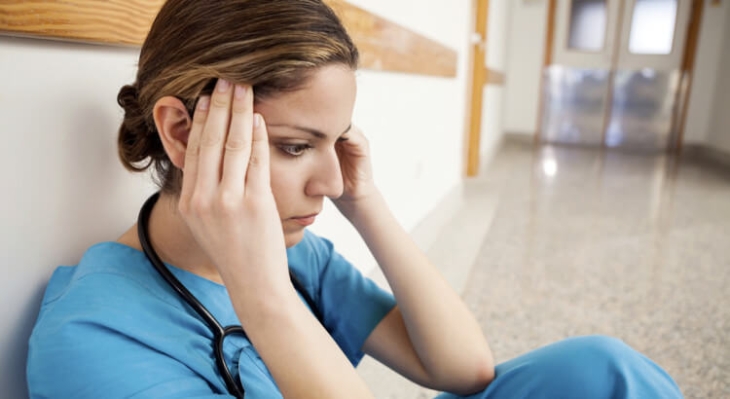 It should come as no surprise that many people incorrectly feel that alcoholism and drug addiction are a failure on the addict's part. Their will wasn't strong enough. Their moral character wasn't pure enough. But, addiction is a disease of the brain and most addicts have trouble breaking the cycle without seeking out treatment and support.
For nurses, support and treatment can be hard to come by for a number of reasons, just one of which the shame that comes from the attitudes mentioned above.
The Stigma
Health care often provides a punishing attitude to the issue of nurses and drug addiction.
Addicts feel shame and guilt because society tells them they should have been stronger. They also fear losing their friends and family and their jobs and reputations.
Moreover, healthcare practitioners, like nurses, face stricter penalties for addiction. Addiction is a breach of professional ethics, endangers patients, and can draw criticism on the facilities where they work. Because of this, nurses tend to be doubly hard on themselves and their peers.
Because of the severity of the stigma facing nurses who are addicts, many fail to seek or receive help. In addition, facilities often provide inadequate support for addicts and recovering nurses.
This stigma is not only dangerous for the health of nurses, it puts patients at risk, as well. In a 2005 study, Debra Dunn, RN points out nurses with untreated addiction can risk patient safety because of lessened decision making power, sluggish reaction time, diverting drugs from patients, neglecting patients, and making mistakes.
The Numbers
According to an estimate released by the American Nursing Association 10 to 20 percent of nurses have a substance abuse problem. This estimate is equivalent to estimates for the general population as well.
As for specific types of nursing, a 1998 report based on the information compiled through an anonymous mailed survey determined differences in the use of marijuana, cocaine, and prescription-type drugs, as well as cigarette smoking and binge drinking among registered nurses. The results showed:
Prevalence of use of all substances was 32%. This exceeds the rough estimate given by the American Association of Nursing.
Compared with nurses in women's health, pediatrics, and general practice, emergency nurses were 3.5 times as likely to use marijuana or cocaine.
Oncology and administration nurses were twice as likely to engage in binge drinking.
Psychiatric nurses were most likely to smoke.
No specialty differences appeared for prescription-type drug use, the most common form
of drug abuse among nurses.
One reason offered for these differences is that intense emotional and physical demands, and the availability of controlled substances in certain areas leads to increased risk of drug use.
Top Four Risk Factors
A National Council of State Boards of Nursing, Inc. 2011 report, titled "Substance Use Disorder in Nursing: A Resource Manual and Guidelines for Alternative and Disciplinary Monitoring Programs," identifies the following four risk factors—which tend to make any individual more susceptible to developing a substance use disorder–for nurses in the workplace.
Access
Attitude
Stress
A lack of education
In the health care field, drugs are readily available and nurses are trained in the administration and injection of drugs.
Familiarity with and frequency of administering drugs "tends to diminish negative sanctions against self-diagnosis and self-administration and increases the risk for substance abuse." That is, nurses are more comfortable self-diagnosing and medicating because they do it all day long. They don't have the same negative associations with it that the average person would.
Staffing shortages, changing schedules, and patient to nurse ratios combine to cause a lot of stress for nurses. The 1998 study mentioned earlier also reports a relation between work schedule characteristics (shift rotation, weekends on, shift lengths longer than eight hours and overtime) to substance abuse. Typically, the more unpleasant the nursing schedule was, the greater the possibility there would be substance abuse.
The fourth risk factor is a lack of education about substance use disorder, which leads to a lack of consciousness about indicators and symptoms. Plus, it leads to a lack of preparedness in order to identify and address the indicators and symptoms. This lack of education contributes to the earlier addressed stigma toward those with substance use disorders, especially nurses.