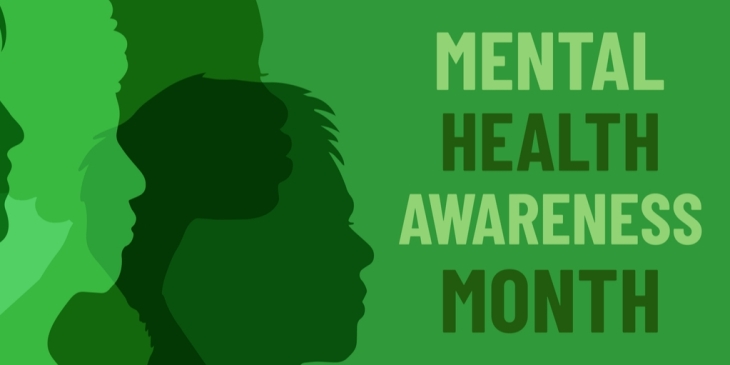 May is Mental Health Awareness Month. Since 1949, the month-long observance is intended to both increase awareness of the importance of mental health and celebrate the strides that clinicians, non-profits, activists, professionals, institutions, and ordinary people have contributed to treating and de-stigmatizing mental illness.
Throughout May, we've compiled 16 informative, compelling articles that we feel best met these goals. From first-hand, personal stories to clinical, data-driven reports, the following 16 pieces contribute to the national goal of mental wellness and recovery.

Mental Health America's theme for this year's Mental Health Awareness Month is "Back to Basics." Fittingly, this article explains the risk factors that may contribute to developing a mental illness. The article highlights five specific risk factors:
Social determinants of health (financial stability, educational access, etc.) 
Genetics and its relation to brain development
History of traumatic experiences
Biology and brain chemistry
Habits and lifestyles
One of the focuses of the article includes substance use, which can affect mood, sleep habits, physical health, and more. Often, someone with a mental health condition may cope with substances, which in turn, can exasperate the symptoms of mental illness. This dual diagnosis is common among individuals struggling with substance use. However, the article does note that you can reduce the risks of developing a mental illness. If you experience one or more of these risk factors, you're not absolutely destined to struggle with mental health.
Article by Mental Health America

Much like the previous piece, Katherine Ponte's article — written for the National Alliance on Mental Illness (NAMI) — focuses on the early phases of mental illness (or, back to basics). Instead of risk factors, however, she focuses on early warning signs of mental illness. The article is an excellent instructional piece for individuals who begin to notice changes in their thoughts, behaviors, and emotions.
An author, mental health advocate, writer, and lawyer, Katherine Ponte is also the founder of ForLikeMinds — a peer support community for people living with mental illness and their loved ones. If you notice early warning signs, the article explains the steps to address these signs. These include considering your usual baseline and past experiences; identifying and assessing the signs and symptoms; making a plan to find support; and developing coping strategies.
Article by Katherine Ponte JD, MBA, CPRP

Also an article written for NAMI, this piece by Heather Loeb chronicles her early struggles with mental health concerns as a preteen.
She writes, "I remember being overwhelmingly sad, lonely, and misunderstood. My sadness was accompanied by intrusive thoughts. Suddenly, horrible notions would parade through my head:
Your parents are going to die.
You're going to die.
Something bad is going to happen.
Nobody loves you.
I didn't realize that my sadness and intrusive thoughts weren't normal. The only thing I could do about it, I thought, was pray. Over and over, I'd ask that my thoughts and fears not come true. It became obsessive."
Like many others, Loeb didn't consider her dark thoughts as abnormal and struggled for years in silence. In college, she was finally diagnosed with anxiety and depression but continued to struggle with severe postpartum depression, suicidal thoughts, and eating disorders. Not until an admission to a psychiatric hospital did she receive the care she needed.
"Do I wish things had gone differently? Sometimes, " she writes. "I feel like the best version of myself, but it still hurts thinking of that lonely seventh grader begging God not to die." Heather Loeb is now the founder of Unruly Neurons,  a website dedicated to ending the stigma of mental illness.
Article by Heather Loeb

This first-hand account by writer Olivia Pennelle details her lifelong struggle with attention-deficit hyperactivity disorder (ADHD) and how it affected her professional life, personal relationships, and eventually her recovery from substance use.
Pennelle wasn't diagnosed with ADHD until finally meeting with a psychiatrist who asked about her childhood, home life, and daily habits. After years of misdiagnoses and substance use, she finally found relief while in recovery.
"I was misdiagnosed for 8 years of my recovery," she writes. "Professionals said my problems included depression, anxiety, and — believe it or not — not working hard enough on my recovery! It was only after I decided to take control of my recovery that I started to find answers to a life-long condition impacting my quality of life."
For years, Pennelle sustained her sobriety but continued to feel exhausted, unfulfilled, and depressed. Fortunately, after she was diagnosed with ADHD, Pennelle found a medication regimen that helped her.
"Making these discoveries and advocating for my mental health made such a huge impact on my outlook — and my recovery. I felt like everything finally made sense. There was finally an explanation for why I wasn't thriving and felt depressed or exhausted all the time," she writes.
Article by Olivia Pennelle

A recent survey of 1000 American adults by Verywell Mind  — a thought leader in mental health advocacy and wellness — found that the cost of treatment deters many individuals from seeking treatment. The survey found that nearly half of all respondents (49 percent) felt worried about paying for treatment long-term. And almost as many individuals (48 percent) reported they'd stop attending treatment if they incurred more out-of-pocket costs.
Written by Julia Ingram, a journalist and data analyst, the article also revealed that around 33 percent of individuals who stopped treatment never returned. Another unfortunate statistic — and the reason this article is important — only around half (56 percent) of respondents were familiar with "sliding scale" rates — fees that are adjusted in accordance to the individual's income and financial situation.
If individuals are unaware of their available financial options, it's no surprise that the cost of treatment remains a perceived barrier to care.
Article by Julia Ingram

On April 30th, only one day before Mental Health Awareness Month, tragic news came from the music world — Naomi Judd had taken her own life. It's worth noting that April 30th was also one day before Judd's induction into Nashville's Country Music Hall of Fame. Soon, Naomi and daughters Wynonna and Ashley were also scheduled to tour together for the first time in 10 years.
Although many are familiar with Naomi Judd's music, some may be less familiar with her mental health advocacy. In 2016, she wrote a memoir called River of Time: My Descent into Depression and How I Emerged with Hope. In the book, Naomi Judd revealed how she struggled with depression and suicidal thoughts.
Sisters Wynonna and Ashley Judd explained, "Today we sisters experienced a tragedy. We lost our beautiful mother to the disease of mental illness." Written by Kerry Nenn, the article not only tells the story of Naomi Judd's passing but also reveals the tragic statistics of suicide in America. For the sake of mental health awareness, the death of Naomi Judd showed that no amount of knowledge, self-awareness, or success can ensure you're not susceptible to the despair you may've once known.
Article by Kerry Nenn

Written by Sarah Sheppard — a writer and freelancer herself — this article looks at the Great Resignation and how gig work can create burnout. Approximately 34 percent of American workers are now gig workers. And "the hustle" to juggle so many responsibilities can be a stressful lifestyle. While many gig workers cite work flexibility as a major reason for the type of employment, Sheppard points out some of the cons of gig work: no benefits,  tracking down payments, unpredictability, paying your own taxes, etc.
In fact, Sheppard cites one study that found 45 percent of gig workers have a high Economic Anxiety Index score, while traditional employees have a 24 percent anxiety index score. The article on Verywell Mind also quotes a few gig workers who shared this anxiety. "Every time I turn down an assignment, I think 'I could do it, I could make it work.' That default mindset is 'I need to get paid.' But at what cost?" asks Thompson Payton, a freelance writer and blogger.
To help gig workers avoid burnout, Sheppard recommends taking personal days, joining online communities of other gig workers, and trying to avoid a "hustle" mentality when it comes to working. Sarah Sheppard is a writer, editor, ghostwriter, and mental health advocate.
Article by Sarah Sheppard

During the pandemic, rates of mental illness have skyrocketed. Unsurprisingly, isolation, financial instability, grief and loss, and an uncertain future all contributed to higher rates of anxiety and depression. This article by writer Olivia Pennelle explores one of the most affected demographics — teenagers.  However, even before the pandemic, teenage mental health had drastically declined.
Data from the Centers for Disease Control and Prevention (CDC) reveals that:
Teenage major depression rose 60 percent from 2007 to 2019.
From 2007 to 2018, suicide rates rose by 60 percent.
Suicide rates rose a further 51 percent during the pandemic among adolescent girls.
Emergency room visits also rose sharply due to mental illness and self-harm.
In his 53-page report, Protecting Teenage Mental Health, the U.S. Surgeon General noted: "The challenges today's generation of young people face are unprecedented and uniquely hard to navigate. And the effect these challenges have had on their mental health is devastating." In the article, Pennelle lists warning signs of teenage illness, offers advice to parents, and provides her own struggles with teenage mental illness.
Article by Olivia Pennelle

In this article, writer Kerry Nenn explores a recent study that draws a direct connection between childhood trauma and teenage substance use. While clinicians understand trauma and substance use are linked, researchers explored how the brain's functioning changed after traumatic events. For the study, researchers looked at 465 adolescents from childhood. They examined events during three stages of the children's lives:
Adverse Childhood Experiences (ACEs) from ages three to 11
Externalizing behavior (aggression, delinquency) at ages 12 to 14
Substance use at ages 15 to 17
Through brain scans, researchers found reduced activity in the brain's anterior cingulate cortex (ACC) among adolescents who'd experienced ACEs. The anterior cingulate cortex is involved in impulse control, social interaction, empathy, decision making, and error detection.
Dr. Fava, one of the leading researchers, explained, "If certain youth are not learning from their mistakes, and if we think about mistakes as being synonymous with risky behaviors — or in this case, substance use — then youth will keep using substances in the future until they are able to learn from their mistakes."
Article by Kerry Nenn

A first-hand account of her own experience of mental health, alcoholism, and addiction recovery, writer Olivia Pennelle dives into her personal journey. Like many others, Pennelle struggled with co-occurring disorders of substance use and mental illness. Through her story, she shows that recovery and mental wellness is rarely a linear journey. Her story consists of misdiagnosis, setbacks, tragedy, and eventually hope.
During a period of motivation and hope, Pennelle was accepted into and began attending graduate school — albeit three months before COVID-19 hit. Two months into graduate school her mother died unexpectedly. "It was like the pandemic caught up with me and converged with the gravity of my loss. I felt like I had been hit with a ton of bricks. The years of positive mental health packed up and left, and I felt a tsunami of grief every day," Pennelle writes.
While Pennelle is now thriving in her recovery, her story shows that often mental wellness is an ongoing journey with unavoidable difficulties, tragedies, and setbacks found along the way.
Article by Olivia Pennelle

Mental Health Awareness Month is designed to give everyone a voice about their own personal experience with mental illness. To this end, writer Kendra Winchester compiled a list of 10 books she felt best exemplified these voices. Composed of both fiction and non-fiction books, this list of 10 unique stories shares a wide range of experiences of their narrators.
The books explore a spectrum of topics, including grappling with trauma, psychiatric hospitalization, the mental toll of immigration, sexual assault, and more. From the harrowing memoir Know My Name by Chanel Miller to the fictional book Everything Here Is Beautiful by Mira T. Lee, which explores the family dynamics of mental illness, the list can help those struggling with mental illness to understand they're not alone.
Kendra Winchester is a contributing editor for Book Riot and the founder of Read Appalachia, which celebrates Appalachian literature. Previously, Winchester served as the co-founder of the podcast, Reading Women.
Article by Kendra Winchester

Along with Mental Health Awareness Month, this May also marked the first observance of National Fentanyl Awareness Day on May 10th. Needless to say, fentanyl is a grave public health crisis. On National Fentanyl Awareness Day, DEA administrator Anne Milgram released a video announcement stressing the dangers of fentanyl in America.
"Fentanyl is killing Americans at unprecedented rates," said Milgram. "On this first-ever National Fentanyl Awareness Day, please help save lives by making sure you talk with your friends and family about the dangers of this deadly drug."
Created by Addictions.com's blog manager Nikki Seay, the infographic details the life-threatening dangers of synthetic opioids. In 2021, nearly 107,000 Americans died from a drug overdose. Sixty-six percent of these overdose deaths involved synthetic opioids such as fentanyl. Also, 42 percent of black market pills tested by the DEA contained at least 2 milligrams of fentanyl. Many also contained lethal doses of the drug. Since mental health and substance use are commonly connected, it's fitting that May also bring awareness to the growing — and deadly — fentanyl epidemic.
Infographic created by Nikki Seay

May is capped by Memorial Day, a day we pay tribute to fallen soldiers. As Mental Health Awareness Month, we should also focus on the active service members and military veterans who continue to stumble. Unfortunately, military veterans are 50 percent more likely to commit suicide and disproportionately struggle with mental health and substance use disorders than the civilian population. A new study that surveyed thousands of veterans found one reason why veterans may also be less likely to seek treatment.
In the military, soldiers are trained to be self-reliant, resilient, and 'gritty.' The new survey measured personality among veterans, finding a correlation between veterans who valued independent resilience and the likelihood they'd seek help. They wouldn't. "Even in the presence of high levels of distress and impairment, we saw that veterans with high levels of grit were substantially less likely to be engaged in treatment," Dr. Kline, a leading researcher of the study, explained.
On this Memorial Day, as we acknowledge soldiers who've lost their lives, we should also remember the many veterans who still need help.
Article by Matt Berry

Anticipatory anxiety can involve expectations not only of anxiety or panic, but also of disgust, anger, shame, regret, humiliation, becoming overwhelmed, or any other unwanted emotion," write Drs Sally Winston and Martin Seif. "The urge to avoid emerges from the expectation of unwanted feelings or outcomes from some dreaded failure, loss, or disaster." Written in support of their upcoming book, Overcoming Anticipatory Anxiety, the blog explains the idea of this avoidance-type of anxiety.
The blog focuses on rumination, negative thoughts, and our imagination, which can all create anticipatory anxiety, and methods to overcome this anxiety. The doctors created a simple acronym to help us shift our thought patterns called DANCE.
Discern experiencing anticipatory anxiety and try to disentangle yourself
Accept willingly the doubts and discomforts you're experiencing
No overthinking, struggling, avoiding, or reassuring
Commit to proceed with a cognitive choice or action
Embrace the present as it is and move forward
Part of a trilogy focusing on anxiety, the book Overcoming Anticipatory Anxiety recently came out in May.
Article by Sally Winston, PsyD and Martin Seif, Ph.D., ABPP

In this blog, writer Bridget Clerkin focuses on one of the hardest barriers in early recovery — doubt. "The pressure to stay perfect in an inherently imperfect world, especially while taking on such a difficult challenge, can feel impossible to live up to, leading a person to question themselves and where they are on their recovery journey," Clerkin writes. To overcome these feelings of self-doubt, which can derail recovery, she lists 7 steps.
From goal-setting and finding a support system, to exercising and living in the present, Clerkin explains that doubt may be unavoidable but can be mitigated. She ends the blog with a positive and inspiring thought. "Recovery is often a long, challenging road, and it's important to be gentle and forgiving on this difficult journey. Embrace yourself, just as you are, in this moment," she writes, adding: "You may not be where you want to be yet, but you're one day, one moment, or one step closer — and that is something worth celebrating. "
Article by Bridget Clerkin

The articles in this roundup did an excellent job at reflecting the meaning of Mental Health Awareness Month and the ways we can continue the dialogue. From scientific and social research to first-hand accounts and activism, the articles help each of us understand that we're not alone. To help those of us affected by mental illness, or just having a stressful day, Cathy Taughinbaugh created a list of 50 quotes to help each of us feel more calm and peaceful. Cathy is a writer and mental health activist who focuses on supporting parents. To see more of her inspiring writings, you can visit cathytaughinbaugh.com.
Dealing with your own mental illness or the mental health of the loved one is not an easy challenge. Intellectually, we can write, study, and continue to grow as we become more aware of mental illness, but it's always crucial to take some time to breathe. In the vein of this thinking, these 50 quotes may be the perfect way to end Mental Health Awareness Month.
Article by Cathy Taughinbaugh