Alcohol and Drug Use Statistics in Bayonne, NJ
Facing the nation's opioid epidemic and battling other substance use disorders, New Jersey saw nearly 100,000 admissions in detox, inpatient, and outpatient treatment programs in 2019.1 The New Jersey Substance Abuse Monitoring System (NJ-SAMS) reported the following statistics for Hudson County:1, 2
Levels of Substance Abuse Care
Multiple levels of care are available for addiction treatment. Some New Jersey residents move through each of these levels of treatment, while others need only the least intensive care.
Alcohol and Drug Detoxification
Detox is completed under medical supervision in a hospital, inpatient, or outpatient setting. This is the process of safely and comfortably removing drugs or alcohol from your system. Once detox is complete, you can move forward with other treatment services.
Inpatient Drug and Alcohol Rehab
Inpatient rehab, also called residential treatment, involves living at a treatment facility to receive 24/7 care. Services usually include individual and group therapy, medication, recreational therapy, and nutritional counseling.
Partial hospitalization programs (PHPs)
PHPs allow New Jersey residents to live at home while receiving treatment through a hospital. This program usually provides the same treatment services as inpatient care, but you can return home during non-treatment hours.
Intensive Outpatient Programs (IOPs)
IOPs are a step down from PHPs, allowing you to attend a few hours of counseling each week while living at home. This provides time to maintain a work schedule or fulfill other obligations.

Standard Outpatient
Standard outpatient programs involve just one to two hours of treatment per week. This level of treatment involves the least supervision and is appropriate for highly motivated people who have a strong support system.
Aftercare
Also known as relapse prevention, aftercare starts once your rehab program is complete. It includes ongoing support such as 12-step programs, sober living homes, and therapy.
How to Pay for Drug Rehab in Bayonne, New Jersey
New Jersey Medicare
New Jersey Medicare provides health insurance to New Jersey residents who are 65 or older or have certain other health conditions. You are automatically enrolled in this program at age 65 if you are receiving Social Security or Railroad Retirement Board retirement benefits.

Many Medicare options are available in New Jersey that go beyond basic coverage, such as Medicare Advantage Plans and Medigap plans. The New Jersey State Health Insurance Assistance Program (SHIP) offers free help with questions regarding Medicare benefits and policies. Not all treatment centers accept Medicare insurance coverage, so always do your research before choosing a provider.
New Jersey Medicaid
New Jersey's Medicaid program provides health insurance to New Jersey residents who are aged, blind, or disabled, to pregnant women, and to parents/caretakers and dependent children. To be eligible for New Jersey Medicaid, a person must be a resident of New Jersey, be a U.S. Citizen or qualified alien, and meet specific standards for financial income. You must apply for Medicaid coverage in New Jersey, and the rehab program must accept Medicaid as a method of payment.
Sliding Scale Rehabs
Sliding scale rehabs assist New Jersey residents who have limited financial resources to pay for treatment. You will be charged based on what you can reasonably afford to pay. To qualify for a sliding scale rehab in New Jersey, you typically need to provide proof of income.
TRICARE in New Jersey
New Jersey TRICARE (East region) is a government program that provides health insurance coverage for U.S. military personnel, veterans, and their families. TRICARE covers addiction treatment services; however, various plans differ in their coverage.
IHS-Funded Drug Rehabs
The Indian Health Service (HIS) funds addiction treatment for Indigenous people and Alaskan Natives in New Jersey and nationwide. This coverage is provided even if other insurance payment is available.
Traveling to and Through Bayonne, NJ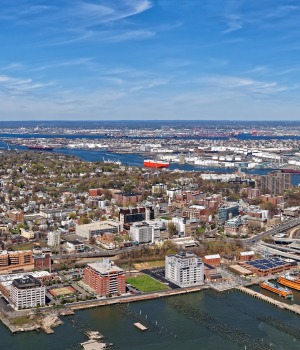 Getting around the bustling North East may be difficult for those who are unfamiliar. Below are some helpful tips to make your travel to and through Bayonne, to visit loved ones or a treatment center, easy:
Travel to Bayonne from the surrounding cities is made easy by bus (transit lines 10, 119, 81, 120, or S89) or Light Rail (line HLR). Bus drop-off points in Bayonne are at Ave C at 30th St., JFK Blvd at 30th St., or Route 440 at 30thSt. The nearest Light Rail station to Bayonne is 22nd street light rail station.
Newark Airport (EWR) is the closest airport to Bayonne at only 3.7 miles away, but there are four other airports relatively nearby. Other airports include New York Skyports Seaplane Base (NYS), New York La Guardia (LGA), New York JFK (JFK), and White Plains (HPN).
Bayonne is a very walkable city, with little need for a car within the city. Though you can use a car, between your feet and public transit you can get to most places in and around Bayonne.
There are several hotel options throughout the city for a variety of price ranges. Airbnb and VRBO options are also available.
While in Bayonne, you can enjoy some fresh air while visiting a number of memorials, parks, and nearby historical locations. Staten Island, the Statue of Liberty, and Ellis Island are just a few options you may want to visit.
New Jersey Drug and Alcohol Laws
New Jersey policy makers have established the following laws related to substance misuse1,2,3,4,5
New Jersey Good Samaritan Law: New Jersey's Overdose Prevention Act provides protection from criminal prosecution for New Jersey residents who report or seek help for suspected overdose on illegal drugs. The law encourages people to call 911 immediately, without fear of legal repercussions.
New Jersey Driving or Operating Under the Influence Laws: Under New Jersey Law, if an offender's blood alcohol content (BAC) is between 0.08 and 0.10, the penalties are a fine of $250-$400, imprisonment for up to 30 days, driver's license forfeiture until ignition interlock is installed (required for 3 months), a minimum of six hours a day for two days in an Intoxicated Driver Resource Center, and an automobile insurance surcharge of $1,000 per year for three years. Penalties increase for higher BACs and repeated offenses.
New Jersey Naloxone Blank Standing Orders: This law allows adults 21 years or older to use, purchase, and carry cannabis. Recreational users can purchase up to 1 ounce of cannabis, but the law does not permit personal growing of the plant.
New Jersey Drug Courts: This program offers non-violent drug offenders an alternative to prison. New Jersey residents convicted of a drug-related crime may be eligible to complete a supervised drug or alcohol treatment program instead of serving jail time.
Resources
New Jersey Department of Huma Services Division of Mental Health and Addiction Services. (2020, October). Substance Abuse Overview 2019 Hudson County.
Office of the Chief State Medical Examiner, New Jersey. (2022). Dashboard: General CMS Statistics. State of New Jersey.