Drug and Alcohol Misuse Stats in Lawrence and Douglas County
Much like the rest of the country, people in Lawrence struggle with drug and alcohol misuse. Here are some stats related to Lawrence and Douglas County substance abuse:1,2
How to Pay for Addiction Treatment Services in Lawrence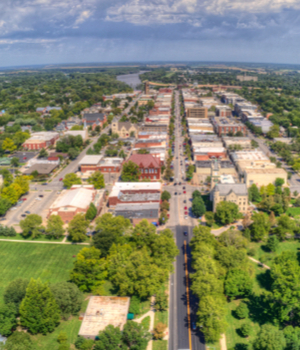 Treatment cost doesn't have to be a barrier to receiving life-saving quality drug rehab in Lawrence. There are plenty of ways to finance your addiction treatment and ease the financial burden.
Rehab Scholarships
Rehab scholarships typically cover the full cost of a drug addiction treatment program. Individual treatment facilities offer these to those who can't reasonably afford treatment, so you'll want to do your research and ask prospective programs if they have them available. You can also apply for a rehab scholarship through a third-party organization like 10,000 Beds.
Sliding Scale Fees
Many addiction treatment facilities offer sliding scale fees, which means they only charge patients what they can afford based on their income. This way, even if they don't offer rehab scholarships, they can still offer affordable care.
Payment Plans
In addition to sliding scale fees, some Lawrence drug rehabs may offer an option for payment plans. These tend to be flexible and customizable and allow patients to break up the cost of treatment into smaller payments.
Private Insurance
Private insurance providers, such as Anthem, Aetna, and Cigna, provide partial or full coverage for drug rehab. Every plan is different—some may cover the full cost of outpatient treatment while providing 50% coverage for inpatient. Others may fully cover a 30-day inpatient drug rehab in Lawrence. You'll want to call your insurance provider to learn more about your specific coverage and where you can find in-network addiction treatment facilities.
Medicare and KanCare
Medicare, a federal insurance program for individuals 65 and over, covers addiction treatment services, such as inpatient rehab, outpatient rehab, therapy, alcohol misuse screenings, medication-assisted treatment, and telehealth care.
Likewise, KanCare, Kansas' Medicaid program for low-income people and families, also covers the cost of substance abuse treatment. If you have Medicare or KanCare, make sure you choose a program that accepts either of these federal programs.
Lawrence, KS Local Information: Getting There and Getting Around
If you are considering traveling to Lawrence for alcohol or drug rehab, you'll want to first learn more about the city and whether it seems like a good fit for you. You'll also need to know logistics like the best and most affordable way to get there as well as accommodations and transportation for your visitors.
Airports: The closest airport to Lawrence is the Lawrence Regional Airport, which is just a few miles north of downtown; however it is small and you may not be able to find an affordable flight arriving there. Located about 31 miles from Lawrence is Forbes Field airport, which may have more options, and better yet, the Kansas City International Airport is about 50 miles away—you may find more flights in and out of this airport.
Getting Around: When visiting Lawrence, you may want to rent a car in order to get around. But if you decide not to, you can take advantage of the Lawrence Transit System, which can take you all around the city.
Lodging: There are at least 10 hotel options in Lawrence, KS, as well as many Bed and Breakfast accommodations and AirBnb homes and apartments.
Attractions: There are many fun and entertaining things to do in Lawrence, including the Spencer Museum of Art, which boasts a collection of Indigenous art. The KU Natural History Museum offers a range of features, including hands-on exhibits, dinosaur fossils, and a honeybee colony.
You can also get some outdoor time at Clinton State Park and Clinton Lake, where there is camping, lakeside picnicking, and water sports.
At the end of the day, choosing the best drug and alcohol rehab in Lawrence or elsewhere is a very personal decision, and it depends on your personal needs, treatment priorities, and preferences.