Alcohol and Drug Use Statistics in Topeka, KS
Excessive drinking and non-medical drug use are common in Kansas, including in the state capital. Topeka is located in Shawnee County, the third largest county in the state. Some facts about substance use in Kansas as a whole and Shawnee County include:1,4,5
card title
9% of Shawnee County residents are uninsured, which makes finding treatment for their addiction more difficult.
card title
47% of overdose deaths in Shawnee County between 2014 and 2018 were due to opioids.
card title
26% of overdose deaths in Shawnee County between 2014 and 2018 were due to methamphetamine
Paying for Alcohol and Drug Rehab in Topeka
Many people worry about the cost of addiction treatment. If you need drug or alcohol rehab in Topeka, KS, there are free or low-cost options, including:

Government-funded rehabs:: The state and federal governments provide funding to certain facilities. This funding allows the treatment programs to provide care to people who cannot otherwise afford care.
Rehab scholarships: Some treatment facilities have funding for scholarships to help individuals pay for care. You can also apply to third-party organizations like 10,000 Beds for scholarships.
Grant-funded rehabs: Private funders or public health agencies such as SAMHSA provide grant funding to rehabs that apply for assistance. The funds are used to offer care at a reduced cost or no cost. This may include inpatient or outpatient programs.
Under the terms of the Affordable Care Act and the Mental Health Parity Act, all private insurance plans must pay for addiction treatment. The laws apply to any insurance plan you get through work or a plan you pay for on your own. Military insurance will also cover the cost of addiction treatment. Your insurance company may have a preferred network of providers for rehab services. Ask your insurance company which facilities are part of its network, what your out-of-pocket fees will be, and if your costs will be higher if you go to an out-of-network program.
Medicare
Medicare is a federal insurance program for people over 65 and people with certain health conditions or disabilities. Medicare covers inpatient6 and outpatient7 rehab, though you will be responsible for a co-pay for your care. Medicare covers a wide range of substance abuse treatments, including:
Opioid addiction treatment, including medication-assisted therapy such as methadone or Suboxone
Inpatient programs
Alcohol misuse screenings
Outpatient programs, including partial hospitalization
Treatment via telehealth
Group and individual therapy
Medicaid: KanCare
Medicaid is a state and federal partnership that provides insurance to people who meet certain age, income, or health qualifications. Kansas's Medicaid program is called KanCare, and anyone making 133% or less of the federal poverty level is eligible to apply for coverage.8 Topeka drug rehabs, such as Mirror Inc, Topeka Treatment Center, and New Dawn Wellness and Recovery, accept Medicaid.
The state of Kansas has eight Designated Women's Substance Abuse Treatment Programs.9 These facilities provide addiction treatment for pregnant women and women with children. Contact the Kansas Behavioral Health Office to see if you are eligible for these programs. The closest program to Topeka is First Step at Lake View in Lawrence, KS.
Kansas has partnerships with private providers to offer addiction assessments and referrals to residents.10 This includes referrals for methadone treatment for opioid addiction. You can also access Topeka drug rehab services through the Kansas Department for Aging and Disability Services.
Levels of Care for Addiction Treatment Settings
When comparing various drug and alcohol rehabs in Topeka, you'll want to make sure you understand the different treatment settings and options.
Professional Detox
When you suddenly quit drugs or alcohol, you'll experience unpleasant withdrawal symptoms. Professional detox involves monitoring and supervision to mitigate these withdrawal symptoms and intervene if any complications arise.
Inpatient Care
You live at the treatment center for the length of your program, which usually ranges from 30 to 90 days, although sometimes longer if needed. It is a highly structured and intensive environment, free from drug-using triggers and stressors in your everyday environment.
Partial hospitalization programs (PHPs)
The most intensive option besides inpatient, you attend treatment for between 20 and 30 hours each week and then return home during non-treatment hours.
Intensive Outpatient Programs (IOPs)
A step down from PHPs, you attend counseling for between nine and 20 hours per week and return home in the evening.
Standard Outpatient
Standard outpatient is the least intensive and structured treatment setting, you receive a few hours of therapy per week.
Aftercare
When you near the end of your treatment program, you'll collaborate with your treatment team on an aftercare plan, which may involve transitional housing, group counseling, individual therapy, family therapy, and/or support group meetings.
Traveling for Drug and Alcohol Rehab in Topeka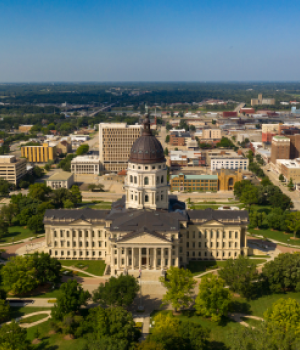 Friends and family will find it easy to visit Topeka to see loved ones in treatment. The Topeka Regional Airport is just south of the city. The area is accessible from Interstate 70 and Kansas State Highway 75. There is an Amtrak station in the city as well.
The downtown area is home to the Kansas State Capitol, as well as cultural and historical sites. There are several hotels in the area, as well as plentiful options for dining and parking. There are car rental options at the airport and in the city itself. A public bus system serves the Topeka area.
Local attractions include the Topeka Zoo and Conservation Center, the Kansas Children's Discovery Center, and Brown v. The Board of Education National Historic Site.
Kansas Substance Abuse and Overdose Laws
Below are some relevant Kansas state laws related to substance abuse and overdose:1
Kansas Drug Courts: People with fewer than two prior convictions who are arrested for drug possession are eligible to receive substance abuse treatment instead of serving jail time.
Kansas Naloxone Access Law: Kansas residents can buy naloxone (Narcan), the life-saving opioid overdose reversal medication, from pharmacies without a prescription.
It's important to note that Kansas is one of the few states that doesn't have an overdose Good Samaritan law that encourages people to call 911 if someone is overdosing. Still, you should always call for help—it could save your or someone else's life.
Resources