Drug and Alcohol Use in Commerce City, CO
Substance abuse and opioid abuse are not uncommon in Commerce City and Adams County. Some facts about substance abuse in the region include:1,3

20%
In 2017, 20% of Adams County youth reported using marijuana.
10%
In 2018, 10% of adults in Adams County reported binge drinking.
Levels of Substance Abuse Treatment
Substance abuse treatment varies based on needs. Following are the diverse levels of care provided to meet those needs.
Alcohol and Drug Detoxification
This process, often referred to simply as detox, involves safely and comfortably removing drugs or alcohol from your system. It occurs under supervision, usually in a hospital or inpatient rehab facility.
Residential or Inpatient
Inpatient treatment involves 24/7 supervision while you live at a rehab facility. Methods of treatment typically include group and individual therapy and may also involve medication and other forms of therapy.
Partial hospitalization programs (PHPs)
PHPs involve many of the same treatment methods as inpatient care, but you live at home while receiving treatment. You only stay at the facility during treatment hours.
Intensive Outpatient Programs (IOPs)
IOPs offer a step down in supervision from a PHP. They involve several hours of counseling throughout the week, while you spend the rest of your time fulfilling work, school, or home obligations.
Standard Outpatient
Standard outpatient care involves minimal supervision, with just one to two hours of treatment per week. Highly motivated people with a strong support system tend to find this level beneficial.
Relapse Prevention
Relapse prevention, also called aftercare, begins after you complete a rehab program. This ongoing support may involve continued therapy and 12-step groups.
How to Pay for Substance Addiction Treatment in Commerce City, Colorado
Private Insurance
By law, every insurance provider must cover substance abuse and mental health treatment services in some capacity. Colorado residents must contact their providers to confirm which services and how much is covered by their specific plan.
Colorado Medicaid
Health First Colorado is the state's Medicaid program. This government-funded health insurance is available to those who qualify based on income. It covers the cost of various services such as therapy, inpatient drug rehab and outpatient substance abuse treatment.3
Colorado Medicare
Colorado Medicare is a government program that provides health insurance coverage to residents over the age of 65 and to individuals with certain disabilities or health conditions. You can use Medicare to cover the cost of drug addiction treatment services, including rehab. However, not all rehab facilities accept Medicare as a method of payment.
TRICARE in Colorado
Colorado TRICARE (West region) is a government program that offers health insurance coverage to U.S. Armed Forces military personnel, veterans, and their families. TRICARE coverage includes addiction treatment services; however coverage may differ by plan and region.
Sliding Scale Rehabs
Sliding scale rehabs are income-based, charging only what a Colorado resident can reasonably afford to pay. To qualify for these programs, proof of income is usually required.
IHS-Funded Drug Rehabs
Drug rehabs funded by the Indian Health Service (HIS) provide free addiction treatment to U.S. Indigenous people and Alaskan Natives. This coverage is provided even if other forms of payment are available.
Traveling to and Within Commerce City, CO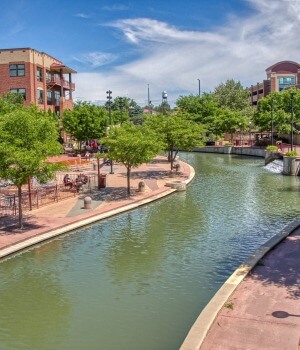 Here are some travel tips if you are considering attending a drug or alcohol rehab in Commerce City, CO, or if you plan to visit loved ones undergoing treatment there:
The closest airport to Commerce City is the Denver International Airport, which is about 15 miles away.
You can reach Commerce City by car via Interstates 76 and 270.
Regional bus and rail routes serve Commerce City and connect the city to Denver and other nearby communities.
There is a wide variety of hotel options around Commerce City. You can choose between national chains catering to business travels or low-cost accommodations such as hotels.
There are many dining opportunities in Commerce City as well as in Denver. You can find chain restaurants and fast food, as well as fine dining options.
Denver is a short drive from Commerce City and is home to many cultural and entertainment options. You can visit the Denver Museum of Nature and Science, enjoy professional sports, or see live music at the Red Rocks Amphitheater. There are many places for outdoor activities, such as hiking, camping, and skiing, around the greater Denver area.
Something to note for visitors is that Commerce City is at an altitude of over 5,000 above sea level. Some people find they need to acclimate to the new altitude but soon get used to the change.
Colorado Alcohol and Drug Laws
Colorado lawmakers and public health agencies have enacted the following laws related to substance misuse and overdoses:1,2
911 Good Samaritan Law: This law states that a person is immune from criminal prosecution for an offense when they report an emergency overdose. This includes Colorado residents who call 911 or remain at the scene of the event, and the person who experienced the overdose.
Naloxone Standing Orders: Enacted in 2015, this law allows licensed prescribers to provide Naloxone to Colorado residents who may experience an opioid overdose, even without a prescription. The goal is to increase access to this overdose antidote and reduce the number of overdose deaths.
Needle-Stick Prevention: This law allows police officers to make an exception to arrest and charges for the crime of possession of drug paraphernalia if the Colorado resident informs the officer that they have a needle, syringe, or other sharp objects on their person or in their home or vehicle—prior to being searched.
Syringe Exchange Programs: In Colorado, nonprofits and health facilities can operate a syringe exchange program without prior board of health approval. Organizations and participants in these programs are also exempt from paraphernalia laws.
Marijuana Laws: Colorado legalized recreational marijuana in 2012. Adults at least 21 years old may buy up to 1 ounce of retail marijuana from a licensed store and possess up to 2 ounces at a time. It is illegal to drive in Colorado after consuming marijuana. State law sets the impairment level for marijuana at 5 nanograms of THC per milliliter of blood.
Resources
Colorado Department of Public Health and Environment. (2017). Adams County Opioid Profile.
Colorado Department of Public Health and Environment. (no date). Naloxone standing orders.
Tri-County Health Department. (2020). Adams County Factsheet