Alcohol and Drug Stats in Arvada, Colorado
Here's an overview of the most recent statistics surrounding substance use disorders, treatment admissions, and overdoses in Arvada, Jefferson, and Adams Counties, and Colorado as a whole:1,3
Expert Insights

In early 2023, the Arvada library became one of four Colorado libraries to close due to meth contamination in the bathrooms. The closures and subsequent decontaminations of the libraries, along with policy changes in bathroom use, have stirred a host of debates. Concerns about access to public restrooms and dangers of drug residue on children's books are among the hotly debated topics. First of all, it's likely that drug residue could be found in most public restrooms. Maybe libraries just need to make sure they clean and sanitize more frequently and add security measures such as sensors to detect drug smoke? Shutting down the entire library or closing restrooms doesn't seem to be a good solution. Secondly, the real issue here isn't meth in the library restrooms – it's rampant drug use in Arvada. What steps are we taking to prevent substance abuse and treat those who struggle with substance use disorders? An individual enrolled in Colorado can expect to pay an average of around $56,000 for inpatient treatment. Maybe we need to be as concerned about treatment accessibility as we are restroom accessibility.

~ Kerry Nenn
Paying for Alcohol and Drug Rehab in Arvada, Colorado
Rehab is always more accessible and affordable than most people think. Even if you come from a low-income household or don't currently have an income, you still have options when it comes to getting professional and quality treatment.
Most options throughout each state are similar. Here are the options you have when it comes to paying for drug and alcohol rehab in Arvada, Colorado:
State-funded rehab:
State-funded rehab is either free or provides low-cost care for those who have no other options, financially speaking. State-funded treatment includes residential care, outpatient treatment, and even opioid addiction treatment medication from methadone clinics.

Medicare
Medicaid is a federally funded program that offers health coverage to low-income households. However, there are a few exceptions when it comes to who will and who won't qualify for Medicaid coverage.5 You'll also have to meet the program's eligibility requirements, which include proof that your income level is below the federal poverty line and that you're a legal resident of the state in which you're seeking treatment.4
Private Insurance
Health insurance providers including Aetna, Blue Cross Blue Shield, Cigna, etc., offer a certain level of behavioral and mental health coverage—which includes substance use disorders. This can make quality treatment much more affordable, as long as the treatment center is in-network with your provider. It's also a good idea to review your plan with your provider to see how much coverage you'll receive when it comes to treatment.
Some of the free drug and alcohol rehab options in Arvada, Colorado include:
Arvada Counseling Center, Inc.
Creative Treatment Options
1st Alliance Treatment Services, LLC
How Easy Is it to Travel to and Within Arvada, Colorado?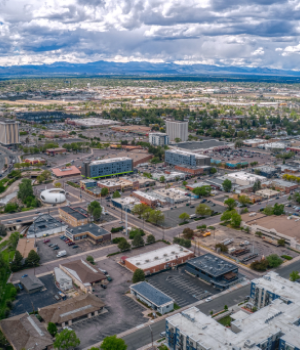 Arvada is considered a "home rule municipality" that straddles both Jefferson and Adams Counties. It's also a part of the Denver-Aurora-Lakewood Metropolitan Statistical Area and is known for its warm summer and very cold and snowy winters.
Arvada has a comprehensive public transportation system with plenty of mass transit options, including buses, commuter (light) rail, and passenger trains. There are also plenty of call-to-ride services and, of course, rideshares such as Lyft and Uber throughout the entire metropolitan area. You can also easily rent a car to get around quicker if you plan to stay a while, visiting your loved one.
It should be noted that due to its size, Arvada is not a very walkable city. However, there are a few isolated neighborhoods that fit the bill, however — Westdale, Olde Town, and Allendale. (Olde Town is within the historic district of Arvada, and it's widely recommended that you walk around and spend the day exploring the area).
The closest airport to Arvada is the Denver International Airport, which is just 22.4 miles outside of the city. Other airports close by are the Colorado Springs Airport (72 miles outside of the city), Cheyenne Regional Airport, and the Eagle County Regional Airport—both of which are over 90 miles from Arvada.