Alcohol and Drug Use Statistics in Costa Mesa
 Here are some statistics related to alcohol and drug use in Costa Mesa and Orange County, as well as overdoses and treatment admissions:1,3,4
50%
Over 50% of opioid-related overdoses were due to prescription painkillers.
70%
About 70% of overdose deaths between 2011 and 2015 involved opioids.
78%
78% of substance-related hospitalizations involved non-Hispanic white people.
Paying for Alcohol and Drug Rehab in Costa Mesa
Addiction treatment costs don't have to be a barrier to receiving quality care. There are many free treatment options for drug rehab in Costa Mesa, including:

State-funded rehab: These treatment facilities receive funding from the government in order to provide low-cost and free care to those who can't otherwise afford drug rehab. This includes some methadone clinics, which dispense methadone, an opioid addiction treatment medication.
Grant-funded rehabs: Some Costa Mesa drug rehabs receive substance abuse treatment grants, such as those from SAMHSA, that allow them to provide affordable and no-cost addiction treatment.
Rehab scholarships: You can apply for a rehab scholarship, directly through a treatment program or through a third-party organization like 10,000 Beds, which covers the cost of addiction treatment.
Some free drug rehab options in Costa Mesa and Orange County include:
The Salvation Army Anaheim Adult Rehabilitation Center
Phoenix House Orange County
Teen Challenge Santa Ana
Private Insurance, Medicare, and Medi-Cal
Many treatment facilities in Costa Mesa and Orange County accept private insurance, such as Aetna, Cigna, Blue Cross Blue Shield, Kaiser Permanente, and more. Using your health insurance plan to pay for drug rehab in Costa Mesa can significantly reduce your costs—you may even be able to receive substance abuse treatment for free, depending on your plan details.
Likewise, Medi-Cal and Medicare typically cover substance abuse treatment services, as well, though you'll need to find a Costa Mesa drug rehab that accepts these government insurance options. Plus, only certain addiction treatment services are covered. For example, Medicare, which provides coverage for people over 65, covers:5
Opioid addiction treatment
Inpatient treatment
Alcohol misuse screenings
Outpatient rehab
Partial hospitalization
Telehealth
Medication-assisted treatment
Group and individual therapy
Meanwhile, Medi-Cal, which provides low-cost health insurance to low-income people and families, covers:6,7
Behavioral therapy and counseling related to medication-assisted treatment (MAT)
Medication-assisted treatment for FDA-approved medications
Pediatric mental health services, including substance abuse treatment
Inpatient detox
Intensive outpatient treatment (IOT)
Residential or inpatient rehab
Outpatient services
However, if you have Medicaid through a different state, your coverage may vary, as each state has optional substance abuse treatment services they may or may not cover.
How Easy is it to Travel to and Within Costa Mesa, CA?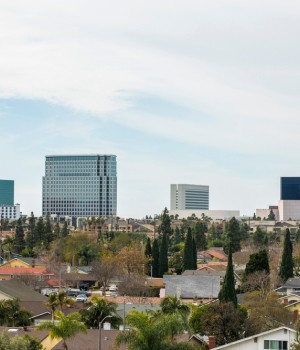 Whether you are considering traveling to Costa Mesa, CA for addiction treatment or if your loved one is attending rehab there, you will want to know more local information about this city.
Located one mile from the beach, Costa Mesa has a mild Southern California climate and is home to the Segerstrom Center for the Arts and South Coast Repertory theater. It is also the headquarter for many extreme sports companies, such as Vans, RVCA, Volcom, and Hurley.8
In just a 16-square-mile radius, Costa Mesa boasts 28 parks, two golf courses, three libraries, and 20 public schools.8
You have access to just about everything from Costa Mesa, including the desert, the mountains, and the beach—plus, Palm Springs and Disneyland make a great day trip.
The closest airport to Costa Mesa, CA is the John Wayne Airport in Orange County, which is only a few miles away. However, there may be more flight options to the Los Angeles International Airport, which is only about 40 minutes from Costa Mesa.
Traveling within Costa Mesa is easy thanks to their free bus service, which offers access to shopping, dining, and performing arts theaters. If you wanted to travel along the cost, you could always take the Pacific Surfliner train, which offers access to cities like San Diego, Los Angeles, Santa Barbara, and beyond.
Lastly, there are plenty of hotel options in Costa Mesa and Orange County, all of which are reasonably priced and offer access to all of the wonderful sites that Costa Mesa has to offer.