Alcohol and Drug Use Statistics in Goodyear
Here is a breakdown of how drug and alcohol misuse affects people who live in both Goodyear and Maricopa County:1,2,3,4,5,6

80%
More than 80% of overdose deaths in the county involve multiple drugs.
9,605
In 2021, 9,605 people in Maricopa County went to the emergency room for a suspected drug overdose.
437
In 2020, Goodyear Police made 437 DUI arrests.
56,725
In the central geographic service area for substance use disorder treatment programs, which includes Goodyear, 56,725 people entered rehab between July 2018 and June 2019.
How to Pay for Alcohol and Drug Treatment in Goodyear
There are many ways to pay for a Goodyear drug rehab or alcohol rehab. If cost is a concern, you can look for a state-funded rehab. This type of center receives money from the state or federal governments which allows them to provide free or low-cost services to those who qualify.
In Arizona, four state-run rehab facilities provide opioid addiction treatment and other recovery services free of charge. The closest one to Goodyear is in Phoenix. You can also receive methadone treatment at these facilities to help with detoxification from opioids.
There are also drug and alcohol rehabs in Goodyear that receive funding from federal grants to help offset costs. You can also find a treatment center that offers a sliding-scale payment plan. This type of rehab bases your payment on your income.
The closest free drug or alcohol rehab to Goodyear is in nearby Phoenix. They are:
Arizona Children's Association
Ebony House/Elba House
Medicaid, Medicare, Private Insurance
Another way to pay for a Goodyear drug or alcohol rehab is by using federal and state-funded health insurance programs Medicaid or Medicare. In Arizona, Medicaid is called the Medical Assistance Program. Eligibility is based on the following:7
Income
Arizona residency
Pregnancy
Citizenship and qualified non-citizen status
Medicare can also pay for some types of addiction treatment. This federal health insurance is for people 65 or older or those younger than 65 with certain disabilities.
Many people choose to pay for a drug rehab or alcohol rehab using private insurance. Popular plans in Arizona include Blue Cross Blue Shield of Arizona, Aetna Health, Humana, and Health Choice Arizona. It's essential to check with your provider to confirm what treatment services are covered and whether there are any out-of-pocket costs.
To keep costs low, you will need to choose a Goodyear drug or alcohol rehab that accepts whatever type of payment you are using, whether that's Medicaid, Medicare, or private insurance.
Goodyear Local Information: Getting There and Getting Around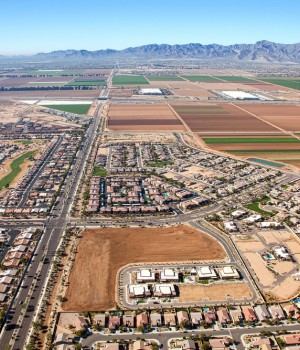 Goodyear has much to offer, whether you're in the city for drug or alcohol rehab or visiting someone who is receiving treatment. If you're flying into Goodyear, the closest airport is Phoenix Sky Harbor International.
Once you're in the area, it's easy to reach Phoenix by car on Interstate 10. If you do not have access to a car, you can get to town using Valley Metro, which provides bus service to and from Goodyear and other nearby communities.
Goodyear isn't a particularly walkable city. However, the city does offer We RIDE, a ride-share service that offers trips to and from specific points within 10 minutes of downtown Goodyear. It stops at area shopping centers, recreation facilities, and businesses.
The area is known for its incredible desert and mountain views. Estrella Mountain Regional Park has close to 20,000 acres of desert and mountains available for hiking, biking, golf, picnics, and horseback riding. Goodyear is also the Spring Training home of Major League Baseball's Cleveland Guardians and Cincinnati Reds.
When it comes to finding a place to stay, there is a wide variety of options. Choices range from high-end spa resorts to more budget-friendly chain hotel options.