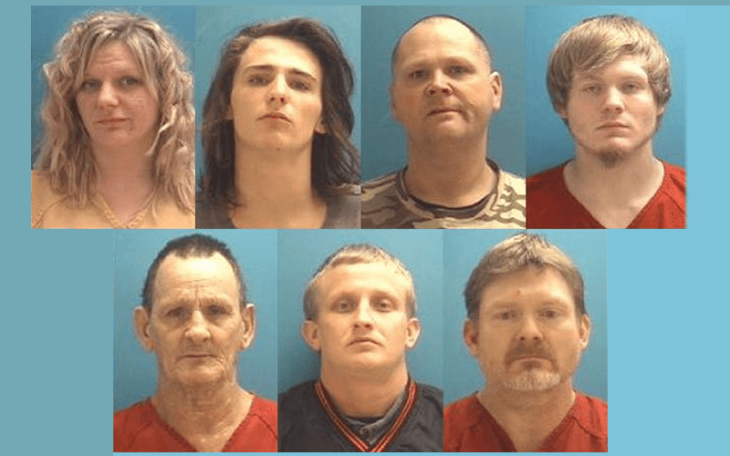 Police in Columbus, Ind., arrested seven people during a late-night drug raid.
After entering the house at 321 Hege Ave. on the southern edge of the town late on Friday night, police confiscated a pound and a half of methamphetamine worth an estimated $64,000. They also found $24,000 in cash.
Neighbors quoted in local news reports said they'd been suspicious of drug activity at the house for quite some time. Cars came and went every day and at all hours.
Jason Campbell, 46, and Courtney Irvin, 29, both of Columbus, were charged with the most severe offenses – police said they believed Campbell, nicknamed "Soup," was one of the biggest methamphetamine sellers in town.
Campbell was charged with dealing meth, possession of meth, possession of marijuana, possession of stolen goods, possession of pseudoephedrine (used to manufacture methamphetamine), possession of drug use equipment and with operating a "common nuisance" type establishment.
Irvin was charged with possession of meth as well as marijuana, possession of a controlled substance, possession of stolen property, possession of pseudoephedrine, possession of drug paraphernalia and maintaining a common nuisance.
Five others were arrested – Jayden Campbell, 19, of Scipio, David Compton, 19, of Columbus, Philip Amburgey, 27, of Hope, Eric Caldwell, 40, of Columbus, and Roger Leonard, 59, of Columbus – and all charged with visiting a common nuisance.
Campbell, seen as the operation's ringleader, had been in trouble with the law previously over crimes connected to drugs.
Three months previously authorities had busted another methamphetamine operation just a few blocks away at 372 Center St. In that raid, during which woman was arrested, police confiscated a dozen pounds of methamphetamine. Officers said Lucilma Santana, age 50, and her husband, 53-year-old Miguel Santana (who was arrested later after a traffic stop in Houston, Tex.) were connected with drug gangs in Mexico.
Columbus police say that although Campbell and Irvin had pseudoephedrine, not much local manufacturing of methamphetamine goes on anymore, as most local meth is brought in from Mexico or elsewhere.