Fort Wayne, IN Drug and Alcohol Use Statistics
In Indiana, drug and alcohol use disorder is a serious issue. In 2017, Indiana had the 14th highest drug overdose death rate in the U.S.1 Allen County averaged on the mid-lower side of deaths by overdose than other counties in Indiana but was still high.1 In 2019, Indiana had four more per 100,000 deaths due to drug use than the national average.2 Some further statistics gathered by the Allen County Drug & Alcohol Consortium 2020 and America's Health Rankings 2021 are:3, 4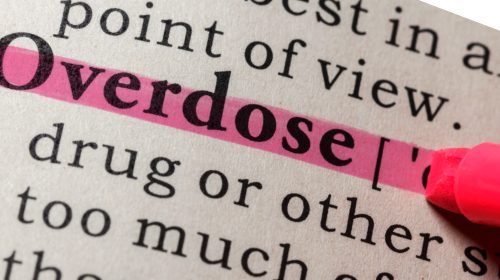 In 2018, overdose caused over 50% of maternal deaths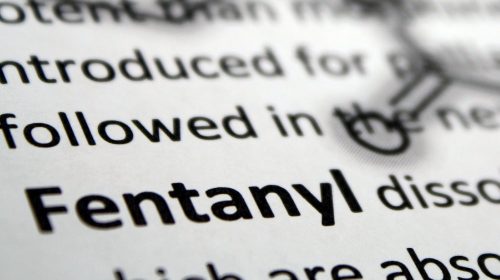 There has been an increase in synthetic marijuana and fentanyl overdoses.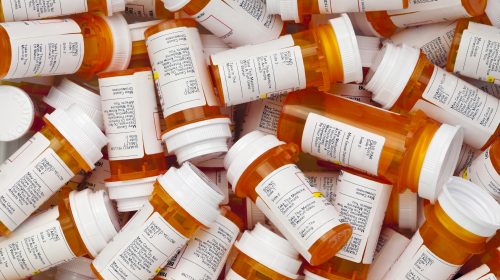 In 2021, 9.9% of Indiana adults used prescription drugs for non-medical purposes.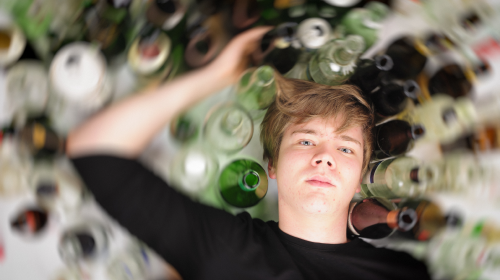 Approximately 17% of adults in 2021 reported binge drinking or heavy drinking
How Much Does Drug Rehab in Fort Wayne Cost?
The costs associated with Fort Wayne drug and alcohol rehabs vary widely with the amenities in each facility—private rehabs, luxury rehabs, government-funded rehabs, and charity-run rehabs. In addition, each person's journey to recovery starts at a different place. For some, it may need to begin at an inpatient rehab that includes room and board and lasts for several months, while another person may start in an outpatient clinic. Several factors that contribute to the cost are:
TInpatient vs. outpatient setting
Choosing a rehab facility in-network with health insurance provider
Government or charitable funding
Treatment given more frequently, like 24/7 inpatient care, will cost more than programs that provide care over just a number of hours per day. Likewise, if you participate in a program for six months to one year, you should expect a higher cost than a three-month program. But the type and length of a program are determined by your needs, not by your ability to pay.
There are some rehabs that provide gourmet food, massage, and expansive properties with few patients. These are typically called "luxury" or "executive" rehabs and cost much more. Fort Wayne offers these rehabs alongside several more affordable or free rehabs.
How To Find Low-Cost and Free Rehabs in Fort Wayne, IN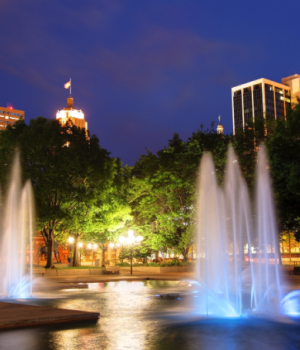 Your financial state should never be a reason not to start rehab. That is why Fort Wayne offers a number of government-funded or free rehabs. Government-funded rehabs receive funds from Medicaid, federal, or state grants. Your cost can be determined by your income and ability to pay. At times and due to circumstances, rehab can even be free. However, if beds are full at state-funded rehabs, they may give priority to:5
Pregnant women
Single mothers
People who use injection drugs
People with multiple conditions
There are other options if you don't qualify for a spot at a government-funded rehab. Many rehabs are privately funded or take donations. Many people acknowledge the importance of rehab availability to people who need treatment but cannot afford it. Therefore, even centers that are not run on donations often offer a sliding scale option for payment, depending on your ability to pay. These centers may require verification and identification documents upon enrollment, but requirements vary.
Do Medicare and Medicaid Cover Rehab?
Medicare and Medicaid do cover rehab but to different degrees. Again, this depends on the type of coverage you have and on the treatment center you choose.
Medicare covers mental health, including substance misuse disorder, mostly like other medical conditions. But there are some restrictions.6 Medicare Part A covers inpatient treatment (including rehab), Part B covers outpatient treatment, and Part D covers prescriptions.6 This means that education, psychotherapy, aftercare, and more are covered.6 But if you need to be hospitalized at an inpatient psychiatric hospital, they only cover up to 190 days in a lifetime.6 And, it is not renewable.6 Alongside the limitation on hospitalization, there are some specifications for receiving partial hospitalization and outpatient treatment as well.6
Medicaid provides fuller coverage with fewer limitations but is not accepted at all rehab facilities. However, most treatment centers have their policies listed on their websites or can be made readily available.
The following mental health services are covered by Medicaid:7
Screening
Detox
Medications
Inpatient hospitalization
Residential treatment
Outpatient treatment
Other services
Does Private Insurance Cover Substance Addiction Treatment?
Indiana law implemented the Mental Health Parity and Addiction Equity Act of 2008 into state mandates for insurance.8 This means that your insurance has to cover mental health and substance misuse disorders at comparable copays and deductibles as other health conditions.8 So, if you have insurance, they must provide some coverage for substance use disorder treatment. To find out how much they will cover, you can contact your insurance or ask for help at your treatment center of choice.
Each insurance may vary in coverage, and it is possible that some services could be limited.
Popular Alcohol and Drug Rehab Centers in Fort Wayne, IN
Park Center Counseling Quinn House and Harmony House
Park Center Behavioral Health Center offers treatment for every people in every kind of mental health crisis in several Indiana cities. The Fort Wayne drug rehab and alcohol rehab has specific programs for adults, the elderly, and young adults seeking recovery. Park Center's substance misuse program accepts all insurances, including Medicaid, and offers sliding scale payment options as well. However, when space is limited, preference for treatment is given to pregnant women and people who misuse drugs Intravenously.
YWCA Northeast Indiana Recovery Services
The YWCA Northeast Indiana Recovery Services offers SAMHSA-accredited treatment programs for women, adults, and young adults. They can treat people needing alcohol, opioid, or dual diagnosis rehab. After rehab, they can also provide outpatient treatment, aftercare support, and sober-living homes. Financial aid and sliding scale payment options are also available for people who need them.
Center for Solutions
Center for Solutions is a rehab program that offers tracks for whatever help you need. There are programs specifically for LGBTQ+ persons, adults, men-only, or young adults. They offer treatment from inpatient through aftercare in sober-living homes. And they can treat alcohol, opioid, and other drug use disorders with specially tailored treatment plans. If you are concerned about payment, they offer self-pay options and sliding scale payment assistance.
Bowen Center Fort Wayne
Bowen Center Fort Wayne is committed to providing care for all people, no matter their background. A more rare offering, they provide elderly rehab programs alongside several other tracks. They are SAMHSA- and Joint Commission-accredited, providing quality care at an outpatient level for many diagnoses. Whatever your insurance, Bowen Center accepts it, including military insurance.
The Drug Rehab Process: What to Expect
Like many mental health conditions, treatment for substance use disorder is given along a "continuum of care." This includes early intervention for high-risk situations and concludes with aftercare and lifelong support. Though people start "on the path" at any point, the general timeline proceeds as such:9

Early intervention: This consists of education and assistance to people who are in high-risk situations for substance use disorder.
Detox: A cleaning out of the substance from your body is sometimes necessary before starting other aspects of rehab.
Inpatient treatment: This involves 24/7 care in a psychiatric hospital or residential treatment center.
Outpatient treatment: This ranges from partial hospitalization to standard outpatient treatment. They differ by the amount of time spent in treatment per day and week.
Aftercare: This encourages the continuation of healthy living habits and supportive communities to continue on with sobriety after rehab.
Substance Abuse Assessment
So, how do you know what part of the "path to recovery" to begin? You need a substance misuse assessment. Your primary care doctor or psychiatrist can do assessments, or many treatment centers offer assessments as the first step to enrollment. Completing an assessment is necessary to create your treatment plan.9
Most of the assessment will be questions about your substance use history and related symptoms.10 It is essential to be truthful, as the assessment will typically ask about conditions that often accompany substance use disorders.11 These might include questions about sexually transmitted diseases, other mental health disorders, and more.11
Everything the interviewer asks you will be helpful to give an accurate diagnosis and get you started on the right treatment plan. Admission to certain rehabs can depend on your diagnosis and whether or not you need a detox.
Medical Detox Treatment
Detox can be extremely uncomfortable and dangerous to complete on your own. It depends on what substance you were using. So, many people complete detox in a medical setting with or without medication assistance. This is particularly common for those who are trying to leave alcohol, opioids, or benzodiazepines behind. With or without assistance, it can take several days for your body to get rid of the substance and stop withdrawing completely. Therefore, even without the danger that alcohol withdrawal poses, withdrawal and detox from other substances can be very difficult to complete on your own.
If you detox in a medical setting rather than on your own, healthcare providers can make the process safe and less uncomfortable with medication. Cleansing your body of the substance is the necessary first step to recovery. Detox only addresses the physical, not mental, side of substance use disorder. You need to get into a treatment program that works best for you to continue toward recovery after Detox.12
Inpatient Drug Rehab in Fort Wayne, IN
For some, 24/7 treatment for months on end may feel like a lot, but inpatient treatment is sometimes exactly what you need for recovery. Inpatient treatment can occur in a hospital or residential setting. Many people prefer residential rehabs because of the close-knit and homey environment. But sometimes, hospitalization is required if you have multiple diagnoses, need medication, or have other medical conditions. Generally, the more severe your substance use disorder is, the more likely you will benefit from inpatient treatment first.
Inpatient options are effective as you are removed from your usual schedule and daily environment. Thus, it removes you from anything that might be a trigger for substance use. Inpatient treatment might be beneficial for those who do not have a strong support system at home. Your days are usually filled with group and individual therapies, appointments with healthcare providers, and some recreation. Activities, rooming situations, and rules vary from center to center. Evaluate the visitors' policy and other requirements before choosing which rehab is right for you.
Step-Down Care After Completing Inpatient
After inpatient rehab, you typically "step down" into outpatient treatment. Potential programs include partial hospitalization programs (PHP), intensive outpatient programs (IOP), and traditional outpatient programs(TOP).
Outpatient programs allow you to reintegrate back into your environment while still having guidance. Some people with mild to moderate substance use disorders or strong support at home begin treatment in one of these programs.
PHPs are exactly what they sound like. The patient may feel like they are almost in inpatient treatment because of the amount of time spent there. PHPs typically provide treatment for 6 to 8 hours/day for 5 to 6 days/week. This means you can't go back to work yet; your only focus is getting better and healing. Having evenings and weekends at home can help you practice coping skills and strategies while in your familiar environment while still having professional support.
From a PHP, you would expect to "graduate" into an IOP. PHP and IOP programs often include similar therapy and treatment groups but require less time. This allows you to slowly reintroduce new aspects of your life while continuing to have guidance.
Last on the treatment path is a traditional outpatient program. You may see a mental health provider once or twice weekly or less. This stage focuses on helping you manage and maintain your own recovery path.
Aftercare and Relapse Prevention
Aftercare is a continuation on the path to recovery by taking steps and possibly changing routines after rehab. Healing from substance use disorder is a lifelong process. Once you complete a treatment program, aftercare is vital to help you reduce and prevent relapse and connect with others who can support you. Going back to normal life can be difficult, sometimes more than expected. Having a strong support group and plans in place are necessary to keep going with your new substance-free way of living.13
However, even with the best resolution and plans in place, relapse can happen. It is important to view relapse as a part of the recovery process. It is what you do after a relapse that makes the difference. Having the right support and professional help will empower you to work towards your goals and choose to get back on the road to recovery after a relapse.13
A couple of well-known programs are Alcoholics Anonymous (AA), Narcotics Anonymous (NA), and SMART Recovery. These programs provide community and accountability and help you set goals. There are usually several meetings available per day in multiple locations. Another way to find community and accountability is in a sober-living home. These are residential locations with a few people living together post-rehab. Unlike residential rehab, you can come and go as you please. However, there are often rules for the home and often mandatory group meetings. Living in a sober-living home can make a big difference.13
As a person, you are continually changing and growing. So, as you change, your needs for different therapies may also change. Stay close with people who will encourage you in your sobriety.
What to Consider When Choosing the Right Fort Wayne, IN Rehab for You
There are many different rehabs available, and it can be hard to know which one to choose. Several factors you can consider are:
Location: Rural vs. city or hospital vs. residential
Level of treatment: Inpatient, intensive outpatient, or traditional outpatient
Treatment tracks: Alcohol, narcotics, or dual diagnosis
Amenities: Equine therapy, massage, or other available luxuries
Community available: Men, women, young adult, religious, or LGBTQ+
Family/visitor policy: Possible restrictions to having visitors while there
Cost: Whether your insurance covers this rehab and whether you need a low-cost option
All the factors above can help you narrow down which Fort Wayne drug or alcohol rehab is right for you.
What Qualities to Look for in a Drug Rehab in Fort Wayne
Program Accreditation
Accreditation allows you to have confidence in the quality and safety of a program. Organizations can act with authority as third-party members to judge treatment facilities without bias. And, when a treatment center is accredited, they are more likely to be referred to by other professionals in the field. Some examples of agencies that grant accreditation are:

CARF (Commission on Accreditation of Rehab Facilities)
Joint Commission
SAMHSA
These agencies look for evidence-based treatment practices, licensed staff members, clean and healthy environments, and more. You can have peace of mind in your treatment quality with program accreditation.
High Staff-to-Patient Ratio
You want to be sure you are seen and heard wherever you receive treatment. Having a higher staff-to-patient ratio helps. Though there are limits on the number of people who can be treated at one time, some places have higher limits or reach those limits more quickly. You are more likely to receive a high quality of care when the program is not understaffed or overworked. However, if those are the only programs you can find or qualify for, they still might save your life. It is essential to consider all options available.
Individualized Treatment Plans
You are a unique person with a unique background. Why shouldn't your treatment plan be? Your journey to and from recovery may look different from someone with a similar background. Treatment plans can and should be adjusted based on your response to treatment. There are innumerable other factors you could be juggling outside of your substance use disorder, and an individualized treatment plan allows those to be factored in. Some people benefit from medications, and some from therapies. You should be treated as a whole person, not just a person with substance use disorder.
Aftercare Planning Evidence-based practices and therapies are tested in large clinical trials, usually with thousands of people. This means they are expected to work for the vast majority of a given population. You may want a treatment center that uses these evidence-based treatments to have confidence that all the time and effort you put in will have the result you are looking for. Because they are well-studied, they are usually the standard of care.
Access to Medical Care Onsite Though medical care is not usually necessary for substance use disorder treatment, it can be helpful to have available. There is always a possibility of an emergency, and knowing that you would be treated in a timely manner is important. This is particularly important if you have coexisting medical conditions. Having access to medical care onsite can give you confidence that you will be safe throughout your stay.
Should I Travel to Fort Wayne for Alcohol and Drug Treatment?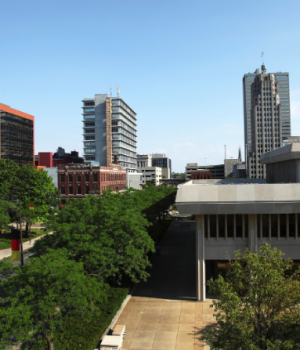 Fort Wayne is the second-largest city in Indiana, located in the northeast part of the state. There are nearly half a million people living in the city, and it is a center of activity. It is full of history, community events, and entertainment. There are several naturally preserved areas with hiking trails that offer outdoor experiences. As a central location in Allen County, there is no shortage of life in Fort Wayne. If you are looking for a rehab that is away from home but still full of life, Fort Wayne may have what you are looking for.
Neighborhoods in Fort Wayne To Consider for Treatment
There are several neighborhoods throughout Fort Wayne. A few to consider are:
West Central: This neighborhood is rated at an average livability score. It tends to have a lower cost of living, but there is a slightly higher than average crime rate. However, there are many restaurants, shops, and parks that make this area desirable.
East State: East State offers several locally owned stores and restaurants and is a short drive from any part of town. There is a low crime rate, and it is easy to walk to the main park for the many local festivals or events. If you want to be in the center of things, East State may be for you.
Lakewood Park: This area has some beautiful scenery, including lakes, as the name suggests. Along with that, there are restaurants and several coffee shops to enjoy. Located on the Southern side of Indiana, it could be a neighborhood worth checking out.
Cherry Hill: Cherry Hill is a high-end neighborhood that ranks as one of the safest in Fort Wayne. The Cherry Hill Gold Club offers plenty of events and recreational activities for locals. While it is a more expensive neighborhood, the quiet and cleanliness is worth it for many people.
Drug and Alcohol Laws in Fort Wayne, IN
Indiana's Naloxone Access Laws: In light of the increase in opioid-related deaths in the past decade, Indiana created these laws to increase access to naloxone. Naloxone is the antidote to opioid poisoning. With these laws, healthcare providers can prescribe naloxone to anyone at high risk for overdose. Additionally, these laws provide some immunity for crimes of substance and paraphernalia possession for those who seek help in an overdose.
In order to obtain immunity, you must:14
Obtain an overdose antidote in a lawful manner
Take the overdose antidote in a lawful manner
Attempt to contact emergency services immediately before or after taking the drug
Give your full name and other information requested by the responding officer
Remain at the scene with the individual in need of help until help arrives

Cooperate with the medical and legal responders at the scene
Indiana's House Enrolled Act 1007: With the goal of reform, not jail time, in mind, the House Enrolled Act 1007 helps employers help employees. If you test positive on a drug test at work, this act helps your employer give you a second chance. For qualifying employees who agree to participate, a drug education program or rehab can be made available to you. And your job will be waiting for you when you return.15
Resources