Alcohol and Drug Use Statistics in Evansville
Out of the 81 Vanderburgh County overdose deaths in 2021, 57 involved an opioid of some kind.3 Below are other alcohol and drug use findings:4
64% of residents selected substance abuse as the issue needing the most attention.
72% of drug overdose deaths are male.
Drug and alcohol rehabs in Evansville are working hard to improve these statistics. One way is accepting various payment options and individualizing treatment plans.
Substance Abuse Treatment Services in Evansville
After an initial assessment, your treatment team will create a plan that may include medication-assisted treatment, inpatient, residential, transitional living, intensive outpatient, peer support, and family services.
At all levels of treatment, licensed professionals teach you the skills necessary to avoid relapse once you complete the program. Skills such as communication, recognizing and avoiding triggers, and self-care are musts for long-term recovery. In addition, you receive necessary peer support and feedback through classes and groups.
Behavioral therapies are evidence-based methods that help you, your family, and other loved ones. Examples include:
Cognitive behavioral therapy
Dialectical behavior therapy
Contingency management
Motivational enhancement therapy
12-step facilitation groups
Family behavioral therapy
Healing the whole self at the same time can prevent relapse. Therefore, alternative and holistic therapies may be included in your treatment plan.
How to Pay for Alcohol and Drug Rehab in Evansville
Alcohol and drug rehabs in Evansville vary from inpatient and outpatient, length of stay, services provided, and treatment methods. Such a great variety makes recovery treatment more accessible to residents and non-residents.
Vanderburgh County drug rehabs make it easy for people to get help, whether they can afford it or not. Counties receive state funding to support quality local drug and alcohol rehabs. Some of this funding covers the cost of recovery programs for those unable to pay. Other rehabs offer discount rates, sliding fee scales, and scholarships.
State-funded drug and alcohol rehabs in Evansville include:5
Evansville Comprehensive Treatment Center
Amethyst House Inc.
Southwestern Behavioral Health, Inc.
Private Insurance, Medicare, and Medicaid
Depending on your income, you may qualify for Indiana Medicaid, which will pay for inpatient and outpatient services recommended by a physician or specialist. Eligibility is based on the number of people living in your household, the number of dependents, and household income. Disabilities are also considered to determine which Medicaid plan will best meet your needs.6
If you are over 65, you can apply for Medicare insurance coverage. Anyone under 65 with a disability may also apply. Medicare is separated into parts you can purchase:7
Part A covers inpatient services
Part B covers outpatient services
Part C is a combination of A and B
Part D covers prescription medication
Most Evansville drug rehabs accept private insurance. The most common healthcare carriers include Aetna, Ambetter from MHS, Anthem Blue Cross Blue Shield, CareSource, Cigna, and US Health and Life.
Private insurance plans typically require you to pay a monthly premium, copays, and meet deductibles. The plan you choose will have specific guidelines for coverage of recovery treatment. Insurers are adapting their plans to cover alcohol and drug rehab in Vanderburgh County just as they would cover care for medical conditions.
If you live outside of Indiana but want to enter an Evansville drug rehab, check with your insurance company to see if services are in-network.
Evansville Local Information, Transportation, and Accommodations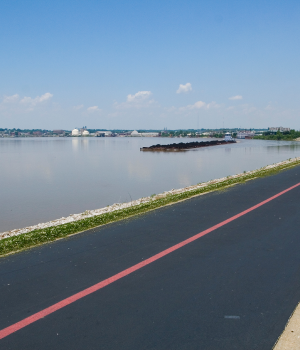 The Evansville Regional Airport hosts airlines such as Delta, Allegiant, and American Airlines. Each offers flights to major cities, making it easy to fly into Vanderburgh County. Once you land, you can arrange Uber, rent a car, or hop on a shuttle bus to more than forty local and large brand hotels, Inns, Air BnB, or VRBO locations. Dave's taxi and Select Chauffeured Transportation are available if you prefer cab or limo service.
Evansville has four districts: Downtown, Haynie's Corner Arts District, North Main Street, and West Franklin Street. Each offers many activities that promote recovery for you and your family. For example:8
Angel Mounds, a state historic site
Bosse Field to watch the Evansville Otters
Deaconess Aquatic Center
Mesker Park Zoo and Botanic Garden
Evansville is a great location to start or continue your recovery journey.