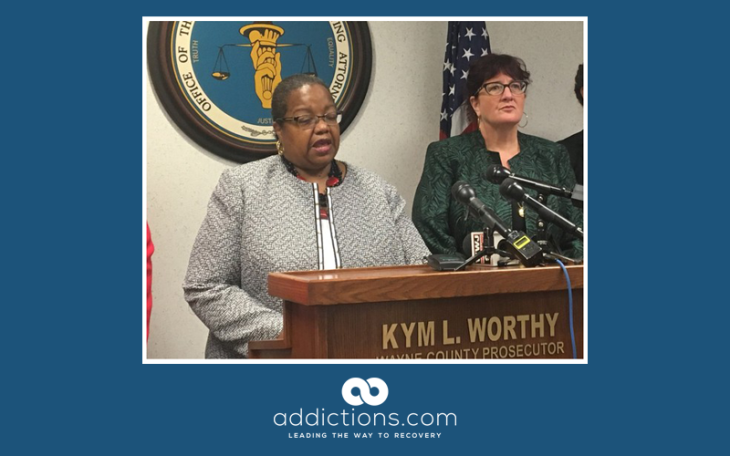 A police officer and two paramedics were hit with felony manslaughter charges over the December 2017 death of an inmate at the city jail in Westland, Mich.
Kym Worthy, the prosecutor in Wayne County, broke the news of the charges against the three people on Monday – Sgt. Ronald Buckley, 54, Matthew Dicosola, 50, and Leah Maynard, 36.
They've been charged with involuntary manslaughter and failure to perform a legal duty for allegedly letting 36-year-old William Marshall died in custody. Each also faces a felony charge of misconduct in office.
Marshall had been arrested and brought into the jail for a traffic violation during which he was found in possession of drugs – cocaine and marijuana. Westland, a city of around 82,000 people, is about 16 miles west of downtown Detroit.
At a press conference about the case, Worthy said that Sgt. Buckley and the two paramedics denied necessary drug overdose treatment to Marshall, and that they negligently left him in lockup rather than transporting him to the hospital.
The three didn't keep a close eye on him, either, as required by their duty, Worthy said.
Marshall died of cocaine poisoning Dec. 10, 2017. His family blamed the negligence of police and paramedics for his death.
Although the police officers who pulled him over had spotted some sort of white powder by Marshall's mouth, when they inquired about it Marshall said it was from eating a powdered doughnut, not from using cocaine, which he denied doing.
Everything seemed routine during his arrest and booking, the police said. His health seemed fine.
However, about an hour after being booked into the jail, Marshall had some sort of seizure, and that's when paramedics were called. But Dicosola and Maynard didn't do their jobs, Worthy said at her press conference. They decided he might have swallowed something but wasn't having a bad enough seizure.
Sgt. Buckley sent the paramedics away but later noticed Marshall was unresponsive. He and another officer used a defibrillator and performed CPR on him. But when paramedics came back, he was dead.
The city's chief of police, Jeff Jedrusik, made an apology to Marshall's family and suspended Sgt. Buckley during a department investigation. Jedrusik said the department would consider firing Buckley if the results of the investigation warrant that move.
Chief Jedrusik also said his department has altered its training and procedures for police officers to prevent another in custody death of this type.