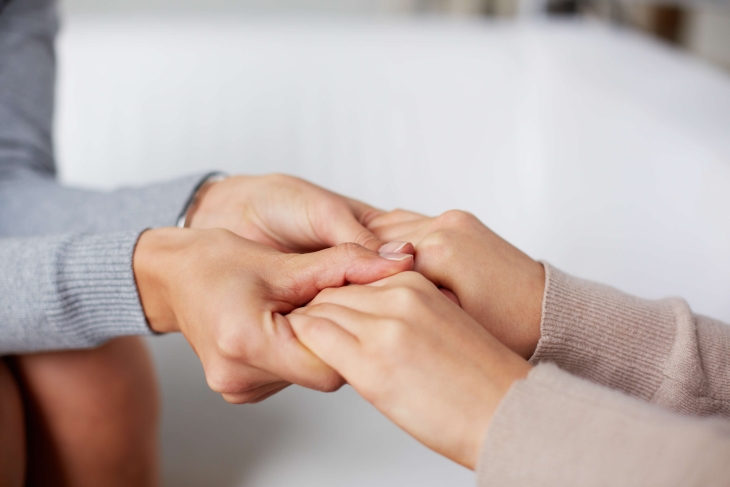 Many people seeking help for substance use benefit from a combination of addiction treatment services.1 A significant part of early recovery is putting a stable support system in place. Having a solid support system in recovery can be a crucial element of a successful relapse prevention plan.
Just as the recovery process can take time and patience, so too can building a healthy addiction support system.
What Is a Healthy Addiction Support System?
The Substance Abuse and Mental Health Services Administration (SAMHSA) defines recovery as "a process of change through which individuals improve their health and wellness, live self-directed lives, and strive to reach their full potential."2
SAMHSA lists four categories that support a healthy life in recovery: 2
Health—Becoming informed and actively involved in making decisions that support all facets of your wellbeing (i.e., your physical, mental, emotional, and social health) by allowing you to heal from or manage health conditions and symptoms.
Home—Finding and settling into stable, safe housing that facilitates your ability to maintain the other dimensions of recovery support.
Purpose—Building the resources necessary to participate in society (e.g., the independence and income to care for oneself after an inpatient program). Purpose also entails completing the meaningful daily activities required to gain resources like independence and income, such as keeping up with a medication or therapeutic program and managing your household responsibilities.
Community—Discovering and cultivating the connections that provide you with a strong social circle that includes familial relationships, friendships, community membership, etc. Community encompasses finding a sense of belonging, love, hope, and internal motivation for sustaining recovery.
Your support network is the people who cheer for you when you succeed, lend an ear when you need someone to talk to, and help you get back up when you fall. A support network includes everyone who supports you in recovery, such as:
Your behavioral health care team (e.g., substance abuse counselors, therapists, psychiatrists)
Your medical team (e.g., your primary care doctor, medical personnel in a rehab program)
Supportive family members
Trustworthy friends
Other people in recovery from substance use disorders (e.g., peers in addiction support groups, your cohort in a rehab program)
Building a healthy support system is key to maintaining sobriety in addiction recovery. According to SAMHSA, the addiction recovery process relies heavily on the quality of a person's relationships and social network. 2
Your support network can play a part in all four dimensions of recovery. For example, your care team helps you improve your health and wellbeing; you may live with family members or sober roommates; you may find purpose with the help of a case manager or sponsor, and community is fundamentally about the relationships you build. Without a sober support network, a person in recovery is at risk of becoming socially isolated or depressed, both of which are connected to an increased risk of relapse.
What Is the Importance of Social Support in Recovery?
Many individuals conceptualize recovery as a matter of "pulling yourself up by your bootstraps" or "muscling through" challenges, often with the assumption that relying on your own power is the only path forward. However, the recovery process requires the opposite.3 Social relationships in recovery improve your ability to manage chronic stress as well as high-stress events and provides a sense of belonging that improves your perceived quality of life whether stressors are present.3
There are several stages of recovery, from the very beginning when a person is contemplating treatment to the preparation and action stages, and finally, to the maintenance stages (i.e., when a person has abstained from drug or alcohol use and is maintaining sobriety). 7
Every stage of recovery poses challenges that you may need a different level of support to tackle. An addiction support network can help you cope with triggers that could potentially lead to relapse, promote a greater sense of wellbeing, and make you feel more empowered in recovery.  Early recovery is a particularly sensitive and vulnerable time. Being able to lean on loved ones, peers, and professionals is crucial.
Substance abuse and addiction treatment programs focus on several primary goals, one of which is helping those in recovery establish a health recovery support network.  Whether you participate in an inpatient or outpatient program, attending peer support groups, group therapy, and other supportive treatment modalities can be a big part of your ongoing treatment regimen.  Once you leave treatment, the support network should still be in place and will also evolve to ensure a sober transition and long-term recovery.
How Recovery Groups Work
Recovery support groups—such as Narcotics Anonymous (NA) and Alcoholics Anonymous (AA)—provide many avenues for reaching out for help. For example, most recovery support groups offer a phone list with local crisis resources, free clinics offering addiction services, a regional AA hotline, and sometimes contact information for other people who can offer support outside of meetings. Employing tools such as a phone list is often an integral part of a person's relapse prevention plan.
If you attend NA or AA, you may have the opportunity to work with a peer mentor, known as a sponsor. Your sponsor offers a unique facet to your social support network. Your sponsor is not a friend but rather a point of contact who has been in sobriety for a long time who is readily available when you need support from someone who knows you personally and understands substance abuse.
A positive support system can help you stay on track and keep you focused on your recovery. You can learn from experienced group members who have undergone the same process.2
When your support system surrounds you with healthy influences, it supports you in creating new patterns of healthy behaviors and decisions.2,3 Positive people can elevate your mood, allowing you to enjoy your recovery and the new life you are creating. Research shows that there is an observable correlation between meaningful interpersonal relationships and reported levels of happiness. This research also indicates that adults who are more socially connected tend to exhibit better general health markers (e.g., lower levels of inflammation; less likelihood of catching illnesses like the common cold; and higher levels of oxytocin which is associated with pain and stress reduction) and live longer than their more isolated peers.4,5 Some studies indicate that the average difference in lifespan could be as long as seven years.5
Beyond treatment, a healthy recovery support network should help you strengthen your place in the community as a family member, friend, community member, and worker.6
What Type of Addiction Support Services Are Available?
Many addiction treatment services encourage building a social support network with as many types of relationships as possible. Different relationship types offer support in unique ways. For example, you can process different aspects of your recovery in addiction support groups and with a therapist that you may feel comfortable talking about with your family. You may also benefit from cultivating supportive relationships that are built around sober activities but not necessarily around addiction recovery (e.g., community volunteering, art classes, bird watching, or hiking).
Your recovery support system may include many types of services and people, including:
Addiction support groups (e.g., 12-step fellowships, SMART Recovery)
Therapists or counselors
Spiritual community (e.g., church or meditation group)
Supportive family members
Sober friends
Spouse or significant other
Many recovery programs offer family and friends support groups or therapy sessions to educate loved ones and heal these relationships. These programs may include education about addiction, setting boundaries, how enabling can happen and how to avoid it, supporting a loved one in recovery, and expressing feelings—including intense negative or hurt feelings—in a manner that facilitates understanding and long-term changes in the relationship dynamic.
If you feel you need more structured support than a short-term treatment program offers, discuss your aftercare options as the end date of your program approaches. Many treatment programs offer aftercare options to every client, but knowing which services are available can help you formulate an effective plan with your provider. Here are some examples of ongoing care:6
Sober living homes—Sober living homes are short- or long-term housing accommodations that can provide you with a safe place when you transition out of inpatient rehab, but still need a high level of support (e.g., employment or education services, medical monitoring, or therapeutic services) or do not have a safe home environment to go to after rehab.
Follow-up therapy—Your provider can provide referrals or even set up appointments for continuing meetings with a therapist or counselor. You may even be able to continue with a therapist you saw during inpatient care. Your follow-up care may also include a plan for regular appointments with a psychiatrist or doctor according to your needs.
Alumni groups—Many inpatient rehab programs offer addiction support groups for program alumni.
How Is a Healthy Recovery Support System Built?
Alcohol or drug rehab, including both inpatient and outpatient treatment, involves immersing you in a supportive environment. After treatment, surrounding yourself with a healthy, sober environment improves long-term recovery outcomes.
Building your recovery support system begins from the moment you enter recovery. During treatment, you meet other recovered or recovering people. Here are some ways you can build strong, healthy support networks:2,3,4
Attend regular support groups like AA or NA, either in-person or online
Attend support groups for individuals in your specific demographics (e.g., individuals with co-occurring conditions or gender-specific support groups)
Get a peer sponsor
Exchange contact information with other group members in your program and stay connected
Consider seeing a therapist, counselor, or recovery coach
Encourage your friends and family to get involved in your recovery program
Engage in sober social activities
Participate in service work in your recovery group or your broader community
Research meet-up groups with sober, like-minded people who share your interests and hobbies
Staying connected to an addiction support network increases the odds of staying sober, healthy, and happy.3,4
If you're ready to learn more about finding the right addiction treatment center, don't wait. Contact us at 800-405-1685 (
Who Answers?) and get help today.
Resources