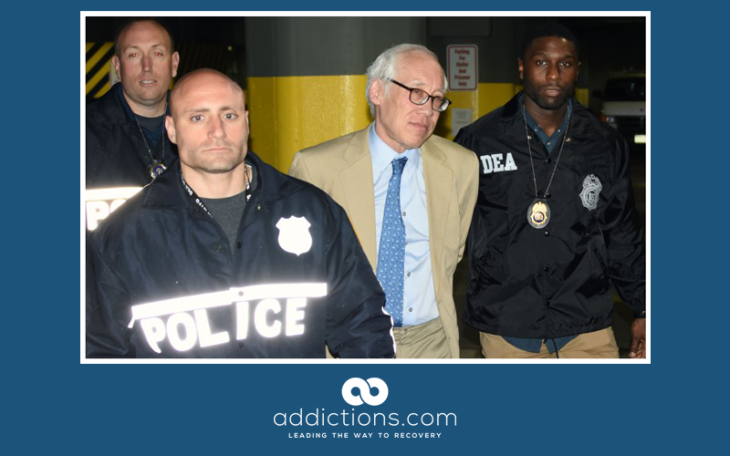 Dr. Lawrence Choy, formerly of Queens, N.Y., has been charged with manslaughter for allegedly writing illegal opioid drug prescriptions that resulted in three deaths.
Prosecutors said Choy, 65, prescribed opioids and other controlled substances to patients without an appropriate medical need. Besides two counts of manslaughter, Choy has been hit with 220 other charges, including reckless endangerment and selling prescriptions for controlled substances.
Choy was arrested in Wisconsin, where he'd moved last year from Queens. His medical office in New York had already been investigated by authorities for possible violations of drug laws. U.S. Drug Enforcement Administration agents from the Milwaukee DEA office arrested Choy in Sheboygan, on Wisconsin's Lake Michigan coast, in March, and this week extradited him to New York.
DEA agents said doctors, lured by the promise of easy money, have become in some cases as dangerous as drug lords.
From 2013 to 2016, authorities said, three of Choy's patients to whom he'd illegally prescribed opioids died of overdoses. The doctor was found to have written prescriptions for 14 patients who didn't need the drugs.
The three people allegedly killed by Choy's drugs were Daniel Barry, 43, Eliot Castillo, 35, and Michael Ries, 30. Castillo and Ries both got high-dose prescriptions for the painkiller oxycodone, as well as alprazolam, an anxiety medication. If mixed, those two drugs, which both interfere with healthy respiration, can combine and increase the chances of a fatal overdose. Both Ries and Castillo died within three days of visits to Choy's Queens medical practice, on Franklin Avenue in Flushing.
Authorities said they believed Choy began writing illegal prescriptions when he found himself in heavy debt for unpaid taxes in 2012. At that time, patients from further away than New York City began coming to Choy's office for their prescriptions – even from Pennsylvania and Upstate New York – which was a red flag for investigators.
Prosecutors in Pennsylvania became suspicious and started an investigation when they noticed prescriptions from a doctor in Queens being filled in pharmacies in the Keystone State.
Choy abruptly left his medical practice a year ago this month and moved to Sheboygan after officers searched his practice and took computers and medical records.
Prosecutors say Choy went so far as to prescribe drugs that could combine to kill a person if taken together – a muscle relaxer combined with an opioid and a benzodiazepine sedative, all of which interfere with a user's breathing and as a result, can be quite deadly if taken at once. Medical practitioners are specifically warned about the dangers of prescribing these three types of drugs to one person, but Choy disregarded those cautions.