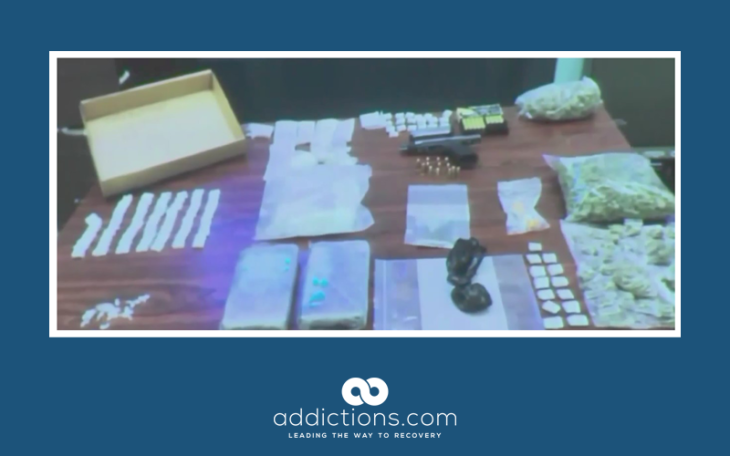 Eighteen suspects linked to a Bronx drug ring that reportedly dealt fentanyl-laced heroin branded with eye-catching names like "sweet dreams," "Heisenberg," and "Obsession" responsible for at least five overdose-induced deaths in the city have been arrested and charged in operation dubbed "Breaking Bad," officials say.
The suspects, whose ages range between 21 and 62, have been charged with trafficking close to 100 Kilos of heroin since 2015 until June of this year, according to prosecutor's document seen in Manhattan federal court Tuesday.
Officials say the gang operated from 182nd St. to 184th St. located between University Ave., and Jerome Ave. The group supposedly flooded Fordham Heights area with fentanyl-laced heroin during the aforementioned period.
According to William Sweeney Jr., the gang laced heroin with the deadly fentanyl on purpose to create a stronger more lethal high.
According to authorities, branded baggies were found at the scene where the five victims had died.
Authorities say Maurice "Bugz" Hartley, 35, is the alleged crew ringleader having supplied "large quantities" of fentanyl and heroin to other members of the gang.
Fentanyl is a synthetic opioid several times stronger than heroin. Illegal opioids and prescriptions are frequently abused due to their highly addictive nature. Opioids bind to the areas of the brain that control emotions and pain, increasing the levels of dopamine-the feel-good hormone- in the reward areas of the brain and bringing about a heightened feeling of euphoria.
Over time, the brain gets used to this feeling. As a result, the brain will need an increased amount of the drug to register the same levels of well-being and relief, causing dependence and finally addiction.
The US usually measures the severity of the Opioid crisis through overdose-induced deaths.
In 2016 alone, more than 64,000 cases of overdose-induced deaths were recorded in the US, with heroin and its analogs accounting for over 20,000 deaths, according to CDC.
President Trump introduced tougher measures to help combat the Opioid crisis.  The plan will see more death penalties, reduced prescriptions, and more treatment. Over the next three years, Trump's administration seeks to cut prescriptions filled by a third.  The president also spoke about creating new legislation to scale down the number of drugs required to prompt mandatory minimum sentences.
A video of the bust was released by the NYPD. The cops said three kilos of heroin, two pounds of marijuana, and a firearm and close to $300,000 were seized.
The arrests come hot on the heels of an alarming spate of overdoses linked to K2- also a synthetic drug. Reports indicate that at least 87 people fell sick after taking doses of the synthetic marijuana.