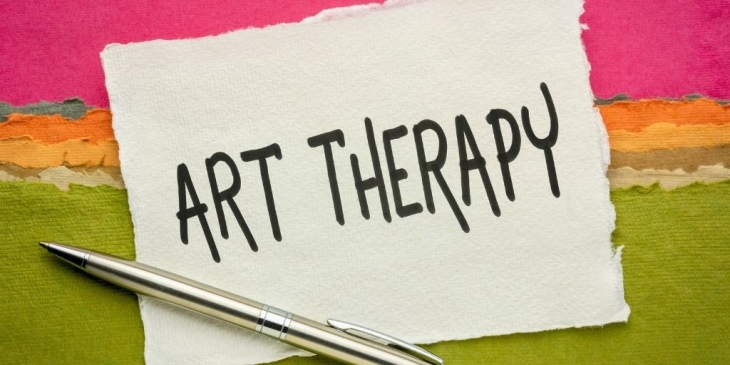 Sam stared at his drawing. It was a picture of what he felt like the day before he entered rehab. His art therapist encouraged him to draw a second picture of what he hopes to feel like a year from now.
Bill sat at in his dining room. On the table were a 24-pack of Crayola's and an adult coloring book. As Bill filled in the spaces with relaxed strokes of color, he felt his tension ease and his stress release.
One of these scenarios is a picture of art therapy for addiction. The other is not. Can you tell which is which?
What's Unique About Art Therapy in Recovery?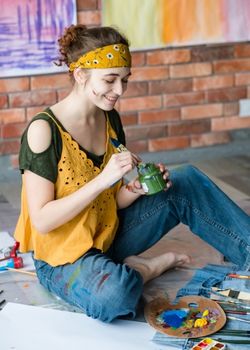 Bill may be enjoying the benefits of art and finding it helpful, maybe even therapeutic. But he's not participating in art therapy.
Art therapy sessions in rehab are facilitated by art therapists, experts who guide participants to "explore their emotions and improve mental health." Participants may draw, paint, doodle, sculpt, sketch, or take pictures to express and explore their own emotions.
During these therapy sessions, art therapists use psychotherapy skills to help patients learn about themselves through artistic expression. The therapist guides participants in interpreting their experiences and emotions in healthy ways.
These therapists have specialized training in art therapy treatment for addiction and hold a master's level degree or higher. It's common for art therapists to also hold licensure in counseling or social work.
The focus of these sessions is never on artistic skill or developing talent – it's not even about creating something aesthetically pleasing. The goal is to allow you the opportunity to express yourself in imaginative, non-verbal ways.
This is key, because language often fails to fully communicate the intense emotions involved in the recovery process. Art therapy can offer a release of emotions and provide a tangible object you can discuss with a therapist and others. Art can also be an effective tool to combine with other aspects of treatment such as detox, counseling, and support groups.
What Are the Benefits of Art Therapy?
Treatment providers have used art therapy in addiction treatment since the 1950s. In fact, this form of therapy is currently used in 36.8 percent of addiction treatment programs. You can find it in many different settings, including residential recovery centers, medical facilities, schools, psychiatric units, and community mental health centers.
Art therapy has become an extremely popular treatment tool, thanks in part to its ever-growing list of benefits.
Positive outcomes during addiction treatment include:
Provides a safe outlet to express painful feelings
Promotes self-reflection
Moves people from reflection to action
Resolves emotional conflicts
Encourages self-awareness
Increases motivation to change
Reduces opposition to addiction treatment
Decreases shame associated with addiction
Improves self-esteem
Reduces anxiety
Reinforces commitment to recovery
A Creative Form of Therapy for All
Art therapy in recovery is not limited to any age group or socioeconomic class. It can benefit people from all backgrounds. And it has worked well for treating mental health concerns for adults, children, individuals, families, and couples.
In addiction treatment, research indicates that art therapy is particularly useful for engaging teenagers in treatment and helping women with addiction who have also experienced sexual assault.
Art therapy is extremely versatile. Sessions can take place virtually anywhere, from rehab centers, to hospitals, to prisons.
What Does Art Therapy in Recovery Look Like?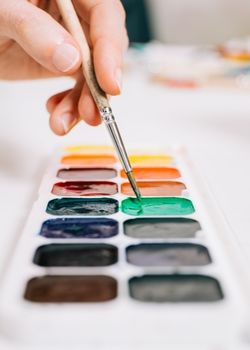 The American Art Therapy Association (AATA) sets the standards of practice for art therapy. This national organization provides resources for use in art therapy sessions.
According to AATA, the aim of the therapy is to allow participants to express themselves "through a non-verbal, imaginative, and creative exercise."
This can encompass a wide range of activities, such as stress painting, incident drawings, sculpting, or creating an art journal.
The process may also include reflecting on or interpreting the art and discussing it with others.
Drawing or Painting Emotions: For this activity, you use any medium to express how you feel. It offers a way to express emotions you can't communicate verbally.
Self-Portraits: You may be asked to create various self-portraits that reflect past events, show where you are in your current recovery journey, and create a hopeful picture of the future.
Drawing a Life Timeline: You may create a timeline that starts with your birth and extends to the current year. You mark significant events throughout your life and draw symbols to represent each of these milestones.
The First Step Series: This is one of the most commonly used techniques in art therapy. It involves creating five pieces of art that relate to your history of substance abuse and your recovery journey.
Call 800-405-1685 (
Who Answers?) to learn about flexible treatment programs for drug and alcohol addiction.