Reading Time: 8 minutes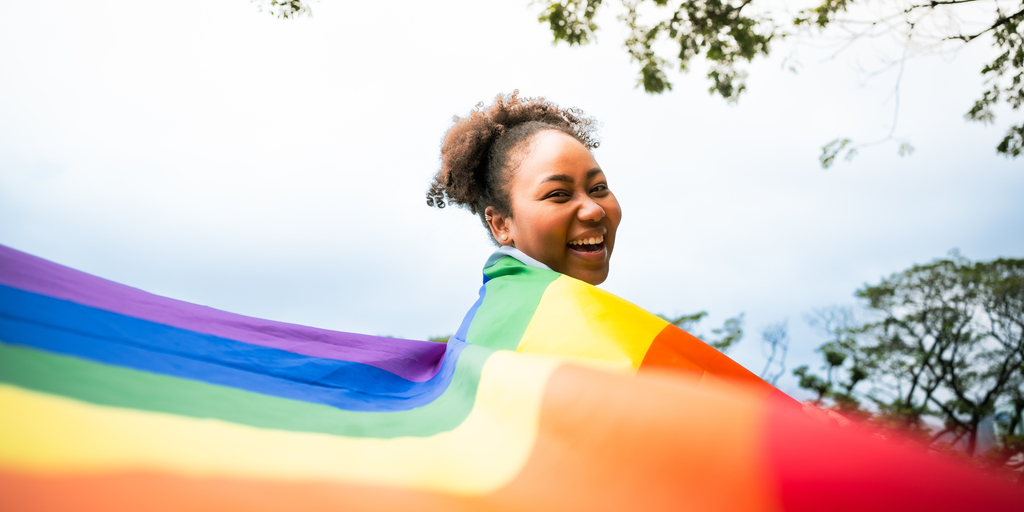 50 QTBIPOC Addiction and Mental Health Resources
QTBIPOC individuals often experience discrimination due to gender identity and skin color. Additional discrimination can often be encountered when members of this community seek addiction and mental healthcare treatment. Our comprehensive list of QTBIPOC addiction and mental health resources provide support and access to care for a variety of issues.
QTBIPOC Addiction and Mental Health Challenges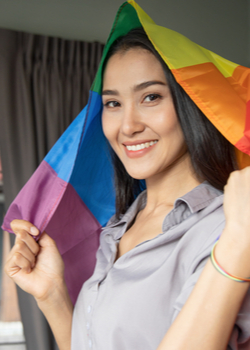 More than 39% of all LGBTQ+ people struggle with mental illness, according to reports from the Substance Abuse and Mental Health Services Administration (SAMHSA).
The Human Rights Campaign further reports that LGBTQ+ high schoolers of color are five times more likely to attempt suicide than non-LGBTQ+ high schoolers.
We also know from multiple surveys that about 50% of people who experience mental illness also experience substance use disorder (and vice versa).
The combined data and statistics reveal that queer and trans black, indigenous, and people of color (QTBIPOC) are are at high risk for mental health and substance abuse issues.
Research shows that BIPOC are less likely to have access to mental health services, less likely to seek treatment, and less likely to receive needed care. This is partly due to the many treatment barriers that QTBIPOC individuals often face. For example, 25% of QTBIPOC individuals have no health insurance coverage, compared to 8% of all adults.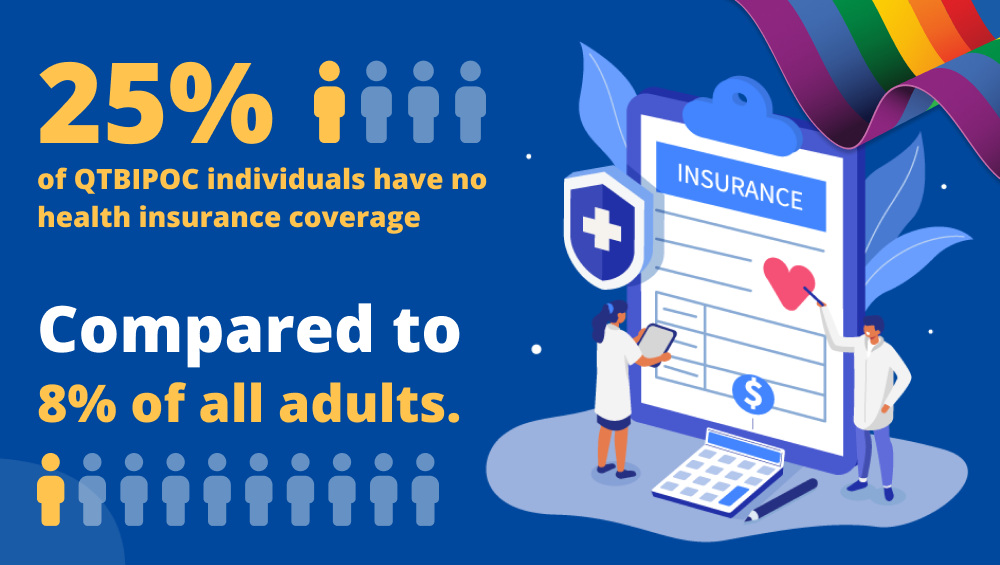 Other common barriers to mental health and substance abuse treatment include:
Language barriers (Higher proportions of BIPOC speak a language other than English, which can make finding a treatment provider challenging.)
Cultural differences and culturally insensitive mental health systems
Lack of diversity/choices in providers (1% of licensed professional counselors in the U.S. are white.)
Legal or immigration status
Socioeconomic disparities
Stigma and fear surrounding mental health and substance abuse treatment
Racism, bias, and discrimination in healthcare
Mistrust of healthcare systems and providers
To overcome some of these barriers, many organizations now offer support that is targeted to the QTBIPOC community. Following are some of those resources. These links provide a variety of assistance, support, and care for QTBIPOC individuals.
QTBIPOC Organizations and Foundations
QTBIPOC Online Resources
QTBIPOC Treatment Directories
AYANA Therapy: This is a platform that connects BIPOC and LGBTQ+ individuals to relevant therapy services. The organization is committed to ending racism and oppression, along with their impact on mental health.
Inclusive Therapists: This organization aims to provide equal access to identity-affirming, culturally responsive care. They center on the needs of BIPOC and the LGBTQ+ community.
LGBTQ Psychotherapists of Color: This directory matches QTBIPOC individuals with licensed therapists within their community. The site also offers networking, support, and community-building opportunities for counseling professionals.
National Queer and Trans Therapists of Color Network: This organization is committed to transforming the overall mental health of QTBIPOC individuals. They work to increase access to healing resources among these populations.
Therapy for Queer People of Color: This directory connects queer people of color with providers who offer all-inclusive treatment plans and focus on the unique needs of each client.
QTBIPOC Online Platforms and Communities
BGD Press: This blog focuses on issues impacting QTBIPOC individuals, highlighting challenges of sexuality, gender, race, and wellness.
Lazarus Nance Letcher: This blog discusses sexuality, race, and current affairs from a QTBIPOC perspective.
Real: This app offers free therapy for people of color, including group support services.
Rest for Resistance: This hub offers links to discussions and articles about QTBIPOC-specific issues. Covers a variety of topics.
SAMHSA Two-Spirit Webinars: Offers webinars that focus on topics related to Two Spirit and transgender identities in tribal communities.
Two Spirit and LGBTQ Health: This resource guide gives Native LGBTQ and Two-Spirit people resources for mental health.
Women for Political Change: This organization invests in the political power and leadership of young women, trans, and non-binary individuals.
YOHOMO: This forum is based out of Toronto, Canada. It offers information on events and resources for the LGBTQ+ communities of that area.
You Are Not Alone Network: This online community seeks to provide a safe place for Native American young people to gather and discuss sexuality, gender, race, and other issues.
QTBIPOC Youth Services
Hetrick-Martin Institute (HMI): This organization offers direct services and referrals for LGBTQ+ individuals between the ages of 13-24 and their families. HMI seeks to promote youth services and provide a trusted model for other organizations to follow.
It Gets Better: This nonprofit organization aims to empower and connect LGBTQ+ youth around the globe. It Gets Better Project has identified 900+ resources where members of this community can get support.
LGBTQ Youth: This page offers resources from the Office of Adolescent Health, a branch of the U.S. Department of Health and Human Services. It focuses on issues youth may face as they mature, including issues facing QTBIPOC adolescents.
Stop Bullying: This website, managed by the U.S. Department of Health and Human Services, contains a specific section for LGBTQ+ youth. The focus is on building a physically and emotionally safe environment for all LGBTQ+ youth.
We R Native: This health resource is focused on Native youth. Provided by Native youth, it promotes holistic health and positive changes in the nation at large. It focuses on a variety of topics related to QTBIPOC individuals.
QTBIPOC Podcasts
Black, Queer, and Trans Excellence: A place for QTBIPOC individuals to discuss current affairs.
Body Liberation for All: This podcast is hosted by Dalia Kinsey and offers a resource for QTBIPOC individuals to improve wellness. Dalia offers tools tailored for BIPOC and LGBTQ+ people.
Cover Collective: A podcast that discusses a variety of issues specific to the culture of BIPOC women. Hosted by bi-racial, non-binary individuals.
Joy Revolution: A podcast hosted by Gabby Rivera that discusses issues of sexuality, race, and gender. Focuses on Latinx issues.
QTBIPOC Articles and Videos
Mental Health America: This guide was developed by Mental Health America and the HRC to assist QTBIPOC individuals in finding culturally competent mental health practitioners and related treatment.
Mental Health in Queer and Trans BIPOC Communities: A panel on queer and trans BIPOC mental health. Features national organizer and activist Hope Giselle and New York Times best-selling author Michael Arceneaux.
North Jersey: This article discusses how non-profits have helped Black trans people during the COVID-19 pandemic.
QTBIPOC Social Media
Minaa B: This therapist and wellness coach works to promote health and wellbeing among QTBIPOC individuals.
Paper Street Press: This Instagram page covers QTBIPOC and disabled QTBIPOC issues.
Served Up & Sober: This Instagram page is designed for women of color who are interested in sobriety and actively seeking support.
Sober Black Girls Club: An Instagram page established by sober Black girls, for sober Black girls.
Speqtrum Hamilton: A youth-focused program that offers a hub for all things LGBTQ+.
QTBIPOC Crisis Lines
LGBT National Hotline: This center offers free and confidential peer support and local resources. Serves gay, lesbian, bisexual, transgender, and questioning people.

LGBT National Hotline: 888-843-4564
LGBT National Youth Talkline: 800-246-7743
LGBT National Senior Hotline: 888-234-7243

Trans Lifeline: US – 877-565-8860. Canada 877-330-6366. A grassroots hotline providing direct emotional and financial support to trans people in crisis. It offers peer support for trans individuals given by trans individuals.
Trevor Lifeline: 866-488-7386. Free, immediate support 24/7, 365 days a year. Offers trained counselors who understand the challenges LGBTQ people face. All conversations are confidential, and counselors will listen without judgment.
If you or someone you love is experiencing a substance use disorder, help is available. Treatment specialists are available to assist you in finding a rehab center that specializes in QTBIPOC addiction and care.