Alcohol and Drug Use Statistics in La Mesa, CA
San Diego County is a national epicenter for fentanyl trafficking, according to the United States Department of Justice.4 But fentanyl isn't the only substance of concern in La Mesa and throughout the county. Recent drug- and alcohol-use statistics for the area include:5, 6, 7

13%-31%
In 2021, the opioid-related death rate in La Mesa's 91942 zip code exceeded San Diego County's overall rate by 13% and California's overall rate by 31%.
27%-39%
In 2021, the stimulant-related death rate in La Mesa's 91942 zip code exceeded San Diego County's rate by nearly 27% and California's rate by roughly 39%.
1,637
San Diego County recorded 686 opioid-related deaths, 1,637 emergency department visits, and 510 hospitalizations in 2021.
Levels of Substance Abuse Care
There are several levels of care for addiction treatment. Some people enter treatment at one level, while go through the entire continuum of care for their substance abuse.
Alcohol and Drug Detoxification
Detox is the process of removing drugs or alcohol from your system, safely and comfortably, in a supervised setting. This is often the first step, completed before transitioning into formal treatment services.
Inpatient Drug and Alcohol Rehab
Inpatient or residential treatment involves living at a rehab facility to receive 24/7 care. A combination of treatment interventions is provided, including individual and group therapy, nutritional counseling, and medication.
Partial hospitalization programs (PHPs): PHPs allow California residents to live at home while attending treatment at a hospital. They often receive many of the same treatment as inpatient care, but can return home during non-treatment hours.
Intensive Outpatient Programs (IOPs): A step down from a PHP, IOPs allow California residents to attend counseling several days each week, while spending the rest of their time at home, working, or fulfilling other obligations.
Standard Outpatient: As the least intensive treatment option, standard outpatient care is appropriate for California residents who are highly motivated and have a strong support system. It involves just one or two hours of treatment per week.
Relapse Prevention
Aftercare, or relapse prevention, provides ongoing support after a rehab program is complete. Aftercare may include 12-step groups, non-12-step groups like SMART Recovery, ongoing therapy, sober living homes, and more.
Additional Dearborn Payment Options
Medi-Cal
Medi-Cal is California's Medicaid program. Funded by federal and state taxes, this program pays for medical services for children and adults who have limited income. To qualify for Medi-Cal, California residents must meet income requirements and be pregnant, be responsible for a child under 21 years old, be blind, have a disability or family member with a disability, or be 65 years or older.
California Medicare
California Medicare is a government program providing coverage to residents who are over the age of 65 or who have end-stage renal disease. California residents can use Medicare to cover the cost of rehab and other addiction treatment services; however, not all rehabs accept Medicare insurance.
Private Insurance
Every insurance provider in the U.S. is required by law to provide at least some coverage for mental health and substance abuse treatment. California residents should contact their provider to confirm specific coverage provided by their carrier, including applicable copays.
TRICARE in California
California TRICARE (West Region) is a government program that provides health insurance for military personnel, veterans, and their dependents. TRICARE coverage includes addiction treatment services, such as rehab and medication-assisted treatment.
State-Funded and Free Rehab in La Mesa, CA
For California residents who can't afford treatment, state-funded and free rehab services may be available. These programs use government funding to pay for the treatment. To qualify, residents may be required to provide proof of income.
Sliding Scale Rehabs
Sliding scale rehabs charge what California residents can afford, based on their income. To qualify, residents typically need to provide proof of income and assets.
IHS-Funded Drug Rehabs
Drug rehab programs funded by the Indian Health Service provide free addiction treatment to Alaskan Natives and Indigenous people in the U.S.
Traveling for Treatment in La Mesa, CA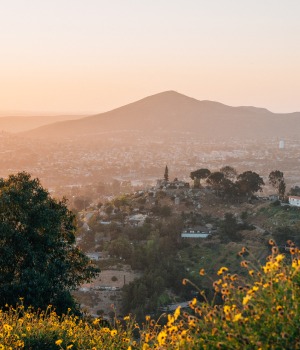 Whether you're traveling for drug rehabs in La Mesa or visiting to see a loved one who's working through treatment, here's what you should know:
Your best option for flights into La Mesa is San Diego International Airport, which is a 20-minute drive southwest of the city.
Interstate 8 and State Routes 125 and 94 are easily accessible from La Mesa and can take you throughout Southern California and into neighboring states.
Within La Mesa, you'll find about five national-chain hotels. Nearby Lemon Grove and San Diego also offer several lodging options at all price points.
If you'd like to take advantage of public transportation, La Mesa has five trolley stations with routes connecting to Mission Valley, Petco Park, and San Ysidro.
La Mesa is also served by the San Diego Metropolitan Transit System, which operates fixed-route bus service throughout the area and into neighboring San Diego County cities.
La Mesa is quite walkable and bikeable, with several safe biking routes throughout the city and guided walking tours every Wednesday.
If you're outdoorsy, Briercrest Park, Harry Griffen Park, Mount Helix Park, and the nearby Mission Trails Regional Park and Lake Murray offer tons of opportunities for outdoor fun.
Local attractions worth checking out include the Pacific Southwest Railway Museum, Lamplighters Community Theatre, La Mesa Walkway of the Stars, and the La Mesa Farmers' Market.