Substance Abuse Statistics in Queen Creek, AZ
Queen Creek is located primarily in Maricopa County, even though parts of it stretch into Pinal County. Since the majority of the population lives in Maricopa County, we will look at alcohol and drug use statistics for that county as well as Queen Creek:2,3
There were 1,276 opioid overdose fatalities in the county in 2021.
31.5%
31.5% were between the ages of 25 and 34.
2.4%
2.4% were under 18 years old.
The county had 2,106 non-fatal opioid overdose events in 2021.
5.8%
5.8% were under 18 years old.
84%
Naloxone was administered 84% of the time.
Levels of Substance Abuse Treatment
Substance abuse treatment often follows a continuum of care that flows from most to least restrictive. Some Arizona residents receive care at each level, while others may only need the least intensive treatment services.
Detox
Detox is often the initial step of rehab treatment. It occurs in a supervised medical setting and involves safely and comfortably clearing your system of all drugs and alcohol.
Residential or Inpatient
This is the most intensive treatment setting. Residential or inpatient treatment involves 24/7 supervised care. Participants usually receive individual and group therapy and may also receive medication and additional types of therapy.
Partial hospitalization programs (PHPs)
PHPs typically involve many of the same treatment services as inpatient care. However, you return home during non-treatment times.
Intensive Outpatient Programs (IOPs)
In an IOP, you participate in several hours of treatment over several days per week. Methods often include individual and group therapy. Many Arizona residents transition to IOPs after completing a residential or PHP program.
Standard Outpatient
Standard outpatient treatment involves a couple of hours of care per week, usually at an outpatient clinic or in a therapist's office. This treatment level is appropriate for individuals who have mild addictions and strong support systems.
Aftercare
Aftercare provides ongoing support once inpatient or outpatient treatment is completed. This care may include 12-step meetings, transitional housing, or therapy. It is a key component of relapse prevention.
How to Pay for Drug Rehab in Arizona
Private Insurance
By law, all insurance companies must provide coverage for substance abuse and mental health treatment, per the Mental Health Parity and Addiction Equity Act. However, each plan differs regarding specific benefits, so Arizona residents must contact their provider to learn about exact coverage.
Arizona Medicaid
Arizona Medicaid, known as the Arizona Health Care Cost Containment System (AHCCCS), provides coverage for drug and alcohol rehab services under the Mental Health Parity Act. Arizona residents may qualify for this program if they are a low-income adult, a child, a pregnant woman, an elderly adult, or a person with certain disabilities.
Medicare
Medicare is a federal health insurance program that provides coverage for Arizonans aged 65 and older, along with individuals diagnosed with certain disabilities. Addiction treatment services are covered under both Medicare Part A and Part B. However, not all rehab facilities accept Medicare, so it's important to confirm accepted methods of payment before enrolling in a program.
Sliding Scale Rehabs
Sliding scale rehab programs allow Arizona residents to pay only what they can reasonably afford based on their income. Participants must typically provide proof of income to qualify.
TRICARE in Arizona
TRICARE in Arizona (West region) provides health insurance coverage for U.S. military personnel, veterans, and their dependents. Coverage includes addiction treatment services. However, plans differ in their specific coverage.
IHS-Funded Drug Rehabs
The Indian Health Service (IHS) is a federally funded program for indigenous people. Native Americans and Native Alaskans who need SUD treatment can receive low-cost or free services under this program.
Traveling to and Within Queen Creek, AZ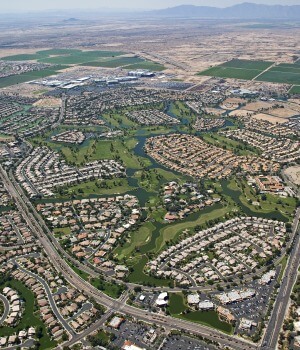 Queen Creek is known for its mountain views, great sunsets, and a wide variety of outdoor activities. If you are thinking about going to a Queen Creek drug or alcohol rehab or visiting someone who is at a detox center in the area, here is a list of some amenities available in and around the area:
Queen Creek is located within 10 minutes of the Phoenix-Mesa Gateway Airport and 45 minutes from Sky Harbor International Airport in Phoenix.
Queen Creek is a member of the Valley Metro Regional Public Transportation Authority, which offers bus service throughout the area.
To the south of Queen Creek, you'll find the San Tan Mountain Regional Park. Featuring more than 10,000 acres of Sonoran Desert, the park hosts various types of wildlife and vegetation among the trails.
Within Queen Creek, several multi-use trails take you throughout the town and neighboring communities.
The Lake at Mansel Park is the town's first lake and is part of the Arizona Game & Fish Department's community fishing program.
Queen Creek is a stop on the Fresh Foodie Trail that runs through Phoenix's East Valley. Visit the Queen Creek Olive Mill, check out the U-pick gardens and orchards at Schnepf Farms, or taste the ancient grains grown at Sossaman Farms.
Queen Creek Botanical Gardens may also inspire you to grow your own food after visiting its orchards, greenhouses, and demonstration gardens.
Check out cowboys in action at the Horseshoe Park & Equestrian Centre during various shows and rodeo competitions.
The Queen Creek Performing Arts Center brings nationally touring acts to its stage.
Arizona Drug and Alcohol Laws
Arizona laws include the following policies regarding substance use and treatment.1,2,3,4
Public Alcohol Consumption: In Arizona, it is illegal to drink alcohol in certain public places. The law states it is unlawful "for a person to consume spirituous liquor in a public place, thoroughfare, or gathering." The law doesn't apply to private property or public recreation. Unlike other states, there are no "public intoxication" charges in Arizona. The act of consuming alcohol is unlawful, not the act of being drunk in public.
Naloxone Standing Order: This law allows any licensed pharmacist in Arizona to dispense naloxone without a prescription, and for any Arizonan to obtain naloxone from any pharmacy in the state.
Good Samaritan Law: Under this policy, Arizonans are protected from criminal liability if they seek medical assistance for a suspected overdose. The law is meant to save lives by removing fear of legal repercussions for possession or use of a controlled substance/drug paraphernalia and for providing alcohol to minors.
Court-Ordered Treatment: In Arizona, offenders who plead guilty to a drug offense may complete court-ordered treatment instead of serving jail time.
Health Insurance Waiver: Arizonans can pay for drug and alcohol treatment out of pocket, without penalty for not having health insurance. This is per Article 27, section 2 of Arizona insurance law, which states that a person does not need to participate in a healthcare system but may pay for healthcare services directly.
Resources
Town of Queen Creek, Arizona. (n.d.). About Queen Creek.
Arizona Department of Health Services. (2022). Opioid Prevention Dashboard.
Arizona Department of Health Services. (n.d.). Opioid Overdoses Surveillance Report, Arizona, 2020-2021.