Alcohol and Drug Use Statistics in Casa Grande, Arizona
Let's take a brief look at some of the most recent Pinal County substance use statistics: 2
120%
Between 2017 and 2021, the number of opioid-related deaths increased by approximately 120%.
2,002
2021 alone saw 2,002 opioid-related deaths in total.
Levels of Substance Abuse Treatment
Substance abuse treatment often follows a continuum of care that flows from most to least restrictive. Some Arizona residents receive care at each level, while others may only need the least intensive treatment services.
Detox
Detox is often the initial step of rehab treatment. It occurs in a supervised medical setting and involves safely and comfortably clearing your system of all drugs and alcohol.
Residential or Inpatient
This is the most intensive treatment setting. Residential or inpatient treatment involves 24/7 supervised care. Participants usually receive individual and group therapy and may also receive medication and additional types of therapy.
Partial hospitalization programs (PHPs)
PHPs typically involve many of the same treatment services as inpatient care. However, you return home during non-treatment times.
Intensive Outpatient Programs (IOPs)
In an IOP, you participate in several hours of treatment over several days per week. Methods often include individual and group therapy. Many Arizona residents transition to IOPs after completing a residential or PHP program.
Standard Outpatient
Standard outpatient treatment involves a couple of hours of care per week, usually at an outpatient clinic or in a therapist's office. This treatment level is appropriate for individuals who have mild addictions and strong support systems.
Aftercare
Aftercare provides ongoing support once inpatient or outpatient treatment is completed. This care may include 12-step meetings, transitional housing, or therapy. It is a key component of relapse prevention.
How to Pay for Drug Rehab in Arizona
Private Insurance
By law, all insurance companies must provide coverage for substance abuse and mental health treatment, per the Mental Health Parity and Addiction Equity Act. However, each plan differs regarding specific benefits, so Arizona residents must contact their provider to learn about exact coverage.
Arizona Medicaid
Arizona Medicaid, known as the Arizona Health Care Cost Containment System (AHCCCS), provides coverage for drug and alcohol rehab services under the Mental Health Parity Act. Arizona residents may qualify for this program if they are a low-income adult, a child, a pregnant woman, an elderly adult, or a person with certain disabilities.
Medicare
Medicare is a federal health insurance program that provides coverage for Arizonans aged 65 and older, along with individuals diagnosed with certain disabilities. Addiction treatment services are covered under both Medicare Part A and Part B. However, not all rehab facilities accept Medicare, so it's important to confirm accepted methods of payment before enrolling in a program.
Sliding Scale Rehabs
Sliding scale rehab programs allow Arizona residents to pay only what they can reasonably afford based on their income. Participants must typically provide proof of income to qualify.
TRICARE in Arizona
TRICARE in Arizona (West region) provides health insurance coverage for U.S. military personnel, veterans, and their dependents. Coverage includes addiction treatment services. However, plans differ in their specific coverage.
IHS-Funded Drug Rehabs
The Indian Health Service (IHS) is a federally funded program for indigenous people. Native Americans and Native Alaskans who need SUD treatment can receive low-cost or free services under this program.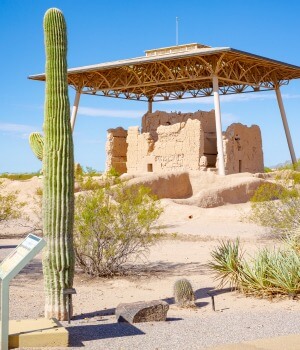 Getting to and Around Casa Grande, Arizona
If you plan to visit a loved one in a detox program or are planning to get help from an inpatient or outpatient treatment center, you'll need to know the best way to get to and around Casa Grande. Likewise, if you're planning to attend a treatment program, you'll need to get to know the area better.
Here are a few things to know about traveling to Casa Grande:
The nearest airport to Casa Grande is the Phoenix-Mesa Gateway Airport, which is roughly 30 miles away. The closest international airports include Phoenix International and Tucson International, which are about 41 and 70 miles away, respectively.
Pinal County is serviced by CART—a regional transit bus system. There are also plenty of ride shares available, including Uber and Lyft, as well as traditional taxi and rental car services.
There are plenty of accommodations to choose from, ranging from cheap motels to luxury hotels. Therefore, you won't need much help finding something that suits your budget and needs.
Casa Grande isn't a very walkable city, which means you'll need to arrange for transportation if you plan on running errands, sightseeing, and so on.
Some of the most popular things to do in Casa Grande include visiting the Museum of Casa Grande, the Palm Island Family Aquatic Park, Picacho Peak State Park, Phoenix Zoo, and much more.
Arizona Drug and Alcohol Laws
Arizona laws include the following policies regarding substance use and treatment.1,2,3,4
Public Alcohol Consumption: In Arizona, it is illegal to drink alcohol in certain public places. The law states it is unlawful "for a person to consume spirituous liquor in a public place, thoroughfare, or gathering." The law doesn't apply to private property or public recreation. Unlike other states, there are no "public intoxication" charges in Arizona. The act of consuming alcohol is unlawful, not the act of being drunk in public.
Naloxone Standing Order: This law allows any licensed pharmacist in Arizona to dispense naloxone without a prescription, and for any Arizonan to obtain naloxone from any pharmacy in the state.
Good Samaritan Law: Under this policy, Arizonans are protected from criminal liability if they seek medical assistance for a suspected overdose. The law is meant to save lives by removing fear of legal repercussions for possession or use of a controlled substance/drug paraphernalia and for providing alcohol to minors.
Court-Ordered Treatment: In Arizona, offenders who plead guilty to a drug offense may complete court-ordered treatment instead of serving jail time.
Health Insurance Waiver: Arizonans can pay for drug and alcohol treatment out of pocket, without penalty for not having health insurance. This is per Article 27, section 2 of Arizona insurance law, which states that a person does not need to participate in a healthcare system but may pay for healthcare services directly.