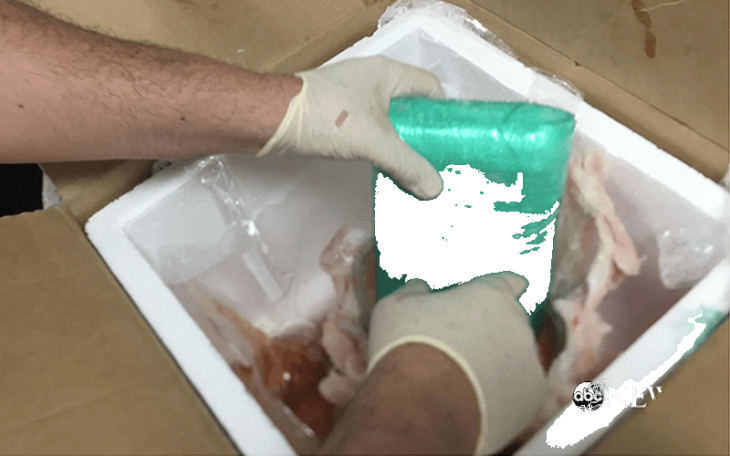 Police in New York City found about $10 million worth of fentanyl, a commonly abused opioid drug, hidden in frozen fish during a raid Feb. 1.
Together, the two fish and the fentanyl weighed about nine pounds. The suspect arrested with the drugs, Johnny De Los Santos-Martinez, also had fentanyl stashed in a vacuum seal bag that held chili.
Detectives watching De Los Santos-Martinez found the drugs in his car – three one-kilogram bricks of fentanyl in two frozen fish and one kilogram in the chili. They said the total haul of drugs could be a million doses, each one potentially deadly. At ten dollars a dose on the street, the drugs could be worth up to $10 million, though their wholesale price, detectives said, was about $100,000.
Fentanyl, which can be 50 times stronger than heroin, is a synthetic opioid. Criminals and drug users sometimes mix it with heroin or cocaine as well as with other synthetic drugs.
Detectives arrested De Los Santos-Martinez in the Bronx after searching his car.
The Office of the Special Narcotics Prosecutor for the City of New York said on Feb. 8 that De Los Santos-Martinez was arraigned Feb. 2. His bail was set at $150,000 in cash or a $250,000 bond.
Detectives had been watching De Los Santos-Martinez as part of an ongoing investigation of drug trafficking in New York City. They saw that he had two boxes in the rear seat of his 2017 white Acura MDX and got a warrant to search his vehicle.
When they searched the car about 7 p.m., they found the boxes were Styrofoam ice chests. In one cooler they found two bricks of fentanyl disguised inside a fish wrapped in green plastic alongside the bag of chili and fentanyl. The second ice chest held another fish with one fentanyl brick inside, also covered in green plastic.