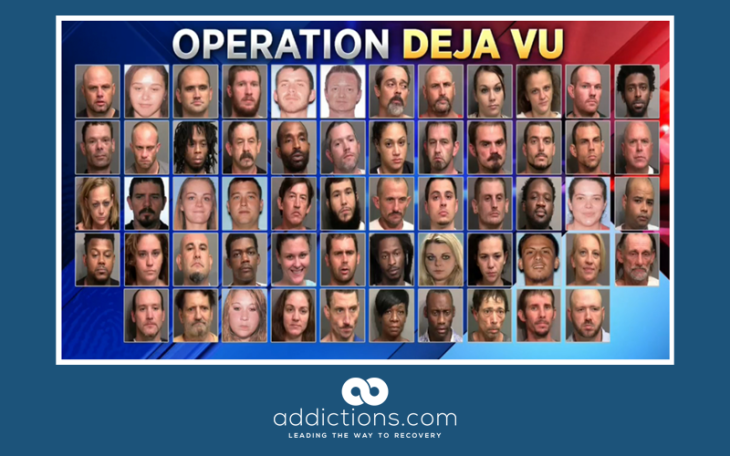 After a drug investigation lasting nearly a year, authorities issued warrants for 58 people on narcotics charges in Glynn County in southeast Georgia.
John Powell, the police chief of Glynn County, a coastal county that includes Georgia's Sea Islands, said that nearly half the people named in the warrants remain at large – 27 out of 58 of the suspects. He encouraged those who haven't yet been arrested to come forward and turn themselves in.
In a 10-month undercover investigation nicknamed "Operation Déjà Vu," federal, state and local authorities worked together to discover and disrupt drug networks selling heroin, cocaine, methamphetamines, marijuana and other narcotics.
Police seized quantities of those drugs, plus prescription medications, THC and MDMA, as well as six vehicles, $41,000 in cash and 39 weapons.
Arrests were made during the early morning, pre-dawn raids Wednesday, Nov. 7. A few of the suspects named in the warrants had already been taken into custody by police.
Chief Powell characterized the extreme danger of some of the arrests, given that the suspects are well armed and committed to defending their lucrative drug operations, and that some of them are located in lonely, remote areas.
Kevin Jones, chief of police in Brunswick, a town of 16,000 that is the seat of Glynn County, said arresting this many people and confiscating all these guns would do a lot to reduce crime and shootings in the area. Authorities noted that some of the drug deals were taking place near churches and schools.
Operation Déjà Vu got its start in January 2018 when the Glynn County and Brunswick police departments teamed up to create a joint investigative task force along with state and federal authorities. The operation completed most of its work by October.
Glynn County's Chief Powell stressed that police would find and arrest the 31 remaining suspects if they didn't voluntarily turn themselves in.
Glynn County, one of Georgia's original eight counties, has a population of about 80,000 people.