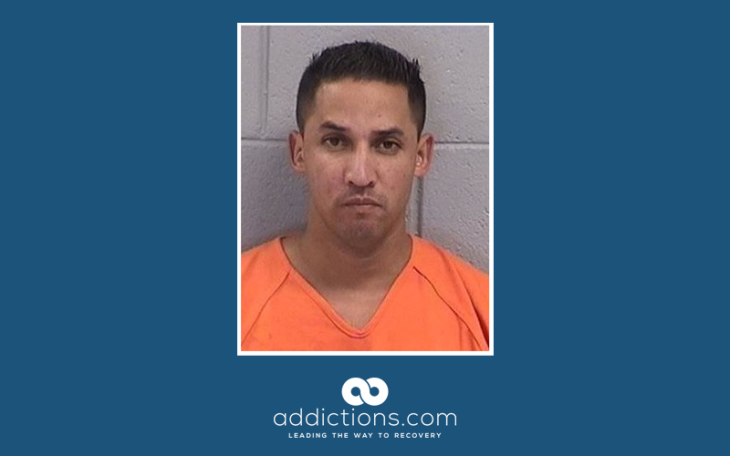 A New Mexico police officer has been put on leave after his arrest for allegedly keeping drugs confiscated from suspects he arrested.
According to the charges against New Mexico State Police Officer Daniel Capehart, he kept drugs from busts he made and gave them to women he found attractive or was dating.
Capehart, 33, of Bloomfield in the northwest corner of New Mexico, was arrested June 29 and faces charges of distributing both marijuana and methamphetamine. State Police from the nearby Farmington office arrested him after a 10-day investigation.
Agents from the Federal Bureau of Investigation, the San Juan County Sheriff's Office and also a narcotics task force also participated in the investigation.
Capehart allegedly texted a 16-year-old girl he'd met during a traffic stop where she was the passenger – his flirtatious texts alerted authorities to his behavior, resulting in the investigation, which began June 19. The girl surrendered her phone to a sheriff's department detective, who continued to text back and forth with Capehart, pretending to be her.
By use of this phone, the detective got Capehart to agree to hand over marijuana to the girl two different days, June 21 and 23. According to the complaint, Capehart also told the girl how she could pick up the drugs and hide them from the police if she were caught.
Cops found the marijuana left in the location Capehart had specified to the girl – an electrical junction box in Farmington, west of Bloomfield – on June 21. Tests confirmed it was a container full of pot. Capehart had texted photos of the container and the drop spot to the girl's phone, authorities said.
By looking at the container and the photos, state police could tell the packaging of the pot had been done in a police evidence lockup in the Farmington office.
On June 23 authorities followed text messages, allegedly from Capehart, to a second stash of pot at a car wash in Farmington.
Additional charges stemmed from another fake text exchange between Capehart and a suspect he'd arrested after a traffic stop nine months previously. An FBI agent posed as the recipient and Capehart agreed to meet the recipient and her drug dealer. Instead, he arrested the "dealer," who was an undercover officer and confiscated the methamphetamine in the car. He went on to book the undercover officer into the San Juan County Adult Detention Center before dropping off the meth where someone else could pick it up.
Capehart, according to authorities, has admitted to all three drug deliveries.