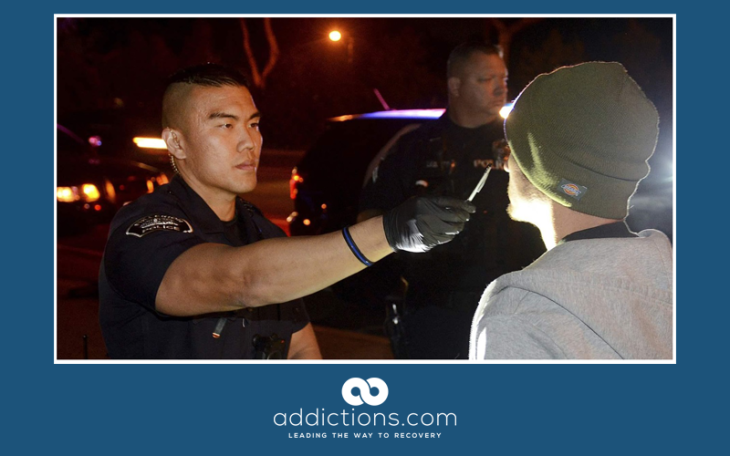 A new study published this week claims that a staggering number of drivers arrested on DUI charges are found to have taken marijuana or opioids before getting behind the wheel – often with deadly consequences.
The report based on DUI cases in 2016 has revealed alarmingly high figures relating to the use of drugs.  According to the report, although DUI cases involving alcohol have slowly decreased in the last decade, drug driving seems to be on the increase.
More than half of drivers killed in car accidents who were tested for drugs had marijuana, opioids or a combination of the two in their system, according to a new report.
The report commissioned by the Governors Highway Safety Association (GHSA) found that during 2016, almost 45% of fatally injured drivers were found to have ingested drugs, an increase of 28 percent compared with a decade earlier. According to Jonathan Adkins, this is partly because many people don't believe that marijuana and opioids impair their driving ability to any degree, a myth which is not just untrue but, also extremely dangerous.
The report, which pulled data from FARS (Fatality Analysis Reporting System) and NHTSA roadside surveys, revealed that of all the drivers killed by DUI in 2016, 38 percent had taken a form of Marijuana with a further 16 percent testing positive for opioids (and 4 percent for both drugs). The report, which was funded by the Foundation for Advancing Alcohol Responsibility highlights just how real the problem of drug driving is in the United States today.
Chairman of Responsibility.org, Ralph Blackman, is involved with campaigning for drink driving and drug driving to no longer be treated as separate, individual issues on the basis that any driver using a substance likely to impair control should be treated equally.
Although equally keen to see a reduction in drug driving incidents and deaths in the USA, Dr. Jim Hedlund, formerly of the Highway Traffic Safety Administration says that it's unfortunately not that simple due to the great number of different drugs available, not all of which can be tested for at the site of an accident.  Dr. Hedlund, one of the authors of the new report added that although there have been some studies regarding marijuana, the effects are complex and can make estimating a driver's THC at the time of an incident almost impossible – particularly when multiple substances have been taken.
Driving under the influence of marijuana has been highlighted recently in States which celebrate the legalization of marijuana on April 20th each year beginning at 4.20pm.  Revelers celebrate by smoking marijuana and, police in the States involved report sharp increases in traffic incidents between 4.20pm and midnight each year on that date.